It's a question most people want answered: Why are those damned birds so pissed?
We are here to entertain and educate. In December 2009, people around the world downloaded a game to their phones and started a phenomenon.  Little green piggies had invaded, intent on stealing the eggs of some flightless birds–and these birds were … well, there's only one word for it: Angry.  How would you feel if someone came to your home and took your kids?
The most downloaded mobile game of all time–Angry Birds and their various editions have been downloaded more than three billion times–comes to the big screen and moviegoers will finally learn how the Angry Birds got their name.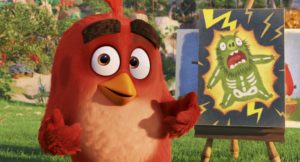 The first conversations about turning Angry Birds into The Angry Birds Movie began back in 2011 with Mikael Hed and David Maisel.  "I had purchased my 80-year-old mother an iPad, and one day, I heard her swearing at some pigs," Maisel recalls.  "I got very intrigued–this game is played by kids, by their parents, by their grandparents.  It's one of the few things in culture today that people of all different generations share."
According to the film's producer John Cohen, the classic game was a great starting point for the movie the filmmakers wanted to make.  "Inside the game's core concept were the seeds of what we believed could grow into a fantastic animated comedy," he says.  "We had the chance to expand on the game characters, developing the birds into fully fleshed out characters with distinct personalities and fun, unique powers.  But there's also a strong, emotional idea at the center of the movie: at the heart of the games is a story of angry birds who have had their eggs–their children–taken by these green piggies.  And the birds must launch a search-and-rescue operation to get their kids back."
Working with the Rovio Entertainment team, the filmmakers developed and expanded the basic ideas from the game.  "This movie is the origin story of how that conflict came to exist between flightless birds and green piggies," Cohen adds. "It was an incredibly fun opportunity to create a mythology for the Angry Birds universe.  Billions of people have a close personal connection to the games, but the games didn't really have a backstory that was set in stone. Our playing field was wide open–as if we were starting from scratch with an original idea.  Of course, there were certain important elements that fans know and love from the games–angry flightless birds, with special powers that people will recognize, fighting green piggies, who have stolen their eggs, using a slingshot–but beyond those ideas, we were able to create an original story."
In fact, Clay Kaytis, who directed the film with Fergal Reilly, says that the built-in audience of the game allowed them to subtly subvert audiences' expectations.  "People assume they know what the movie is going to be because they've played the game," he says, "but the truth is, we're creating something that is going to surprise people when they see it.  As filmmakers, we're making a movie that we would want to go see."
So, out of the basic premise of the game, the filmmakers created a new story–a character-based comedy.  "Red is certainly an angry bird, and Chuck and Bomb have their problems, but actually, they're just a bunch of misfits," says Reilly.  "You really care about these guys–because not only do they have their own problems to deal with, but then they're dealt the larger problem of the pigs.  They have to save their civilization, even though they're the most unlikely guys you could ever pick."
Cohen adds that Red's mission to manage his anger is a theme that everyone in the audience can relate to.  "Every parent and every kid learns to find a way to work through those tough moments in their lives," says Cohen.  "I think a lot of kids will identify with Red as he finds a way to channel that energy in a positive direction."
As the characters took shape on the page, it came time for the filmmakers to cast the actors who would bring them to life.  "When an actor comes into a recording booth to perform, they are stripped of all of the tools in their repertoire–they no longer have their physicality, facial expressions, any movements or gestures, other actors to play against–they are left with only their voice," says Cohen.  "Great improvisational comedic actors, like Jason Sudeikis, Josh Gad, Maya Rudolph, Danny McBride, Keegan-Michael Key and Kate McKinnon, are able to not only come up with terrific observational comedy ideas, but by doing that, they give their performance a very naturalistic feel, which really helps to bring these characters to life in animation."
Adds executive producer Mikael Hed.: It's a magical moment when you hear these actors for the first time in their characters. That's when the characters start to properly come to life.  The actors inject part of their personality into the characters, and they become so much more real than they've ever been before that."
Now you know. Now you can watch The Angry Birds Movie, now flying around on Blu-ray and DVD from Sony Home Entertainment.