It's a film ripe for rediscovery. While Mike Nichols was shooting scenes with Jack Nicholson, Art Garfunkel, and Candice Bergen at what was then known as Folkestone Studios in West Vancouver for Carnal Knowledge. Nearby, Robert Altman and his crew were building Presbyterian Church, an actual Old West mining town for his period western, McCabe & Mrs. Miller, starring the then real-life couple, Warren Beatty and Julie Christie. Remember René Auberjonois? The man best-known for the Broadway musical flop Coco and who appeared in the Altman film says McCabe & Mrs. Miller is the best film he's ever been in. "That is the one that will be on my tombstone," he coos.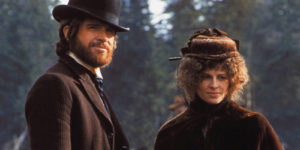 With its fascinating flawed characters, evocative cinematography by the great Vilmos Zsigmond, and soundtrack that innovatively interweaves overlapping dialogue and haunting Leonard Cohen songs, McCabe & Mrs. Miller brilliantly deglamorized and revitalized the most American of genres. The screenplay is based on Edmund Naughton's 1959 novel McCabe; Altman referred to it as an "anti-western film" because the film ignores or subverts a number of Western conventions.
So important is
McCabe & Mrs. Miller
that in 2010, the film was selected for preservation in the United States
National Film Registry
by the Library of Congress as being "culturally, historically or aesthetically significant".Criterion is releasing the flick on Blu-ray and DVD on October 11.
SPECIAL EDITION FEATURES 
* New 4K digital restoration, with uncompressed monaural soundtrack on the Blu-ray
* Audio commentary from 2002 featuring director Robert Altman and producer David Foster
* New documentary on the making of the film, featuring actors René Auberjonois, Keith Carradine, and Michael Murphy; casting director Graeme Clifford; and script supervisor Joan Tewkesbury
* New conversation about the film and Altman's career between film historians Cari Beauchamp and Rick Jewell
* Featurette from the film's production, shot on location in 1970
* Q&A from 1999 with production designer Leon Ericksen, hosted by the Art Directors Guild Film Society
* Archival footage from interviews with cinematographer Vilmos Zsigmond, in which he discusses his work on the film
* Gallery of stills from the set by photographer Steve Schapiro
* Excerpts from two 1971 episodes of The Dick Cavett Show featuring Altman and film critic Pauline Kael
* Trailer
* Essay by film critic Nathaniel Rich