There have been a few big-screen adaptations of The Jungle Book, but audiences were mesmerized the most by Disney's latest take of Rudyard Kipling's classic stories with the live-action flick, which has earned (to date) more than $911 million at the global box office.  Missed it? Not to worry: Jon Favreau's stunning reimagining of Walt Disney's 1967 animated classic will be available early on Digital HD and Disney Movies Anywhere on August 23, and on Blu-ray Combo Pack, DVD and On-Demand on August 30. The 3D version of The Jungle Book will be available later this year.
This is an adventurous tale of Mowgli, a man-cub who's been raised by a family of wolves. But Mowgli finds he is no longer welcome in the jungle when fearsome tiger Shere Khan, who bears the scars of Man, promises to eliminate what he sees as a threat. We give a special nod to the film's only on-screen actor,  charismatic newcomer Neel Sethi, who plays Mowgli.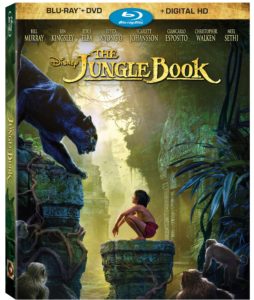 Venture deep into the jungle with in-depth bonus features that reveal the innovative filmmaking technology used to create the richly immersive jungle world and characters; follow the journey of (Mowgli); delve into a candid and humorous scene-by-scene audio commentary with director Jon Favreau and meet the all-star voice cast who help bring the film's colorful characters to life, as well as the musicians who accent the adventure with a majestic music score.
We offer the bare necessities: The all-star cast includes Bill Murray as the voice of Baloo, Sir Ben Kingsley as Bagheera and Lupita Nyong'o as the voice of mother wolf Raksha. Scarlett Johansson gives life to Kaa, Giancarlo Esposito provides the voice of alpha-male wolf Akela, Idris Elba roars as the voice of Shere Khan and Christopher Walken lends his iconic voice to King Louie.