Let's face it: The Faces had quite a life. They were an English rock band formed in 1969 by members of Small Faces after lead singer/guitarist Steve Marriott left that group to form Humble Pie. The remaining Small Faces—Ian McLagan (keyboards), Ronnie Lane (bass guitar) and Kenney Jones (drums and percussion)—were joined by Ronnie Wood (guitar) and Rod Stewart (lead vocals), both from the Jeff Beck Group, and the new line-up was renamed Faces.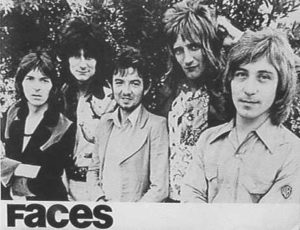 Whew!
Now, the definitive story of one of Britain's best-loved bands has found a groove. Had Me a Real Good Time: Faces, Before, During and After (Overlook Omnibus, $29.95) by music journalist Andy Neill examines the Faces as never before, exploring their roots and contribution to 70's rock and beyond.
Formed in 1969 from the remnants of the Small Faces and the Jeff Beck Group, Rod Stewart, Ron Wood, Ronnie Lane, Ian McLagan and Kenny Jones presented a uniquely authentic musical act at a time when aestheticized disco and glam rock were in vogue. With lead singer Stewart's raspy voice and the band's unpretentious, direct approach to music, the famously madcap Faces cultivated both their own brand of rock and a worldwide following.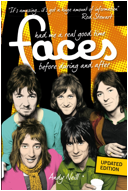 Updated to include a chapter on the legacy of keyboard player MacLagan (who died in 2014) the book provides the most comprehensive account of the Faces from their working class upbringings in Britain, through hits such as "Stay with Me," and into their illustrious solo careers, including collaborations with the Rolling Stones, Bob Dylan, and Joe Cocker. Neill synthesizes original research and first-hand interviews to form this immersive account of the distinctive group.
Rod Stewart is a big fan of the book: "It's amazing," he says. "It's got a huge amount of information."