Britta Lee Shain was a friend of Bob Dylan until he asked her to join him on the road in the mid-'80s . . . at which point she became more than a friend. In an intimate and elliptical memoir of their time together, at home in Los Angeles and on tour with Tom Petty and the Grateful Dead, she offers a unique portrait of the romantic, earthbound and poetic soul trapped in the role of Being Bob Dylan.
As she coos: "I've never seen a Bob Dylan smile, except in photos or on the stage. Not the real thing."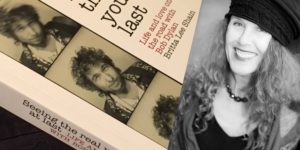 Entire libraries of books have been written about Dylan, but few—if any—offer any lasting insight into the man behind the shades. Until now. Written with the elegance of a poet and storytelling snap of a novelist, Seeing The Real You At Last: Life and Love on the Road With Bob Dylan (Jawbone Press, $19.95), is a poignant and tender romance that reveals Dylan's playfulness, his dark wit, his fears and struggles, his complex relationships with the men and women in his life and, ultimately, his genius.