Even the wee ones can be a handful at bedtime. Kangeroo Kisses (Otter-Barry Books ( $17.99) follows one mischievous child as she delays getting ready for bed, and has some amazing wildlife encounters along the way.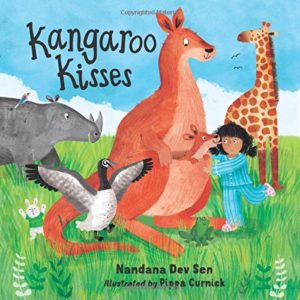 A perfect picture book for reading aloud at bedtime . . . or any time. Cute words by Nandana Dev Sen, cuter illustrations from Pippa Curnick.
We always knew bananas had appeal. So does Anna Banana. Join Anna and her beloved wiener dog Banana for some entertaining adventures with the first four books in the illustrated Anna, Banana chapter book series.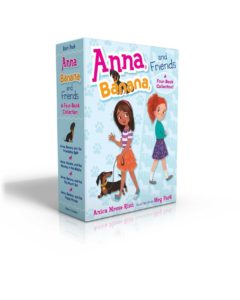 The delightful series about a third-grader named Anna, who navigates the joys and challenges of elementary school friendships with her beloved wiener dog Banana by her side.  the charming Anna, Banana, and Friends (Simon & Schuster Books for Young Readers, $64.99) box set includes Anna, Banana, and the Friendship Split; Anna, Banana, and the Monkey in the Middle; Anna, Banana, and the Big-Mouth Bet; and Anna, Banana, and the Puppy Parade.
We have no problem sticking out our neck and praising Giraffes Can't Dance (Scholastic, $14.99)The gift set includes a book as well as an adorable plush doll of Gerald the giraffe.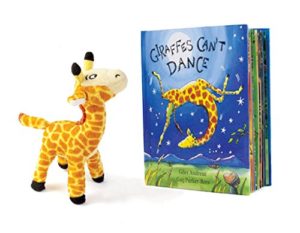 Giraffes Can't Dance is a touching tale of Gerald the giraffe, who wants nothing more than to dance. With crooked knees and thin legs, it's harder for a giraffe than you would think. Gerald is finally able to dance to his own tune when he gets some encouraging words from an unlikely friend.
Art isn't easy. But learning about great artists is, thanks to Kid Artists: True Tales of Childhood from Creative Legends (Quirk Books, $13.95). Hilarious childhood biographies and full-color illustrations reveal how Leonardo da Vinci, Beatrix Potter,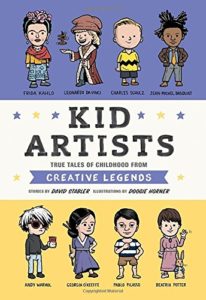 Keith Haring and other great artists in history coped with regular-kid problems. Kid Artists tells their stories and more with full-color cartoon illustrations on nearly every page.
Make learning math fun by sharing hands-on labs with your child. Math Lab for Kids (Quarry Books, $24.99) presents more than 50 activities that incorporate coloring, drawing, games, and items like prisms to make math more than just numbers. Add up what kids can do and learn! Platonic solids, Möbius strips, tangrams and mind-bending fractals with straight lines and repeat shapes.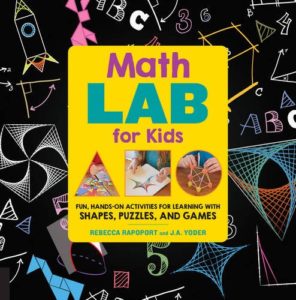 Everything needed to complete the activities can be found in the book or around the house.
The newest book in the LEGO line, Factastic (Scholastic, $19.99), takes on the biggest subject of all: Our world and everything in it! There's a whole world of information inside on almost every subject under the sun, from science to technology, from history to geography to popular culture. Each spread contains a LEGO scene to facilitate the learning journey: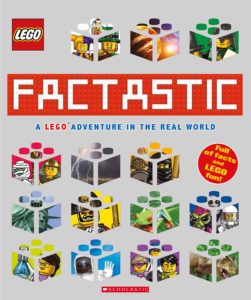 a vignette, mini story, or icon featuring LEGO models, characters, and sensibility. Graphic design combines the LEGO illustration with real-world photography and facts for an immersive experience.
A 6000-pound wrecking ball is about to demolish Benjamin Pratt's school…and he only has 28 days to figure out how to stop it. In the four-volume fast-paced and action-packed mystery series Benjamin Pratt & the Keepers of the School Collection (Atheneum/Caitlyn Dlouhy Books, $35.99), Benjamin Pratt and his friends Jill and Robert must figure out who is trying to destroy his school and why. At first having the school demolished to make room for an amusement park sounds pretty awesome.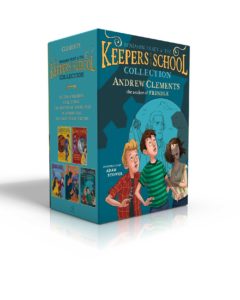 But when Ben stumbles upon the truth behind this grand scheme, and the ancient history buried deep within the school that goes all the way back to the Founding Fathers, he decides he's got no choice but to stop the bulldozer before it starts and protect his school.
A mysterious island. An abandoned orphanage. A strange collection of very curious photographs. It all waits to be discovered in this groundbreaking novel, which mixes fiction and photography in a thrilling new kind of reading experience. As our story opens, a horrific family tragedy sets 16-year-old Jacob Portman journeying to a remote island off the coast of Wales, where he discovers the crumbling ruins of Miss Peregrine's Home for Peculiar Children.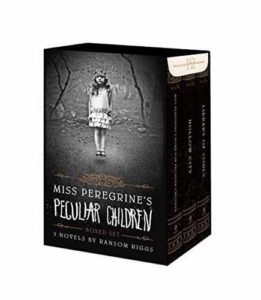 Together for the first time, this slipcased collection holds Miss Peregrine's Home for Peculiar Children and its two sequels, Hollow City and Library of Souls.  Also included: a special collector's envelope of twelve peculiar photographs, highlighting the most memorable moments of this extraordinary three-volume fantasy.
An undercover teen agent discovers the ups and downs of espionage in the first six books of the CHERUB series, now available together in CHERUB Collection (Simon Pulse, $63.99). CHERUB agents are highly trained, extremely talented—and all under the age of seventeen. For official purposes, these agents do not exist. It is a tough job, but these agents have one crucial advantage: adults never suspect that teens are spying on them.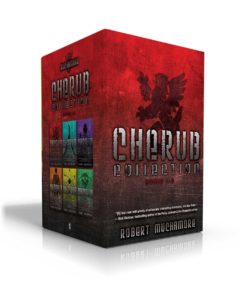 Follow James through his training and his action-packed missions as he learns what it means to be a true CHERUB agent. This action packed boxed set includes The Recruit, The Dealer, Maximum Security, The Killing, Divine Madness, and Man vs. Beast.
Get your dork on with the ultimate Dork Diaries Squee-tastic Collection (Aladdin, $153.99). This complete collection contains books one through 10 (including three-and-a-half) in the wildly popular series.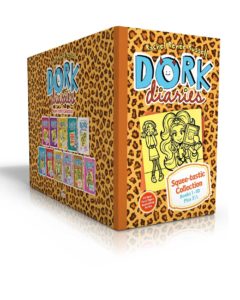 This collectible boxed set chronicles the oh-so-fabulous life of Nikki Maxwell as she navigates the halls of middle school, mean girls, BFF drama, and first crushes. From the first not-so-fabulous adventure, to the interactive How to Dork Your Diary, to the latest pet-sitting catastrophe, these books are filled with dorktastic fun!
Ella keeps her cemetery visits secret. Her father died before she was born, yet she knows they have a supernatural connection. And she may not be the only one with secrets. Ella's mother might be lying about how Dad died 16 years ago. Newfound evidence points to his death in a psychiatric hospital, not as a result of a tragic car accident as her mother always claimed.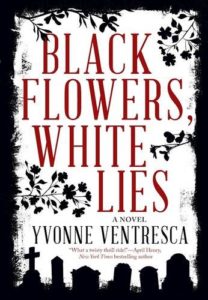 Yikes! When a hand print much like the one Ella left on her father's tombstone mysteriously appears on the bathroom mirror, at first she wonders if Dad is warning her of danger as he did once before?  We're not telling, so find out in Yvonne Ventresca's thrilling Black Flowers, White Lies (Sky Pony Press, $16.99).