Here we are, strumming along to tell you about a nifty little book that traces the evolution of the guitar. And then some.
The pickin' and playin' began in the '20s with experiments with steel cones and resonators. With these additions, the role of the guitar transformed from accessory to vital band member—introducing electronic amplification to the 20th century music scene. The new intensified sounds inspired a much more colorful style of playing, and in turn, a string of new genres from jazz and blues to skiffle and country.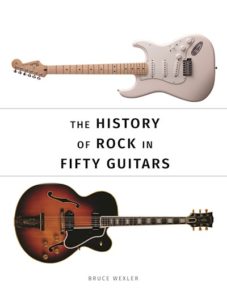 With the growing beatnik movement rearing its head in the '50s, a new musical landscape was in high demand and rock 'n roll was born with a guitar in hand. Bruce Wexler reveals the 50 most beloved guitars in rock history and the artists who played them in The History of Rock in Fifty Guitars (The History Press, $24.95).
What a crowd! There's Jerry Garcia's famous Tiger guitar, customized by Alembic; John Lennon's Gibson-made "Revolution" Casino guitar heard on "Lucy in the Sky with Diamonds";  Jimi Hendrix's Fender Stratocaster that he played on the Woodstock stage; B.B. King's Gibson ES-355 charmingly nicknamed "Lucille" and Kurt Cobain's fusion Fender Jag-Stang.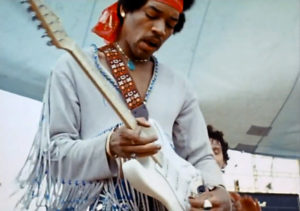 Each vignette counting down the top 50 guitars offers insight into the history behind the guitars, the star-studded instrumentalists who played them and the hit songs and albums the guitars helped to compose. Many limited-edition tribute guitars are highlighted and enhanced with closeup shots detailing the guitar's features—including gold-plated hardware, locking tuners, double-necks, P-90 pickups, f-holes and more—that make them entirely unique and groundbreaking. A book that traces the development of the guitar over seven decades of rock music, The History of Rock in Fifty Guitars will enthrall guitar aficionados and music buffs.