Nothing is tastier than serving up out picks for the best books of all things food. We tasted several tomes from several publishers. Here are our choices to eat up. Seconds anyone?
We actually tingle and mingle whenever Ambassador of Americana Charles Phoenix releases a new book.
Such us the wonder with
Holiday Jubilee: Classic & Kitschy Festivities & Fun Party Recipes
(Prospect Park Books, $29.95) in which Phoenix mixes and mingles spectacular vintage Kodachrome slides of New Year's, Valentine's Day, Easter, Fourth of July, Halloween, Thanksgiving and Christmas with his eye-popping, original recipes for epic edible centerpieces and party pleasers from his colorful Test Kitchen. Oh! We'd love to move to Phoenix!
---
It's a dazzling celebration of Palestinian cuisine (more than 80 recipes), as well as a guide for armchair travelling with captivating stories and stunning travel photography. This is the beauty of Yasmin Khan's  Zaitoun: Recipes From the Palestinian Kitchen (W. W. Norton & Company, $29.95).

Even the late Anthony Bourdain gushed "Yasmin Khan draws on her vast experience as a storyteller, cook, human rights activist, itinerant traveler and writer to create a moving, empathetic, hugely knowledgeable and utterly delicious book."
---
Almost every health study published in recent years has proven that eating a more plant-based diet improves body weight, blood pressure and blood sugar, and shows that having at least one meat-free day a week is essential for anyone wishing to enjoy a healthy life.
The Meat Free Monday Cookbook (Kyle Books, $22.95), based on the trend launched by Paul, Stella and Mary McCartney in 2009, shows how simple it is to eat less meat by including irresistible vegetarian menus for every week of the year,  two main dishes, plus four other ideas for each meal of the day.

Packed with recipes such as Fruity Quinoa, Mexican Cornbread, Warm Halloumi, Apple and Radish Salad, Double Choc Crackle Cookies and Gingerbread Cake, as well as vibrant spring soups, inventive summer salads, appetizing autumn bakes and comforting winter stews, the book includes contributions from Paul and Stella, as well as from celebrity and chef supporters, such as Mario Battali, Yotam Ottolenghi, Kevin Spacey, Pink and Woody Harrelson. It really is the perfect recipe book for anyone who cares about their health, the environment and seriously delicious food.
---
Using easy-to-find ingredients, Indian in 7 (Kyle Books, $24.99) is packed full of dishes that anyone can effortlessly pull together any night of the week.

With years of experience teaching students howto make tasty and authentic Indian food, award-winning chef and food historian Monisha Bharadwaj shows that cooking mouthwatering Indian meals doesn't require a cupboard stocked full of spices or a long list of obscure and unpronounceable ingredients. The tome is packed with 80 irresistible recipes, including delectable desserts as  Black Rice Pudding and Mango & Pistachio Mug Cake.
---
Though Foxfire Living: Design, Recipes, and Stories from the Magical Inn in the Catskills (Harper Design, $45) is a gorgeous full-color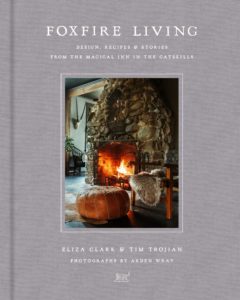 field guide to the innovative neo-vintage design style that is the hallmark of Foxfire Mountain House, the magical inn in the Catskills, and not a true cookbook, the 30 recipes are awfully tasty. Have no reservations about making dinner and then make reservations for an overnight stay.
---
There's nothing better than peppering your cookies with ginger. The wonders are found in Gingerbread Wonderland: 30 Magical Cookies, Houses & Bakes(Kyle Books, $12.99).

Packed with fun cookies and sticky gingerbread cakes, plus handy tips on how to avoid mistakes, create edible glue and utilize templates that are included, the tasty tome includes all the traditional Christmas favorites; perfect treats to slip into lunch boxes, serve up to friends at tea, give as gifts, or show off as your holiday centerpiece.
---
Steven Raichlen has a helluva piece of meat. In The Brisket Chronicles: How to Barbecue, Braise, Smoke, and Cure the World's Most Epic Cut of Meat (Workman Publishing, $19.95),

the grill master shares more than 60 foolproof, mouthwatering recipes for preparing the tastiest, most versatile and most beloved cut of meat in the world—outside on the grill, as well as in the kitchen. The recipes are overwhelming delicious: Raichlen even teaches how to bake brisket into chocolate chip cookies.
---
In Cookie Class 120 Irresistible Decorating Ideas For Any Occasion (Harper Design, $24.99), Jenny Keller shares her no-fail, easy tried-and-true recipes for cookies and a basic buttercream icing that can be turned into a variety of different treats with just a few tweaks and adjustments.

Each cookie decoration is easily achievable following Jenny's simple step-by-step photographs and practical advice. Even the most inexperienced bakers can create cookies that look like they came out of a bakery case.
---
America's Test Kitchen once again brings their scientific know-how, rigorous testing and hands-on learning to kids. In The Complete Baking Book for Young Chefs (Sourcebooks Explore, $19.99), they will easily learn how to make  soft pretzels, empanadas, brownies and pies. Step-by-step photos of tips and techniques will help young chefs feel like pros in their own kitchen.

By empowering young chefs to make their own choices in the kitchen, America's Test Kitchen is building a new generation of confident cooks, engaged eaters, and curious experimenters. Bravo!
---
Gooseberry Patch has released a new must-have for every kitchen: Foolproof Christmas ($17.95). We found the more than 230 recipes shared by home cooks across the country indeed foolproof . . . easy to make dishes such as Mashed Potato Cake, Holly Jolly Party Mix, Chicken Parmesan Soup and Mrs. Claus' Microwave Fudge.

Readers also share Sweet Christmas Memories, true-life recollections that made us laugh an cry. Simply delicious!
---
New York Times bestselling author and Food Network star Hannah Hart is back with her biggest book ever: My Drunk Kitchen Holidays! How to Celebrate and Savor the Year: A Cookbook (Plume, $28). In a world where everyone is looking for some good news and something to celebrate, Hart is there with nearly 50 ideas, arranged into 12 months of themes and recipes for how to celebrate with family and friends.

A collection of recipes, activities and suggestions about hilarious and joyous ways to celebrate with family, friends, pets, even your entire community, the book features a fabulous celebration of Hanukkah/Kwanzaa/Christmas that is inclusive and incredibly hilarious.
---
In Creating the Sweet World of White House Desserts (White House Historical Association , $65), Roland Mesnier, pastry chef to five presidents, recalls the stunning desserts he created for White House State Dinners, formal events and family celebrations.

For the first time, he reveals the secrets of mold making and sugar work and shares recipes, all adapted for home kitchens. Of special interest are descriptions and illustrations of the dozens of molds now in the chef's collection. Here, Mesnier and his assistant Mark Ramsdell help make professional desserts possible for cooks of all abilities and offer insights into the concerns and accomplishments of the White House pastry kitchen.
---
In Whole in One: Complete, Healthy Meals in a Single Pot, Sheet Pan, or Skillet (Da Capo Lifelong Books, $30), James Beard Award winner and bestselling cookbook author Ellie Krieger shows you how to create a meal in a single pot, sheet pan, baking dish or skillet . . . no additional gadgets or tools required.

Divided by main ingredients (meat, poultry, seafood, vegetarian, dessert) and further separated into sheet pan, baking dish, skillet and pot-cooked meals, the 125 nutritionally complete dinner recipes (plus healthy desserts) can each be prepared simply. Yum!
---
Michelle Lopez has figured out how to have her cake and eat it too. In Weeknight Baking: Recipes to Fit Your Schedule, (Simon & Schuster, $35), Lopez shares recipes for drool-worthy confections, along with charming stories and time-saving tips and tricks.

From everyday favorites like "Almost No Mess Shortbread" and "Better-Than-Supernatural Fudge Brownies" to showstoppers like "a Modern Red Velvet Cake" and "Peanut Butter Pretzel Pie" (it's vegan!), she reveals the secrets to baking on a schedule.
---