The Iconic House (Thames & Hudson, $35) features more than 100 of the most important and influential houses designed and built since 1900. Think seminal works by Le Corbusier, Wright, van der Rohe, Ando, Koolhaas and Herzog & de Meuron.
Wide-ranging in both geographical scope and artistic style, the houses share an appreciation of local materials and building traditions and a careful understanding of clients' needs. Each house, however, is the result of a unique approach that makes it groundbreaking for its time. Now, fully updated, the book features iconic houses recently constructed, as well as concise, informative texts, specially commissioned photographs, floor plans, and drawings
You may never live like this, but oh! this book brings to life a stunning array of architectural masterpieces.
---
Harper Design doesn't monkey around when it comes to scrumptious coffeetable books. With a foreword by Fraser Heston (Charlton Heston's son), The Making of Planet of the Apes (HarperDesign, $60)is an entertaining, informative experience that will transport readers back to the strange alternate Earth ruled by apes, and bring to life memorable characters such as Cornelius, Dr. Zira, Dr. Zaius, and Taylor, the human astronaut whose time-traveling sparks an incredible adventure.
Meticulously researched and designed to capture the look and atmosphere of the film, The Making of Planet of the Apes is also packed with a wealth of concept paintings, storyboards, and never-before-seen imagery—including rare journal pages and sketches from Charlton Heston's private collection—as well as color and black-and-white unit photography, posters and more unique ephemera.
---
Summer may be winding down, but nothing still sizzling is the delicious and sexy Hollywood Beach Beauties: Sea Sirens, Sun Goddesses, and Summer Style 1930-1970 (Dey Street Books, $30).
Renowned independent curator and photographic preservationist David Wills commemorates the golden age of Hollywood and beloved starlets of the past with a book that must be in every film fan's library.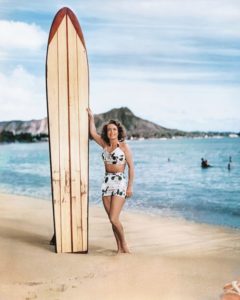 With more than 100 vibrant color photographs this book commemorates both the allure and joy of the coastline as well as the women of the stage and silver screen who spent time there. Inside the book, you will find candid and stylish photographs of movie star greats such as Elizabeth Taylor, Rita Hayworth, Audrey Hepburn, Marilyn Monroe, Brigitte Bardot, Sharon Tate, Edy Williams, Linda Christian, Norma Shearer, Joan Crawford and Nancy Sinatra.
---
In 1971, John Lennon & Yoko Ono conceived and recorded the critically acclaimed album Imagine at their Georgian country home, Tittenhurst Park, in Berkshire, England, in the state-of-the-art studio they built in the grounds, and at the Record Plant in New York.
Imagine John Yoko (Grand Central Publishing, $50), tells the story of John & Yoko's life, work and relationship during this intensely creative period. It transports readers to home and working environments showcasing Yoko's closely guarded archive of photos and artifacts, using artfully compiled narrative film stills, and featuring digitally rendered maps, floor plans and panoramas that recreate the interiors in evocative detail. John & Yoko introduce each chapter and song; Yoko also provides invaluable additional commentary and a preface.
---
This is one book that colors our world. Pink: The History of a Punk, Pretty, Powerful Color(Thames & Hudson, $50) is beautifully illustrated, with images of stunning pink fashions given context by photographs, advertisements, and works of art.
It features essays by scholars across the disciplines, giving readers access to a wealth of research into subjects as diverse as Hollywood movies and the symbolism of the pink triangle. This book will appeal to those interested in fashion and culture, as well as those who love pink.
---
Who'd ever think we would rap about punk? The Sex Pistols-1977: The Bollocks Diaries is the official, inside story of the whirlwind year of 1977 (the recording and release of Never Mind the Bollocks) and the year the Sex Pistols changed everything. From God Save the Queen to Holidays in the Sun and everything in between, it was a year of chaos and creation.
Straight from the mouths of the Sex Pistols and their collaborators, with first-hand stories of secret gigs, recording sessions, fights, record label meltdowns and a media storm like nothing ever seen before, this tome is packed with photography and rare items from the Sex Pistols archives.
---
No Cameras Allowed: My Career as an Outlaw Rock and Roll Photographer (For the Duration Press, $60) tells the story, in words and photos, of how Julian David Stone, entirely by sneaking his equipment into concerts, amassed an incredible archive of over ten thousand rock and roll photos. Starting by simply stashing a camera in his socks, then taping equipment all over his body, to finally customizing a jacket to hide equipment from security guards, he shot dozens of the '80s greatest acts: Prince, U2, the Police, David Bowie, R.E.M., the Ramones, Elvis Costello, the Talking Heads, the Grateful Dead, Joan Jett.


Culled from this incredible, never-before-seen archive, this book contains more than 250 of his best photos, along with some of the craziest adventures he had as he evaded oversized roadies, aggressive security, and more than a few drunken fans.
---
The Art of Walt Disney's Mickey Mouse (Disney Editions, $40) s a celebration of the true original icon, spanning the 90 years that Mickey has been entertaining audiences with heartfelt performances and humorous antics. The book begins with a comprehensive filmography, listing Mickey's animated performances in shorts, films, and television shows. This impressive résumé is followed by an analysis of Mickey's milestones: the firsts he has attained, the achievements he has made, and the recognitions Jewelry for Gentlemenhe has received throughout his life thus far.
A special double gatefold commemorates Mickey and Minnie's ninetieth anniversary with ninety pieces of artwork depicting the famous pair, from never-before-seen animation drawings to classic comic book covers.
---
In Jewelry for Gentlemen (Thames & Hudson, $45), men's style aficionado James Sherwood draws on his style expertise and insider's knowledge of the industry to tell the story of men's relationship with jewelry. He presents the contemporary artisans who keep the practice alive and profiles and illustrates works by key jewelers, including Tiffany & Co. and Cartier.
Hundreds of exquisite photographs, many specially commissioned, of rings, cuff links, bracelets, and more, chart changing fashions and evolving attitudes to men's jewelry over the centuries. Sherwood brings pieces by great craftsmen and the patrons who commissioned them to life through vivid texts and contemporary and archival portraits.
---
Recovered Memory: New York and Paris 1960-1980 is a meditation on time and place: Before the internet and 24/7 news; when one could visit the Eiffel Tower without seeing police and automatic weapons, when a ride on the New York subway cost 15 cents, when the smell of fresh-baked baguettes wafted over nearly every Parisian neighborhood, and when the Coney Island parachute ride still thrilled thousands.
Frank Van Riper's striking black and white photographs spanning twenty years, coupled with his eloquent texts, capture the 20th-century romance and grit of New York more than a half century ago, and Paris, some forty years ago. It was a time when the pace of life was slower and somehow less threatening, people talked to each other instead of texting on their iPhones, and you literally had to stop and smell the coffee.
---
Photographer Vivian Maier's allure endures even though many details of her life continue to remain a mystery. Her story—the secretive nanny-photographer who became a pioneer photographer—has only been pieced together from the thousands of images she made and the handful of facts that have surfaced about her life. Vivian Maier: The Color Work (Harper Design, $80) is the largest and most highly curated published collection of Maier's full-color photographs to date.
This definitive volume sheds light on the nature of Maier's color images, examining them within the context of her black-and-white work as well as the images of street photographers with whom she clearly had kinship. With more than 150 color photographs, most of which have never been published in book form, this collection of images deepens our understanding of Maier, as its immediacy demonstrates how keen she was to record and present her interpretation of the world around her.
---
The tomb of Tutankhamun, with its breathtaking treasures, remains the most sensational archaeological find of all time. The brilliantly illustrated Tutankhamun: The Treasures of the Tomb (Thames & Hudson, $39.95) takes the reader through Tutankhamun's tomb room-by-room in the order that it was discovered and excavated by Howard Carter, illuminating the tomb's most magnificent artifacts and objects.
Leading authority Dr. Zahi Hawass imbues the text with his own inimitable flavor, imagining how the uncovering and opening of the tomb must have felt for Carter, while Sandro Vannini's extraordinary photographs reproduce the objects in infinitesimal detail.
---
In this mysterious tie-in to Netflix's award-winning A Series of Unfortunate Events, Count Olaf's legal representative, Neil Patrick Harris hares insider secrets about the Baudelaire family and the making of the show.  The book (Hachette Books, $35) brims withnever-before-seen photographs, never-before-told stories and never-before, revealed secrets spanning all three seasons of the hilariously twisted, critically acclaimed hit series.
You will encounter original concept art, annotated script excerpts, and interviews with the creative team and all-star cast, as well as glossaries, recipes, lyric sheets, hidden Easter eggs, shocking backstories, and suspicious pages from the titular tome, unredacted and revealed here for the first time.
---
Iconic Magazine Covers (Firefly Books, $49.95) is an oral history of the stories behind the most innovative and controversial magazine covers as told by the people who created them. Ian Birch has worked in the industry since the '70s and has used a career's worth of contacts to make this unique social document that a wide variety of readers will find fascinating.
There are more than 65 feature covers and selection criteria was diverse. The book displays the covers on a full page opposite the history of the design as told by the key figures in its making. Editors, photographers, creative directors, illustrators and others describe their roles in bringing the cover to life
---
Last but never least: National Geographic continues to stay in the spotlight with their bold, lavish, glossy must-have coffeetable books. A few should be on your "Santa, please" list.
Featuring 100 innovative, kitchen-tested recipes, 300 gorgeous color photographs and 30 maps, Tasting Italy ($40) takes you on a captivating journey through the rich history of Italian cuisine, region by region.
Rich excerpts feature the origins of celebrated cheeses, the nuances of different wine growing regions, the best farmer's markets in Venice, and more. Intriguing prose illuminates key ingredients, from olive oil and how it's made to the various pasta shapes of Northern Italy. In every region, the food experts at America's Test Kitchen bring it all home, with foolproof recipes for standout dishes as well as hidden gems.
Spectacle ($40) is an exquisite photo collection showcasing awe-inducing moments from around the world, including the aurora borealis, cities made of neon lights, a great wildebeest migration, a contortionist on display,  a majestic supercell, the secrets of a deep blue ice cave and so much more.
Featuring more than 200 color images, including acclaimed photography from the National Geographic Image Collection, this volume presents a dazzling array of natural and man-made wonders, unusual phenomena, and amusing curiosities. Each page will enlighten and inspire, presenting our world at its best.
Atlas of World War II: History's Greatest Conflict Revealed Through Rare Wartime Maps and New Cartography($45) is a magnificent atlas delves into the cartographic history of WWII: naval, land, and aerial attacks from the invasion of Poland to Pearl Harbor and the Battle of the Bulge.
Satellite data renders terrain as never before seen, highlighting countries and continents in stunning detail to include the towns, cities, provinces and transportation roads for a pinpoint-accurate depiction of army movements and alliances. Gripping wartime stories from these hallowed fields of battle, along with photographs, sketches, confidential documents, and artifacts color the rest of this timeless and informative book.
Bird, nature and art lovers alike will treasure The Splendor of Birds: Art and Photographs From National Geographic($75), an amazing visual celebration of the colors, forms and behaviors of the winged wonders who share our world as they have been explored, displayed and revealed throughout the years by National Geographic.
The book moves chronologically so readers witness the tremendous growth in our knowledge of birds over the last 130 years, as well as the new frontiers in technology and observation–from luminous vintage paintings and classic black and white photographs to state-of-the art high-speed and telephoto camera shots that reveal moments rarely seen and  sights invisible to the human eye.
---