Anything you can do I can do better. But no one can do anything better than Video Artists International (VAI), the company who finds and releases long-lost, forgotten or obscure TV shows and musicals on Blu-rays and DVDs. Since its inception, in 1983, VAI has been dedicated to preserving great performances of the past century while maintaining the absolute highest standards of performance available on DVD, Blu-ray and CD. Smart Santas would do no better than head straight to vaimusic.com to discover the array of timeless treasures that make the best stocking stuffers. We made a list, kindly and musically asking Santa Baby to bring us some gems. And the envelope goes to . . .
♥ The Irving Berlin classic Annie Get Your Gun, starring Mary Martin and John Raitt. It aired live on November 27, 1957;  and the Blu-ray contains nifty bonus tracks. They include the show's closing commercial; although no elements of the commercials for the 1957 Annie Get Your Gun telecast are known to exist,
VAI is including the unedited audio of the closing commercial, hosted by Martin, which includes a message wishing everyone a Happy Thanksgiving. There's an excerpt from a live concert of Martin with Louis Magor at the piano. Martin talks about the role of Annie, performs "Anything You Can Do" with Magor (who sings from the keyboard), and also recalls her collaboration with Ethel Merman on the Ford 50th Anniversary Show in 1953.
♥ Another Mary Martin gem: Available for the first time on home video: The historic live 1956 telecast of Mary Martin as Peter Pan, generally considered the definitive performance of this beloved musical. Only nine days after the initial Broadway run had ended, the cast and crew (under the supervision of director Jerome Robbins) assembled in the Brooklyn studios of NBC to perform the show live for television. A year later, in preparation for the second Peter Pan live telecast, essentially the same cast reunited for several performances at the Ambassador Theater in New York City for invited audiences of children.
This gave the 1956 telecast the same fresh theatrical quality as the first.
♥ With a book by Moss Hart, and music and lyrics by Kurt Weill and Ira Gershwin, Lady in Dark is one of the legendary musicals of American musical theatre.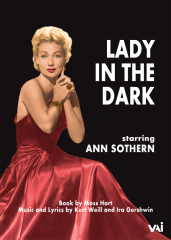 Inspired by Hart's personal experience with psychotherapy, its innovative concept was termed a "musical play," presenting the main character's therapy sessions and waking life as spoken drama and her dream sequences as musical numbers. The excellent cast features Ann Sothern in the title role, with James Daly (Tyne's Daddy), Carleton Carpenter, and Luella Gear. The show's brilliant score includes "The Saga of Jenny" and "My Ship." It's live telecast was on September 25, 1954.
♥ An original made-for-TV musical, produced and directed by Max Liebman, Holiday tells the story of Nell Valentine (marvelously protrayed by Doretta Morrow), a young schoolteacher who breaks the routine of her everyday life to embark on a European adventure. Nell meets and falls in love with the mysterious Ray Brinton (Keith Andes), another American apparently on vacation, whose past poses an obstacle to their romance.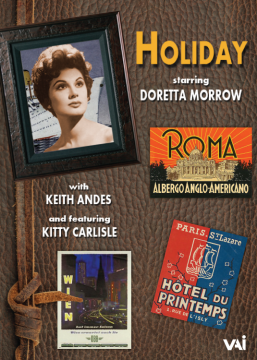 The cast includes a rare dramatic and musical performance by Kitty Carlisle as Ray's estranged wife Adele, as well as cameo appearances by Tammy Grimes and Jacques d'Amboise.  It's live telecast was on June 9, 1956. The DVD Includes the original commercials as a separate bonus feature.
♥ VAI sails the high Cs with a wonderful array of historic opera performances. Opera legend and film star Risë Stevens leads a magnificent cast in this 1955 television production of The Chocolate Soldier, produced and directed by Max Liebman. Based on George Bernard Shaw's Arms and the Man, The Chocolate Soldier is one of the most popular operettas of all time; on Broadway alone, it received seven productions throughout a period of 40 years.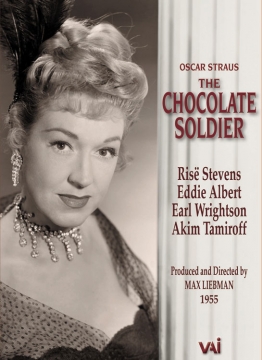 Stevens is partnered by the delightful Eddie Albert, and the cast also features the beloved baritone Earl Wrightson and the popular character actor Akim Tamiroff. Interestingly, Stevens made her Hollywood debut in a 1941 film version of The Chocolate Soldier that employed much of Straus' score, but followed a completely different storyline. Liebman's television production restores the original plot and characters, and faithfully conveys the romance and good humor of the Viennese operetta tradition.
♥ We were lucky enough to have worked (just once) with Bubbles. That's Beverly Sills to you. One of Sill's most acclaimed portrayals was as Queen Elizabeth I in Donizetti's intensely dramatic opera Roberto Devereux. In this 1975 production from the Wolf Trap Festival, shes is joined by John Alexander, Susanne Marsee, and Richard Fredricks.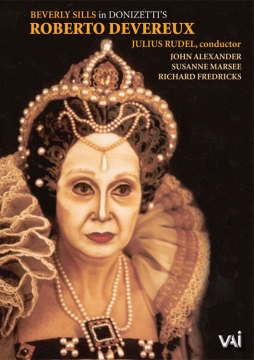 Maestro Julius Rudel is the conductor of this live production, devised and directed by Tito Capobianco. An essential addition to every opera lover's video library.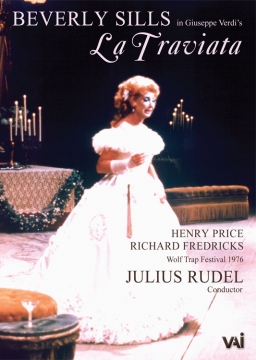 An equally delightful DVD features the role for which Sills was world-famous: Violetta in Tito Capobianco's stirring production of Verdi's La Traviata. This performance was captured live on video in 1976 as part of the Wolf Trap Festival. Brava!
♥Theater Songs of Brecht & Weill Lotte Lenya and Gisela May were the two most prominent interpreters of Brecht and Weill in the last century. Here, from 1958, is Lenya performing five of Kurt Weill's songs from The Threepenny Opera, Happy End, Mahagonny and the Berlin Requiem.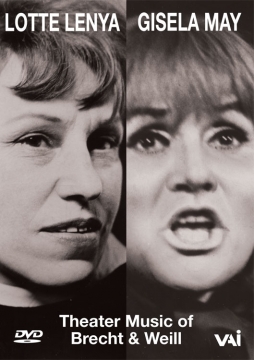 Gisela May performs Brecht songs with music by Weill, Heymann and Dessau. As a bonus, Martha Schlamme performs two songs of Weill, joined by Will Holt in one number.
One of the most exciting VAI moves is the release of Bell Telephone Hour, a long-run concert series sponsored by Bell Telephone as the name implies and showcased the best in classical and Broadway music. Its TV run was from 1959 to 1968. Beginning in 2001, DVDs of performances from the television series have been released by Video Artists International. To date, VAI has issued more than two dozen DVD compilations. A visit to their website will drive you greedy as you ask Santa for all of them! Two faves:
♥ Dolores Gray: Bell Telephone Hour 1959-1966 For 40 years, Dolores Gray was a star of Broadway, London's West End and cabaret. Among her Broadway credits, she starred in Two on the Aisle, Destry Rides Again and 42nd Street. In London, she appeared in Annie Get Your Gun, Gypsy and Follies.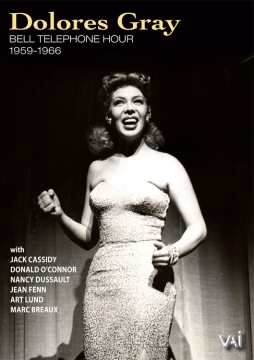 Here she sings a slew of classics, including "A Wonderful Guy" (from South Pacific), "My Funny Valentine" (from Babes in Arms), "It Never Entered My Mind" (Higher and Higher), "Friendship" (from "Dubarry Was a Lady") and "Down in the Depths" (from Red, Hot and Blue) Also on the show: Marc Breaux, Art Lund,Jack Cassidy, Nancy Dussault  and Donald O'Connor.
♥ For the legendary comic actor Groucho Marx, playing the role of Ko-Ko in The Mikado "fulfilled a lifelong ambition." The Mikado was Groucho's favorite among the works of his beloved Gilbert and Sullivan, and the 1960 Bell Telephone Hour production was adapted for television and directed by Martyn Green,
a man Groucho revered as an authority on interpreting the role of Ko-Ko. The strong supporting cast features distinguished veterans like Helen Traubel, Stanley Holloway, Robert Rounseville, and Dennis King, as well as young artists like the lovely soprano Barbara Meister as Yum-Yum and Groucho's 13-year-old daughter, Melinda, as Peep-Bo. Special features include audio interviews with Dick Cavett, Groucho's daughter Melinda Marx and Barbara Meister; Martyn Green in excerpts from H.M.S. Pinafore (Bell Telephone Hour, 1963), cast bios and the commercials from the original telecast.