We have always given Broadway Records President Van Dean standing ovations . . . for his off-stage work. (For those who have never heard of him, please Google him instead of admitting your theatrical and charitable ignorace.)
We now raise the curtain on the exciting news that Dean has now joined executive producers Gina Holland and Michelle Shapiro and launched the charitable recording, "I Have a Voice" with 100% of the profits to benefit www.NoBully.org.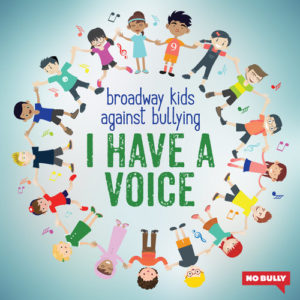 The song and videos feature more than 75 Broadway kids from shows such as Matilda the Musical, School of Rock, Kinky Boots, Fiddler on the Roof, The Lion King and On Your Feet!  We must share other important news: The song boasts music by Frank Wildhorn, lyrics by Robin Lerner and comes from the upcoming new musical The Song of Bernadette.
"In the recording industry, I often work with children and have seen how saddened they are by the increased bullying and intolerance in schools across the country over the past year," says Dean. "The 'I Have a Voice' initiative is an opportunity for 75+ child performers from Broadway and beyond to express their own voice and let other children know they too, have a voice. I truly hope this song will inspire others to be more inclusive, tolerant and unite kids to celebrate our differences."
"I am so honored and grateful for my music to be used for this cause, which as a father, is so very important to me," says Wildhorn. "I believe music can heal and believe so strongly in its power to communicate. Being in the studio, watching and hearing these beautiful children sing Robin's beautiful words was a truly inspiring moment, and one I'll never forget."
The digital download of "I Have a Voice" is $1.99 ($1.29 on iTunes) and is available for purchase at BroadwayRecords.com.