In Such Good Company (Crown Archetype, $28), Carol Burnett pulls back the curtain on the 25-time Emmy-Award winning show that made television history, and she reminisces about the outrageously funny and tender moments that made working on the series as much fun as watching it. Carol delves into little-known stories of the guests, sketches and improvisations that made The Carol Burnett Show legendary, as well as some favorite tales too good not to relive again.
While writing this book, Carol rewatched all 276 episodes and screen-grabbed her favorite video stills from the archives to illustrate the chemistry of the actors and the improvisational magic that made the show so successful. This book is Carol's love letter to a golden era in television history through the lens of her brilliant show. Get the best seat in the house for "eleven years of laughter, mayhem, and fun in the sandbox."
Grammy and Academy Award–winning songwriter Carole Bayer Sager shares the remarkably frank and darkly funny story of her life in and out of the recording studio, from her fascinating (and sometimes calamitous) relationships to her collaborations with some of the greatest composers and musical artists of our time. While her professional life was filled with success and fascinating people, her personal life was far more difficult and dramatic.
In They're Playing Our Song (Simon & Schuster, $28), Sager tells the surprisingly frank and darkly humorous story of a woman whose sometimes crippling fears and devastating relationships inspired many of the songs she would ultimately write. The book will fascinate anyone interested in the craft of songwriting and the joy of collaboration, but
Sager's memoir is also a deeply personal account of how love and heartbreak made her the woman, and the writer, she is.
Seventeen-time all-star; scorer of 81 points in a game; MVP and a shooting guard second only to Jordan in league history: Kobe Bryant is one of basketball's absolute greatest players, a fascinating and complicated character who knew when he was a mere boy that he would be better than Jordan on the court.
The debate about whether he achieved that is a furious one–but Kobe has surpassed Jordan on the all-time scoring list and has only one less championship than Jordan (5 to Jordan's 6). He is set to retire after the 2015/16 season, just in time for Roland Lazenby's Showboat: The Life of Kobe Bryant (Little, Brown and Company, $32) Provocative stories mixed with good old-fashioned basketball reporting make for a riveting and essential read for any hoops fan.
She inspired songs—Leon Russell wrote "A Song for You" and "Delta Lady" for her, Stephen Stills wrote "Cherokee." She co-wrote songs—"Superstar" and the piano coda to "Layla," uncredited. She sang backup for Eric Clapton, Joe Cocker, and Stills, before finding fame as a solo artist with such hits as "We're All Alone" and "(Your Love Has Lifted Me) Higher and Higher."
Following her story from Lafayette, Tennessee to becoming one of the most sought after rock vocalists in LA in the '70s, Delta Lady (Harper, $25.99) chronicles Rita Coolidge's fascinating journey throughout the '60s-'70s pop/rock universe. A muse to some of the twentieth century's most influential rock musicians, she broke hearts, Delta Lady is a rich, deeply personal memoir that offers a front row seat to an iconic era, and illuminates the life of an artist whose career has helped shape modern American culture.
Call her a woman of letters. Mary Astor detailed her marital affairs as well as the many, many, many dalliances of some of Hollywood's biggest names. The studio heads, longtime controllers of public perception, were desperate to keep such juicy details from leaking.  With the complete support of the Astor family and unlimited access to the Mary Astor estate, Joseph Egan has painted a portrait of a great film actress in her most challenging role; an unwilling but determined mother battling for her daughter regardless of the harm that her affairs and her most intimate secrets would do to her career, the careers of her friends, or even Hollywood. 
The Purple Diaries: Mary Astor and the Most Sensational Hollywood Scandal of the 1930s ( Diversion Publishing, $16.99) is a look at Hollywood's Golden Age as it has never been seen before, as Egan spins a wildly absorbing yarn about a scandal that threatened to tarnish forever the dream factory known as Hollywood.
"Casanova" is a synonym for "great lover," Over the course of his lifetime, he claimed to have seduced more than 100 women, among them married women, young women in convents, girls just barely in their teens, and in one notorious instance, his own illegitimate daughter. Yet the real story of this remarkable figure is little known. He was intellectually curious and read forbidden books, for which he was jailed. He staged a dramatic escape from Venice's notorious prison, the only person known to have done so. He then fled to France, where he invented the national lottery that still exists to this day.
He crisscrossed Europe, landing for a while in St. Petersburg, where he was admitted to the court of Catherine the Great. He corresponded with Voltaire and met Mozart and Lorenzo da Ponte, assisting them as they composed the timeless opera Don Giovanni. A figure straight out of a Henry Fielding novel: Erotic, brilliant, impulsive, and desperate for recognition, Casanova was a self-destructive genius. Casanova: The World of a Seductive Genius (Simon & Schuster, $32.50) is a witty, roisterous biography exposes his astonishing life in rich, intimate detail.
The curtain has gone up on the complete memoirs of playwright Neil Simon, now with a new introduction and afterword. Neil Simon's Memoirs (Simon & Schuster, $35) combines Simon's two memoirs, Rewrites and The Play Goes On, into one volume that spans his extraordinary five-decade career in theater, television and film. Rewrites takes Simon through his first love, his first play, and his first brush with failure. One touching section is as he describes his marriage to his beloved wife Joan, and writes lucidly about the pain of losing her to cancer. The Play Goes On adds to his life's story, as he wins the Pulitzer Prize and reflects with humor and insight on his tumultuous life and meteoric career.

Now, with the whole story in one place, Neil Simon's collected memoirs trace the history of modern entertainment over the last fifty years through the eyes of a man who started life the son of a garment salesman and became the greatest—and most successful—American playwright of all time.
Claude Monet is perhaps the world's most beloved artist, and among all his creations, the paintings of the water lilies in his garden at Giverny are most famous. Monet intended them to provide an asylum of peaceful meditation. Yet, as Ross King reveals in Mad Enchantment (Bloomsbury, $30), his magisterial chronicle of both artist and masterpiece, these beautiful canvases belie the intense frustration Monet experienced at the difficulties of capturing the fugitive effects of light, water and color.
They also reflect the terrible personal torments Monet suffered in the last dozen years of his life. The book tells the full story behind the creation of the "Water Lilies," as the horrors of World War I came ever closer to Paris and Giverny, and a new generation of younger artists, led by Henri Matisse and Pablo Picasso, were challenging the achievements of Impressionism.
It's widely known that Oscar Wilde was precociously intellectual, flamboyant and hedonistic—but lesser so that he owed these characteristics to his parents. Oscar's mother, Lady Jane Wilde, rose to prominence as a political journalist, advocating a rebellion against colonialism in 1848. She opened a salon and was known as the most scintillating hostess of her day. She passed on her infectious delight in the art of living to Oscar, who drank it in greedily. His father, Sir William Wilde, was acutely conscious of injustices of the social order. But Sir William was also a philanderer, and when he stood accused of sexually assaulting a young female patient, the scandal and trial sent shockwaves through Dublin society.
As for Oscar, the one role that didn't suit him was that of Victorian husband, as his wife, Constance, was to discover.  In a major repositioning of our first modern celebrity, The Fall of the House of Wilde (Bloomsbury, $35) identifies Oscar Wilde as a member of one of the most dazzling Irish American families of Victorian times, and places him in the broader social, political, and religious context.
He's best known for his wistful movie scores, with "You've Got a Friend in Me," from the Toy Story soundtrack leading the pack. He's been nominated for 20 Academy Awards, and has twice won Oscars for Best Original Song. But Randy Newman was also a quintessentially American pop powerhouse before he turned his formidable talents to scoring films.
A songwriter since the age of 17, his earliest compositions were recorded by '60s luminaries like The Fleetwoods, Gene Pitney, Jackie DeShannon and the O'Jays. Yet very little has been written about his personal life, including his marriages and his diagnosis with Epstein-Barr virus. Maybe I'm Doing It Wrong: The Life of Randy Newman (Overlook, $28.95) is a primer for newcomers to his work and a rewarding handbook for the aficionado.
Yes, it's her, again. Her Again: Becoming Meryl Streep (Harper, $26.99) explores her beginnings as a young woman of the '70s grappling with love, feminism and her astonishing talent. Michael Schulman brings into focus Meryl's heady rise to stardom on the New York stage; her passionate, tragically short-lived love affair with actor John Cazale; her marriage to sculptor Don Gummer; and her evolution as a young woman of the 1970s wrestling with changing ideas of feminism,
marriage, love, and sacrifice.Featuring eight pages of black-and-white photos, this captivating story of the making of one of the most revered artistic careers of our time reveals a gifted young woman coming into her extraordinary talents at a time of immense transformation, offering a rare glimpse into the life of the actress long before she became an icon.
Mary Martin was one of the greatest stars of her day. Growing up in Texas, she was married early to Benjamin Hagman and gave birth to her first child, Larry Hagman. She didn't make a dent in the movie industry and was lured to New York where she found herself auditioning for Cole Porter and his new show "Leave It to Me!". After she sang the bawdy "My Heart Belongs to Daddy", she ended up on the cover of Life magazine.
Six years later, she became the Toast of Broadway. Her personal life was just as interesting: In NYC, she met and married Richard Halliday, a closeted upper-class homosexual who adored her and interior decorating. There were rumors about Martin, too, being in a lesbian relationship with both Janet Gaynor and Jean Arthur.  Savor the stuff in David Kaufman's Some Enchanted Evenings (St. Martin's Press, $29.99)
Still known to millions primarily as the author of The Lottery, Shirley Jackson has been curiously absent from the mainstream American literary canon. A genius of literary suspense and psychological horror, Jackson plumbed the cultural anxiety of postwar America more deeply than anyone. Now, biographer Ruth Franklin reveals the tumultuous life and inner darkness of the author in Shirley Jackson: A Rather Haunted Life (Liveright, $35). Placing Jackson within an American Gothic tradition that stretches back to Hawthorne and Poe, Franklin demonstrates how her unique contribution to this genre came from her focus on "domestic horror."
 Based on a wealth of previously undiscovered correspondence and dozens of new interviews, the tome―an exploration of astonishing talent shaped by a damaging childhood and turbulent marriage―becomes the definitive biography of a generational avatar and an American literary giant.
On May 25, 1977, a problem-plagued, budget-straining, independent science-fiction film opened in a mere thirty-two American movie theatres. Conceived, written and directed by a little-known filmmaker named George Lucas, Star Wars reinvented the cinematic landscape, ushering in a new way for movies to be made, marketed, and merchandised. And if that wasn't game-changing enough,
Lucas went on to create another blockbuster series with "Indiana Jones," and completely revolutionized the world of special effects, not to mention sound systems. His work and legacy have led to a rash of innovation and democratization in film and television. Brian Jay Jones does a splendid job detailing Lucas' fame and fortune in George Lucas: A Life (Little, Brown and Company, $32).
Why were Americans so attracted to John F. Kennedy in the late '50s and early '60s . . . was it is glamorous image, good looks, cool style, tough-minded rhetoric and sex appeal? As Steve Watts argues in JFK and the Masculine Mystique: Sex and Power on the New Frontier (Thomas Dunne Books, $29.99), JFK was tailor made for the cultural atmosphere of his time. He benefited from a crisis of manhood that had welled up in postwar America when men had become ensnared by bureaucracy, softened by suburban comfort, and emasculated by a generation of newly aggressive women.
  By examining Kennedy in the context of certain books, movies, social critiques, music, and cultural discussions that framed his ascendancy, Watts shows us the excitement and sense of possibility, the optimism and aspirations that accompanied the dawn of a new age in America.
For too long Tippi Hedren's story has been told by others through whispered gossip and tabloid headlines. In Tippi: A Memoir (William Morrow, $28.99), she sets the record straight, recalling how a young and virtuous Lutheran girl from small-town Minnesota became a worldwide legend as one of the most famous Hitchcock girls, as an unwavering animal activist, and as the matriarch of a powerful Hollywood dynasty that includes her movie star daughter Melanie Griffith, and rising star Dakota Johnson, her granddaughter.
Hedren digs deep into her complicated relationship with the man who discovered her talent, director Alfred Hitchcock, the benefactor who would become a repulsive and controlling director who contractually controlled her every move. She speaks openly about the dark pain she endured working with him on their most famous collaborations, The Birds and Marnie. Filled with 16 pages of beautiful photos, Tippi is a rare and fascinating look at a private woman s remarkable life no celebrity aficionado can miss.
In a career that has spanned more than 60 years, Robert Wagner has witnessed the twilight of the Golden Age of Hollywood and the rise of television, becoming a beloved star in both media. During that time he became acquainted, both professionally and socially, with the remarkable women who were the greatest screen personalities of their day. I Loved Her in the Movies (Viking, $tk) is his intimate and revealing account of the charisma of these women on film, why they became stars, and how their specific emotional and dramatic chemistries affected the choices they made as actresses as well as the choices they made as women.
Among Wagner's subjects are Joan Crawford, Bette Davis, Marilyn Monroe, Gloria Swanson, Norma Shearer, Loretta Young, Joan Blondell, Irene Dunne, Rosalind Russell, Dorothy Lamour, Debra Paget, Jean Peters, Linda Darnell, Betty Hutton, Raquel Welch, Glenn Close, and the two actresses whom he ultimately married, Natalie Wood and Jill St. John.  As fun and entertaining as RJ himself.
Was it magic? In Presto!: How I Made Over 100 Pounds Disappear and Other Magical Tales (Simon & Schuster, $26),  Penn Jillette tells how he lost 100 pounds with his trademark outrageous sense of humor and biting social commentary that makes this success story anything but ordinary.  Topping 330 pounds and saddled with a systolic blood pressure reading over 200, he knew he was at a dangerous crossroads: If he wanted to see his small children grow up, he needed to change. And then came a former NASA scientist and an unconventional innovator, Ray Cronise, who saved Penn Jillette's life with his wild "potato diet."
 Penn describes the process in hilarious detail, as he performs his Las Vegas show, takes meetings with Hollywood executives, hangs out with his celebrity friends and fellow eccentric performers, all while remaining a dedicated husband and father. Presto is an incisive, rollicking read.
We have never forgiven Maggie Smith for stealing Liza Minnelli's Oscar (look it up), but Michael Coveney's biography shines a light on the life and career of a truly remarkable performer, one whose stage and screen career spans six decades. From her days as a West End star of comedy and revue, Dame Maggie's path would cross with those of the greatest actors, playwrights, and directors of the era.
Whether stealing scenes from Richard Burton, answering back to Laurence Olivier, or playing opposite Judi Dench in Breath of Life, her career can be seen as a "Who's Who" of British theater. The book, written with the actress' blessing and drawing on personal archives as well as interviews with immediate family and close friends, is a portrait of one of the greatest actors of our time.
Born a Crime: Born a Crime: Stories from a South African Childhood (Spiegel & Grau, $28) is the story of a mischievous young boy who grows into a restless young man as he struggles to find himself in a world where he was never supposed to exist. It is also the story of that young man's relationship with his fearless, rebellious, and fervently religious mother—his teammate, a woman determined to save her son from the cycle of poverty, violence, and abuse that would ultimately threaten her own life. His name is Trevor Noah. The stories collected here are by turns hilarious, dramatic, and deeply affecting.
Whether subsisting on caterpillars for dinner during hard times, being thrown from a moving car during an attempted kidnapping, or just trying to survive the life-and-death pitfalls of dating in high school, Trevor illuminates his curious world with an incisive wit and unflinching honesty.
Felix and Oscar? No way. The oddest couple was Michael Jackson and Elizabeth Taylor. Donald Bogle skillfully recreates the moving narrative of Taylor and Jackson's experiences together and their intense emotional connection, without shying away from the controversies that swirled around them. Through interviews with friends and acquaintances of the two stars,
as well as anonymous but credible sources, Elizabeth and Michael: The Queen of Hollywood and the King of Pop―A Love Story (Atria, $26) emerges as a tender, intimate look at this famous odd couple and a treasure to their millions of fans.
The first book from Ruth Bader Ginsburg since becoming a Supreme Court Justice in 1993—a witty, engaging, serious, and playful collection of writings and speeches from the woman who has had a powerful and enduring influence on law, women's rights, and popular culture. My Own Words (Simon & Schuster, $30) offers Justice Ginsburg on wide-ranging topics, including gender equality, the workways of the Supreme Court,
being Jewish, law and lawyers in opera, and the value of looking beyond US shores when interpreting the US Constitution. Throughout her life Justice Ginsburg has been (and continues to be) a prolific writer and public speaker.
In 2009, Bruce Springsteen and the E Street Band performed at the Super Bowl's halftime show. The experience was so exhilarating that Bruce decided to write about it. That's how this extraordinary autobiography began. Over the past seven years, Bruce Springsteen has privately devoted himself to writing the story of his life, bringing to these pages the same honesty, humor and originality found in his songs. Born to Run (Simon & Schuster, $32.50)
will be revelatory for anyone who has ever enjoyed Bruce Springsteen, but this book is much more than a legendary rock star's memoir. This is a book for workers and dreamers, parents and children, lovers and loners, artists, freaks, or anyone who has ever wanted to be baptized in the holy river of rock and roll.
Unlike The Boss, Stephen Foster still has no (real, true) fame. The subtitle of a new bio,  The Life and Songs of Stephen Foster: A Revealing Portrait of the Forgotten Man Behind "Swanee River," "Beautiful Dreamer," and "My Old Kentucky Home"  (9Rowman & Littlefield, $45) says it all. He died in poverty, in New York's Bellevue Hospital, three days after falling in his Bowery bathroom and severely cutting his throat on the broken basin. 
His last words? "I'm done for." A friend found his alcohol-ravaged body at the local morgue, a body whose purse contained 38 cents and a scrap of paper on which the words "dear friends and gentle hearts" were written . . . possibly the opening line to a new song.
Cerphe's Up:  A Musical Life with Bruce Springsteen, Little Feat, Frank Zappa, Tom Waits, CSNY, and Many More (Carrel Books, $34.99) is an incisive musical memoir by Cerphe Colwell, a renowned rock radio broadcaster for more than forty-five years in Washington, DC. Cerphe shares his life as a rock radio insider in rich detail and previously unpublished photographs. His story includes promotion and friendship with a young unknown Bruce Springsteen; his years at radio station WHFS 102.3 as it blossomed in a new free-form format; hanging out with George Harrison, the Rolling Stones, Van Morrison, John Entwistle, Jackson Browne, and many more;
testifying on Capitol Hill with friend Frank Zappa during the "Porn Rock" hearings; and managing the radio syndication of both G. Gordon Liddy and Howard Stern.
In 2015, the U.S. women's national soccer team won its first FIFA championship in 16 years, culminating in an epic final game that electified soccer fans around the world. It also featured a gutsy, brilliant performance by team captain and midfielder Carli Lloyd, who made history that day, scoring a hat trick—three goals in one game—during the first 16 minutes. But there was a time when Carli almost quit the sport. In 2003 she was struggling, her soccer career at a crossroads.
What Carli lacked were fitness, mental toughness and character. Despite all the naysayers, the times she was benched, moments when her self-confidence took a nosedive, she succeeded in becoming one of the best in the world. The candid When Nobody Was Watching: My Hard-Fought Journey to the Top of the Soccer World (Houghton Mifflin Harcourt, $26) candid reflection on a remarkable turnaround will take readers inside the women's national team and inside the head of an athlete who willed herself to perform at the highest levels of competition.
To have been alive during the last 60 years is to have lived with the music of Paul Simon. The boy from Queens scored his first hit record in 1957, just months after Elvis Presley ignited the rock era. As the songwriting half of Simon & Garfunkel, his work helped define the youth movement of the '60s. On his own in the '70s, Simon made radio-dominating hits. He kicked off the '80s by reuniting with Garfunkel to perform for half a million New Yorkers in Central Park.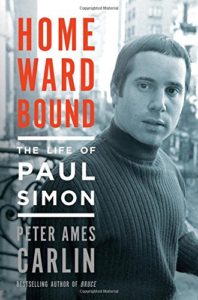 Five years later, Simon's album "Graceland" sold millions and spurred an international political controversy. And it doesn't stop there. Peter Ames Carlin's Homeward Bound: The Life of Paul Simon  (Henry Holt, $32) is a revelatory account of the life of beloved American music icon, a story replete with tales of Carrie Fisher, Leonard Bernstein, Bob Dylan, Woody Allen, Shelley Duvall, Nelson Mandela, drugs, depression, marriage, divorce and more.