On the morning of January 15, 1947, the bisected body of aspiring Hollywood actress Elizabeth Short was discovered on the sidewalk of a vacant L.A. lot, and at first it was mistaken for a mannequin. The gruesome chance sighting ignited one of the most sensational and flawed manhunts in the history of American criminal justice. 
Seventy years after the most notorious unsolved murder in American history, Black Dahlia, Red Rose: The Crime, Corruption, and Cover-Up of America's Greatest Unsolved Murder (Liveright, $26.95) uncovers tantalizing evidence to raise fresh theories about the culprit.  Pulling from recently unredacted FBI and LAPD files, author Piu Eatwell goes further than any previous investigator, untangling the web of secrets and rampant corruption that clouded the Black Dahlia case for decades. The murder became infamous for the frightful description of Short's severed body and for the confounding clinical way it seemed to have been carried out, pointing to a killer experienced with a knife.
After the corpse was identified as a young beauty with jet-black hair and a rose tattoo, she became instant tabloid fodder. Christened by the press as "The Black Dahlia," an exotic flower both toxic and intoxicating, Short became a potent symbol of the dark side of Hollywood and a warning to young women about the fatal snares of glamour, adventure, and female sexuality. In an all-too-familiar transformation, Eatwell recounts the swift transition of Elizabeth Short, New England ingénue, to transient temptress violated by a delinquent man (or lustful lesbian lover). This is the best book of the year: What sets Eatwell's account apart from the many speculative histories, fictional retellings, movies and TV documentaries, is her gripping re-creation of the period through letters, memoirs, newspaper accounts and other evidentiary documents. So who killed Liz? Read and savor!
The second best book of the year: The Way It Was: My Life With Frank Sinatra (Hachette Books, $27). I loved it because I grew up during the years of the Westchester Premier Theater, where I saw all the greats, giving flowers and getting autographs. And we all knew it was run by the Mafia. That's just part of Eliot Weisman's candid memoir (he also was thisclose to Liza and Steve and Eydie); the memoir takes an inside look at the final decades of Frank Sinatra's life. Frankie invited Weisman into his inner circle, an honor that the budding celebrity manager never took for granted.
Even when he was caught up in a legal net designed to snare Sinatra, Weisman went to prison rather than being coerced into telling prosecutors what they wanted to hear. With Weisman's help, Sinatra orchestrated in his final decades some of the most memorable moments of his career. There was the Duets album, which was Sinatra's top seller, the massive tours, such as Together Again, which featured a short-lived reunion of the Rat Pack—until Dean Martin, having little interest in reliving the glory days, couldn't handle it anymore—and the Ultimate Event Tour, which brought Liza and Sammy Davis Jr. on board and refreshed the much-needed lining of both their pocketbooks.  Ultimately Weisman, who had become the executor of Sinatra's estate, was left alone to navigate the infighting and hatred between those born to the name and the wife who acquired it, when a mystery woman showed up and threatened to throw the family's future into jeopardy. Great fearless stuff!
Vanda Krefft's The Man Who Made the Movies: The Meteoric Rise and Tragic Fall of William Fox (Harper, $40) is the first definitive biography of William Fox: The fascinating, flawed, and brilliant man who risked everything to realize his bold dream of a Hollywood empire. 
It took her 10 years to research and write this compelling, well-researched massive tome that has it all: Ambition, genius, vision, glamour, greed, fortune and misfortune unfolding at the dawn of modern America. This is a landmark in film history . . . and the photos have never been seen before!
With his bestselling biography Jack Kennedy, Chris Matthews shared a new look of one of America's most beloved Presidents and the patriotic spirit that defined him. Now, with Bobby Kennedy: The Raging Spirit (Simon & Schuster, $28.99), Matthews returns with a gripping, in-depth, behind-the-scenes portrait of one of the great figures of the American twentieth century.
Drawing on extensive research and interviews, Matthews pulls back the curtain on the public and private worlds of Robert Francis Kennedy. He shines a light on all the important moments of his life, from his early years and his start in politics to his crucial role as attorney general in his brother's administration and his tragic run for president.
If you ask "who?" when we urge Head of Drama: The Memoir of Sydney Newman (ECW Press, $22.95) you will learn that this is the autobiography of the creator of Doctor Who . . . as well as a legend in British and Canadian TV and film.  For the first time, his comprehensive memoirs—written in the years before his death in 1997—are being made public.
At the BBC, overseeing a staff of 400, Newman developed a science fiction show that flourishes to this day: Doctor Who. Providing further context to Newman's memoir is an in-depth biographical essay by Graeme Burk, which positions Newman's legacy in the history of television, and an afterword by one of Sydney's daughters, Deirdre Newman.
Cher. Liza. Bette. Beyoncé also needs only a one-word introduction. She is a singer, an artist, an activist, a mom and an icon. In the first bio-graphic book of its kind, Beyoncegraphica  (Aurum Press, $29.99), her genius is explored like never before, with fun, informative infographics looking at the highlights and successes of her career–from costume changes to record sales,
her impressive vocal range to her work off-stage, as well as including the all-important breakdown of some of her most popular dance routines. Beyoncé's astonishing accomplishments are showcased against fellow legends of the industry in addition to celebrating her achievements in her own right.
Henry Fonda and James Stewart were two of the biggest stars in Hollywood for 40 years. They became friends and then roommates as stage actors in New York, and when they began making films in Hollywood, they roomed together again. What a wonderful life. They got along famously, with a shared interest in elaborate practical jokes and model airplanes, among other things. 
For Hank and Jim: The Fifty-Year Friendship of Henry Fonda and James Stewart (Simon & Schuster, $29),  Scott Eyman spoke with Fonda's widow and children as well as three of Stewart's children, plus actors and directors who had worked with the men—in addition to doing extensive archival research to get the full details of their time together. This is not another Hollywood story, but a fascinating portrait of an extraordinary friendship that lasted through war, marriages, children, careers and everything else.
Miss D and Me: Life with the Invincible Bette Davis (Hachette Books, $27) is a story of two powerful women, one at the end of her life and the other at the beginning. As Bette Davis aged she was looking for an assistant, but she found something more than that in Kathryn Sermak: A loyal and loving buddy, a co-conspirator in her jokes and schemes, and a competent assistant whom she trained never to miss a detail.
But Miss D had strict rules for Kathryn about everything from how to eat a salad to how to wear her hair . . . even the spelling of Kathryn's name was changed (adding the "y") per Miss D's request. Throughout their time together, the two grew incredibly close, and Kathryn had a front-row seat to the larger-than-life Davis's career renaissance in her later years, as well as to the humiliating public betrayal that nearly killed Miss D. A fun read.
Rolling Stone writer Anthony DeCurtis, who knew Lou Reed and interviewed him extensively, tells the provocative story of his complex and chameleonic life in Lou Reed: A Life (Little, Brown and Company, $32). With unparalleled access to dozens of Reed's friends, family and collaborators, DeCurtis tracks Reed's five-decade career through the accounts of those who knew him and through Reed's most revealing testimony, his music.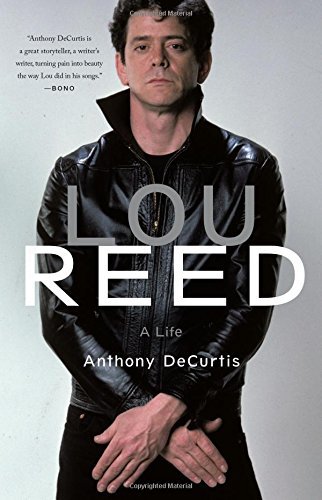 We travel deep into his defiantly subterranean world, enter the studio as the Velvet Underground record their groundbreaking work, and revel in Reed's relationships with such legendary figures as Andy Warhol, David Bowie, and Laurie Anderson. Gritty, intimate, and unflinching, Lou Reed is an illuminating tribute to one of the most incendiary artists of our time.
The cyclone of stories ABC News chief meteorologist Ginger Zee relates in 
Natural Disaster: I Cover Them. I am One.
(Kingswell, $26.99) is for all the mistake makers who have learned to forgive others and themselves-even in the aftermath of man-made, or in this case Zee-made, disasters. Ginger also opens up about her lifelong battle with crippling depression, her romances that range from misguided to dangerous and her tumultuous professional path. 
She's shattered the glass ceiling for women in meteorology, but admits here first, she's the one natural disaster she couldn't have forecast.
At a moment of crisis over our national identity, venerated journalist Dan Rather has emerged as a voice of reason and integrity, reflecting on—and writing passionately about—what it means to be an American. Now, with
What Unites Us
(Algonquin Books , $22.95), he reminds us of the principles upon which the United States was founded.
Looking at the freedoms that define us, from the vote to the press; the values that have transformed us, from empathy to inclusion to service; the institutions that sustain us, such as public education; and the traits that helped form our young country, such as the audacity to take on daunting challenges in science and medicine, Rather brings to bear his decades of experience on the frontlines of the world's biggest stories. As a living witness to historical change, he offers up an intimate view of history, tracing where we have been in order to help us chart a way forward and heal our bitter divisions. With a fundamental sense of hope, 
What Unites Us
 is the book to inspire conversation and listening, and to remind us all how we are, finally, one.
With his trademark acerbic wit, incisive humor, and infectious paranoia, Dick Gregory, one of our foremost comedians and most politically engaged civil rights activists, looks back at 100 key events from the complicated history of black America. In this collection of thoughtful, provocative essays, he charts the complex and often obscured history of the African American experience. In his unapologetically candid voice, he moves from African ancestry and surviving the Middle Passage to the creation of the Jheri Curl; the enjoyment of bacon and everything pig; the headline-making shootings of black men; and the Black Lives Matter movement.
A captivating journey through time, Defining Moments in Black History explores historical movements such as The Great Migration and the Harlem Renaissance, as well as cultural touchstones such as Sidney Poitier winning the Best Actor Oscar for Lilies in the Field and Billie Holiday releasing Strange Fruit. An engaging look at black life that offers insightful commentary on the intricate history of the African American people, Defining Moments in Black History is an essential, no-holds-bar history lesson that will provoke, enlighten, and entertain.