Leave it to Rob Zombie (real name: Robert Bartleh Cummings) and his macabre mind to add another twisted terror tale to his resume. The naughty nightmare, 31, arrives on Blu-ray and DVD December 20 from Lionsgate. Just in time for stocking stuffing!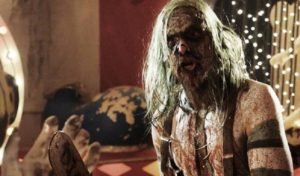 Clowns have never been as terrifying, especially in the course of one shocking evening in the middle of nowhere. Currently available on Digital HD and On Demand, 31 stars scream queen Sheri Moon Zombie (born Sheri Lyn Skurkis; she legally changed her name to Sheri Moon and later Sheri Moon Zombie after she married her longtime boyfriend . . . Rob Zombie), Jeff Daniel Phillips, Elizabeth Daily, Meg Foster, Kevin Jackson, Richard Blake and Malcolm McDowell. Judy Geeson also stars in 31, and we strongly suggest you check out her over-the-top (read: great) performance as Joan Crawford's daughter in the 1967 camp classic, Berserk!
31 (which was partially crowdfunded) came from the visionary mind of Rob Zombie comes the horrific story of five carnival workers who are kidnapped on Halloween and held hostage in a large compound.  At the mercy of their captors, they are forced to play a twisted game or life or death called 31.  For the next 12 hours they must fight for their lives against an endless parade of homicidal maniacs.
The 31 Blu-ray and DVD release special features include a two-hour behind-the-scenes documentary and audio commentary with Rob Zombie. The 31 digital HD release will include a four-hour behind-the-scenes documentary with two exclusive hours of footage not included on the Blu-ray release. For those who have previously purchased the digital release, the documentary will be available to watch beginning on December 20.