Watching a film in its uncensored form is usually an important event. Witness Tom Hiddleston and Hugh Laurie in The Night Manager.  Fans can bring home the original uncensored version now that the series has come to Blu-ray and DVD from Sony Pictures Home Entertainment. The intense spy thriller originally aired on the BBC, and has received four Emmy nominations–Limited Series, Best Actor (Hiddleston), Best Supporting Actor (Laurie) and Best Supporting Actress (Olivia Colman).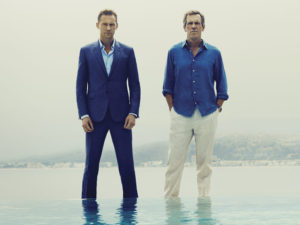 The Night Manager, directed by Oscar-winner Susanne Bier (Best Foreign Language Film, In A Better World; 2011) is the first television adaptation of a le Carré novel in more than 20 years and brings together love, loss and revenge in a complex story of modern criminality. The stunning six part series follows former British soldier Jonathan Pine (Hiddleston) who is recruited by intelligence operative Angela Burr (Colman) to infiltrate the inner circle of international businessman Richard Onslow Roper (Laurie). To get to the heart of Roper's vast empire, Pine must withstand the suspicious interrogations of his venal chief of staff Major Corkoran (Tom Hollander) and the allure of his beautiful girlfriend Jed (Elizabeth Debicki). In his quest to do the right thing, he must first become a criminal himself.
We wondered how Hiddleston heard the news of his Emmy nomination. " I didn't have any expectations, and suddenly my phone started blowing up a couple hours ago," he recalls. "This is the most wonderful surprise, and honestly the most thrilling thing about it is that it feels like an extraordinary and heartwarming affirmation for the whole team who made The Night Manager. Making The Night Manager was the most fulfilling team effort, and I'm so proud of everybody."
Pause. "It's very special because I so enjoyed playing Jonathan Pine," he adds. "The Night Manager was one of the most challenging and fulfilling experiences I've had as an actor. He's such a complex character—a highly skilled, impeccably courteous, morally courageous, romantic character with a kind of broken heart. I loved playing him. The playing of him was complex in lots of ways in that over the course of the six episodes of the miniseries, the character is called by four different names with four different passports."
Notice we didn't ask about Taylor Swift.