Jeff Joseph (guru of SabuCat Productions), film archivist, historian, author and producer, has produced a remarkable collection of rare and "lost" classic television programs.
The Television's Lost Classics series has been lovingly restored in high definition from the best archival film elements available; some of the programs have not been seen since they were originally broadcast. The first volume will be released on September 11, 2018; volume two  follows on October 9, 2018. Both will be released on Blu-ray and DVD by VCI Entertainment, with distribution by MVD Entertainment.
Additional volumes are planned with the third in the series already in production for release in late 2018. We will keep you posted.|
Both have been restored by SabuCat Productions from the best archival film elements available in high definition; some of the programs have not been seen since they were originally broadcast.
A peek inside . . .
Volume One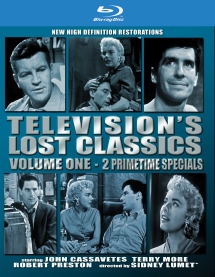 The '50s produced a treasure trove of live dramatic programs originating from New York.  Top talent from stage and screen were retained for both in front and back of the camera.  These two prime examples convey the feeling of watching a Broadway performance, but with the advantage of abundant and intimate close-ups and medium shots. They are surprisingly cinematic, especially considering the impediments those behind the camera had to face: Clunky cameras, hot lights, quick set changes, live music and sound effects and always being mindful of keeping microphones out of the frame. The highlights of these programs are the intense performances by John Cassavetes, with his variation of method acting displayed in full form.
The first program, Crime in the Streets, was broadcast live on ABC, Tuesday, March 8, 1955. It was written by Reginald Rose and directed by Sidney Lumet, starring Robert Preston and a young Cassavetes. The second program, No Right to Kill, was part of the Climax! series and was presented by the Chrysler Corporation. It is based on Dostoyevsky's Crime and Punishment and adapted for TV by Victor Wolfson. It was broadcast on CBS, Thursday, August 9, 1956. Nostalgia buffs will enjoy the original commercial messages that are included in the episode. Also included: A bonus blooper reel from The Defenders and The Nurses series.
Volume Two

This set contains four rare TV pilots.
Case of the Sure Thing, starring  Reed Hadley, Louise Currie and Milburn Stone, introduced the series Racket Squad, which lasted for three seasons and was nominated for two Emmys. An interesting side-note: This program may have inspired parts of the Hollywood hit, The Sting.
This episode was first broadcast on CBS, Thursday, June 7, 1951 and starred Reed Hadley as Captain Braddock, and was written by Arthur Orloff. Note: Contains original network commercials as originally broadcast on CBS.
Cool and Lam, starring Billy Pearson, Benay Venuta, Alison Hayes and Sheila Bromley, is a light-hearted, detective yarn featuring characters first created by Erle Stanley Gardner. Bertha Cool runs a detective agency and Donald Lam is her junior partner, hence "Cool and Lam". Directed by the legendary Jacques Tourneur
The Life of Riley, starring Lon Chaney, Jr., Rosemary DeCamp and John Brown, is a lost pilot which starred Lon Chaney, Jr. as Chester Riley. This stand-alone episode was produced in 1948 but by the time the first season went into full production in 1949, Chaney had been replaced by no less than Jackie Gleason.
Nero Wolfe, starring  Kurt Kasznar, William Shatner and Alexander Scourby, has characters created by Rex Stout. Kasznar is Nero Wolfe, with future star Shatner co-starring.
Included on the disc is a bonus CBS Blooper Reel hosted by James Arness.