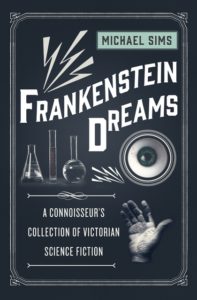 Warning! Do not read this book at night. Or in the dark. Or when you are home alone.
Michael Sims has edited Frankenstein Dreams: A Connoisseur's Collection of Victorian Science Fiction (Bloomsbury, $22), a collection of chills and thrills that will be released in September. We are giving you advance warning.
Sims, whose elegant introduction provides valuable literary and historical context,  has gathered many of the finest stories, some by classic writers such as Jules Verne, Edgar Allan Poe, Mary Shelley and H.G. Wells, but many that will surprise general readers. Dark visions of the human psyche emerge in Thomas Wentworth Higginson's "The Monarch of Dreams," while Mary E. Wilkins Freeman (below) a glimpse of "the fifth dimension" in her provocative tale "The Hall Bedroom."   
Perpetual human concerns meet modern anxieties in these tales that grapple with time, mortality, the senses and the unknown. The tales showcase the ways in which Victorian writers confronted the philosophical and spiritual repercussions of the new technologies and scientific revelations of the 19th century. The major themes of modern science fiction emerge: Space and time travel, dystopian societies, dangerously independent machines, all inspiring the speculative fiction of the Victorian era.
You've been warned. Again.