When Star Trek debuted on September 8, 1966, the world was introduced to a number of alien concepts: Think hand-held communication devices, desktop computers, space shuttles, touch screens. Star Trek's visionary creator Gene Roddenberry conceived of a world so unique that the series would go on to have a profound legacy in television history.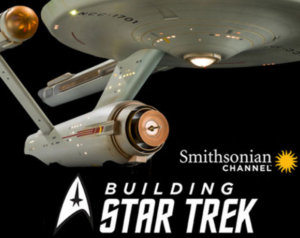 Smithsonian Channel offers a behind-the-scenes look with Building Star Trek, an original special coming to DVD by PBS Distribution on November 1. The show follows the conservation team from the Smithsonian's National Air and Space Museum, led by Dr. Margaret Weitekamp, as they attempt to restore and conserve the original 11-foot, 250-pound model of the U.S.S. Enterprise from the original series. The program also tracks the progress of Brooks Peck, the charismatic curator of Seattle's EMP Museum, as he attempts to rebuild a model of the original U.S.S. Enterprise's bridge by using authentic set pieces and props.
The program also profiles a new generation of engineers and scientists who are making Star Trek's visionary technology real, pushing the boundaries of physics with inventions first conceived on the iconic series: Warp drives, medical tricorders, cloaking devices and tractor beams. Proving that one TV show has truly gone where no man has gone before, the program showcases clips from the original series that highlight each scientific innovation as well as recent technologies inspired by the series, such as flip phones and touch screens.
Hmmm, as Kirk once wondered: "Is there anyone on this ship, who even remotely, looks like Satan?"