It's no secret among car collectors and enthusiast that the pursuit of "lost" cars is what drives many gearheads. Finding an abandoned, restorable car is one of the most common dreams among collectors and a touchstone for the hobby. Top shows like the Pebble Beach Concours d'Elegance and Chicago's Muscle Car and Corvette Nationals have added special classes devoted to original and barn find vehicles.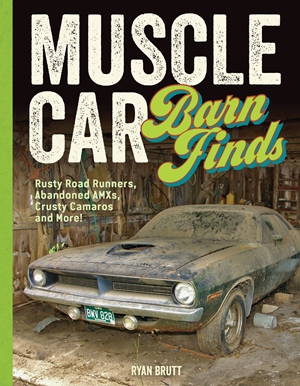 Author and photographer Ryan Brutt has the muscle. He is the "automotive archaeologist", author of the CarsInBarns blog and a monthly columnist for Hot Rod magazine.
We switch gears and steer you to the fact that  Brutt has selected his best muscle car images for Muscle Car Barn Finds: Rusty Road Runners, Abandoned AMXs, Crusty Camaros and More! (Quarto Drives, $35). No searching the back roads required–just kick up your feet and begin your barn-finding adventure by turning the page.