Art isn't easy. That's what Sondheim says. But Loretta Swit makes it look so . . . well, maybe not easy, but gorgeous that Ed Asner contributes it to the actress' "animal magnetism."
This year marks the 45th anniversary of M*A*S*H, and at 79, Swit is as active now as she was then, currently touring the country with the release of her book SwitHeart: The Watercolour Artistry & Animal  Activism of Loretta Swit (Ultimate Symbol, $49)  as she prepares for her roles in the stage productions of Six Dance Lessons in Six Weeks and Eleanor Roosevelt: Her Secret Journey.
SwitHeart chronicles the artwork of Swit, such a champion of the animal kingdom that she received the Betty Award Award–"for all she has done to protect and care for animals"–from Actors & Others for Animals on last month.  In September, she was awarded the 2016 Global Wildlife Conservation Champion Award by the GES Africa Conservation Fund for her support of animal conservation efforts, kindness, compassion and generosity.  Ask her and she'd probably agree such awards mean more to her than the two Emmys she won for her portrayal of Major Margaret "Hot Lips" Houlihan.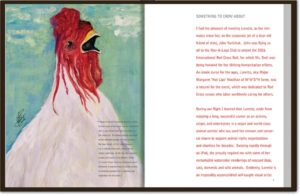 What many fans may not know about is that Swit has been an artist from age six. SwitHeart documents her animal portraits along with descriptive anecdotes about each and her extensive philanthropic work. "I'm thrilled to see my passion for animals and my passion for art merge in a book that will help benefit and protect the animals on our planet," she coos.
Coos M*A*S*H star Alan Alda: ""Her pictures are created as much with her compassion and dedication as they are with her talent and artful vision."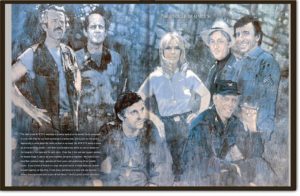 SwitHeart includes 65 full-color paintings and drawings, as well as 22 photographs.  Proceeds from the book will be donated to charities and programs that are as dedicated, as Swit is, to ending animal suffering and cruelty. Someone named Mies Hora is listed as "writer/editor"; the book must have been outsourced for printing since spelling of "watercolours" is so unAmerican.