We want our mummy! And we will get her, along with her well-preserved relatives, in Mummies Alive (Public Media Distribution, LLC).   The series finds it home on DVD July 4.
Mummies Alive spans 5,000 years of history, with each of the six episodes focusing on one mummy, time travelers from the past and the most precious human link we have to our ancestors. By investigating their incredibly preserved remains and bringing them back to life through cutting-edge CGI, their stories and the secrets of past civilizations come to light.
The series kicks off with The Gunslinger Mummy, nicknamed "Sylvester", whose preserved remains and eerily life-like face are on display in the Ye Olde Curiosity Shop in downtown Seattle. According to one legend, he was an American Wild West cowboy, killed 120 years ago in a saloon shootout. He's got what appears to be a bullet hole in his stomach, but using CT imaging technology and state-of-the-art virtual autopsy techniques, investigators piece together a new and surprising story; one involving a notorious con man, the sideshow circuit, and a lesson on how to turn a buck using the myth of the Old West. But as the color is restored to his sunken cheeks and his ancient eyes open, scientific investigation and computer animation reveal the most likely and surprising truth about Sylvester's last moments.
Buried in a Bog: In 2003, the police were twice called to the peat fields of the Irish midlands to examine mangled corpses unearthed from their peaty graves by the claws of peat-harvesting machines. Found within three months of each other and a mere 16 miles apart, these two bodies had evidently met with extremely violent ends before being buried in the bog.  Despite their incredible states of preservation it quickly became clear that they were long dead – possibly thousands of years old–and that an archaeological, rather than criminal investigation, was in order.
Ötzi the Iceman (below) was discovered frozen on a mountain glacier in the Italian Alps. This episode re-opens one of the oldest cold cases in human history by examining a Neolithic murder victim buried under ice for more than 5,000 years. Chilling events are reconstructed, and the latest forensic and scientific techniques are employed to expose Europe's ancient, violent past. Samples taken from his stomach reveal his last meal. A copper axe found with his body may rewrite the history books, and wounds discovered on his hand and back suggest a violent death.
 Another mummy, The Inca Maiden, believed to have been 14-years-old at the time of her death, was found buried near the top of a 22,000-foot volcano in South America. A CT-scan will try to solve the mystery of how she died and what she was doing at 22,000 feet. The Inca Maiden is a stunningly preserved mummy, the best-preserved mummy in the world, and today she is kept in a specially-designed cryogenic chamber at a museum in Argentina. The extreme environment guaranteed her preservation, but did it also kill her? As the secrets of a lost civilization are revealed, shocking clues point in a more sinister direction and provide an unprecedented emotional and intimate look at the tragic life and death of this young girl, below.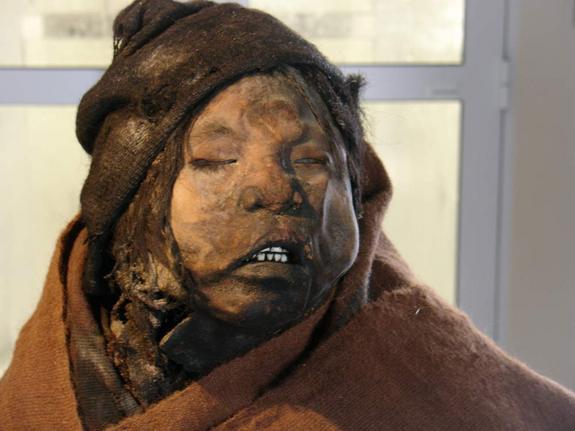 The Pharaoh's Secret peels back the wrappings on a mysterious, mutilated pharaoh. Using the latest forensic techniques, investigators unearth a violent story of conquest and rebellion that laid the foundations for Ancient Egypt's golden age.
Hero of Herculaneum: This investigation looks into a forgotten chapter from the volcanic destruction of Pompeii and Herculaneum. Three hundred mummified skeletons were found buried in ash, including the body of a man armed to the teeth and carrying a huge cache of gold and silver. Who was he? What was his role in the disaster? How did he die? For the very first time, his story is told.