You gotta have friends. Sometimes you gotta have remakes. It will be interesting if Idina Menzel and Nia Long can stir up more (read = better) memories and deeper sobs when they star as lifelong best friends in the remake of the Bette Midler-Barbara Hershey flick Beaches. The new flick, an Original Lifetime movie, premiers on Saturday, January 21 at 8 p.m. (ET/PT).
Want an earlier taste? Warner Bros. Records.  has already released a five-song soundtrack EP performed by Menzel. The disc features new takes on the classic songs "Wind Beneath My Wings" and "The Glory of Love," as well as "I Can Hear the Music," "I'll Stand by You," and "Last Time" recorded specifically for the movie.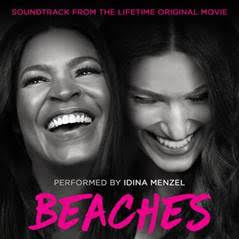 In this contemporary remake, Beaches follows the serendipitous meeting of two young girls on the Venice Boardwalk, who, though worlds apart in lifestyle, embark on an unexpected and lifelong friendship. CC (Menzel) is an aspiring singer trying to make it in Los Angeles until she is discovered by a director who gives her her first big shot. Hillary (Long) is the daughter of a prominent civil rights lawyer who struggles to find her own destiny. Their friendship—even with its ups and downs—sustains them for decades.
What does Bette think? She's too busy preparing for the Broadway run of Hello, Dolly!,  revival opening in March and long sold-out.