James Stewart always thought it was a wonderful life. So did Donna Reed. And movie mavens worldwide. But the classic Yuletide film It's a Wonderful Life almost didn't make it onto the big screen and into our hearts.
The film is based on The Greatest Gift, a 1939 short story written by Philip Van Doren Stern.  He spent years trying to sell his story to publishers. No success, so in 1943, Stern self-published his work and sent it to 200 friends as a 21-page Christmas card. RKO Pictures wound up getting a hold of the "card" and bought the rights to the story. They had Cary Grant in mind to play suicidal do-gooder George Bailey.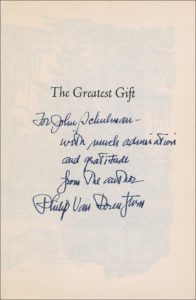 Time passed, and in 1945 Frank Capra was came on board and cast James Stewart as the star. Actresses such as Jean Arthur, Ann Dvorak , Olivia de Havilland and Ginger Rogers (who called the character "too bland" ) refused the co-starring role as George's wife Mary. Donna Reed nabbed the role, and from here to eternity, is noted for her terrific performance.
When It's a Wonderful Life opened in theaters in December 1946, the film received generally mixed reviews; it did, however, earn five Oscar nominations but won none. Gulp! it was somewhat of a box-office flop, failing to recoup its $3.7 million cost (it made $3.3 million during its initial run).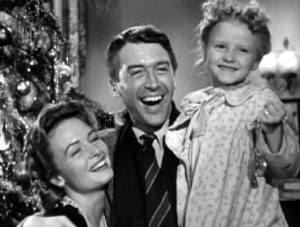 No wonder George was suicidal! In the years following its release, It's a Wonderful Life fell  into obscurity only to re-emerge during the '70s and '80s when it began appearing on television during the holiday season. In 1990, the nearly 45-year-old film was deemed "culturally, historically, or aesthetically significant" by the Library of Congress.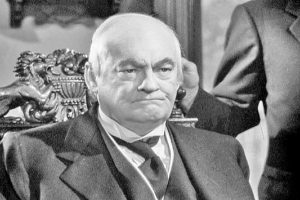 And who ever thought the baileys might think of a red Christ,as? In It's a Wonderful Life received an official mark of disapproval from the FBI, which pegged the poignant film as Communist propaganda thanks to its populist themes and, more specifically, unflattering portrayal of big-city bankers.
Reads a section of a 1947 FBI memo titled "Communist Infiltration of the Motion Picture Industry":
With regard to the picture "It's a Wonderful Life", [redacted] stated in substance that the film represented rather obvious attempts to discredit bankers by casting Lionel Barrymore as a "scrooge-type" so that he would be the most hated man in the picture. This, according to these sources, is a common trick used by Communists. In addition, [redacted] stated that, in his opinion, this picture deliberately maligned the upper class, attempting to show the people who had money were mean and despicable characters. [redacted] related that if he made this picture portraying the banker, he would have shown this individual to have been following the rules as laid down by the State Bank Examiner in connection with making loans. Further, [redacted] stated that the scene wouldn't have "suffered at all" in portraying the banker as a man who was protecting funds put in his care by private individuals and adhering to the rules governing the loan of that money rather than portraying the part as it was shown. In summary, [redacted] stated that it was not necessary to make the banker such a mean character and "I would never have done it that way."
http://https://youtu.be/lDSf_ag9_gU
Why do we present such background? On October 11, Paramount Home Entertainment is releasing the 70th anniversary of one of the most beloved films of all time on Blu-ray and DVD. This 70th Anniversary Platinum Edition includes a beautifully colorized version of the film and the original black-and-white movie, as well as The Making of It's A Wonderful Life, a documentary featurette hosted by Tom Bosley and the original trailer.  Plus, both the Blu-ray and DVD set include collectible, limited-edition art cards featuring images of original ads and lobby cards.