He was one of Hollywood's male heartthrobs during the '50s. In dozens of films and on the pages of countless movie magazines Tab Hunter's good looks and golden-boy sex appeal drove his (mostly female) fans into screaming, delirious frenzies, making him the prototype for all young matinee idols to come. Bristling against being just another pretty face and wanting to be taken seriously, Hunter was one of the few to be able to transcend pin-up boy status. He earned his stripes as an actor to become a movie star.
Hunter's career was launched with "Island of Desire" in 1952. He was cast in a lead role opposite screen legend Linda Darnell. Both the movie and Hunter were panned by critics, but teenage girls went wild for the shirtless blond hunk with the dreamy face and the steely jaw. Overnight, with only one role under his belt, Tab Hunter erupted into a media sensation.
Suddenly, an army of photographers charts his every move as he squires glamorous actresses like Natalie Wood and Debbie Reynolds from event to glittering event. Several more low-budget films came his way, and Hunter began to taste the intoxicating perks of stardom. And the pressures. In private he began a secret affair with figure skater Ronnie Robertson, but in public he was required to date Hollywood's most eligible starlets. Tab was deathly afraid the party could end at any moment, and equally apart by the contradictions.
But behind the scenes, Tab's life was in turmoil. His mother Gertrude had a nervous breakdown and had to undergo electro-shock treatments. And he finally broke with agent Henry Willson–who had done surprisingly little for his career and wanted to bed the boy like mad . . . always to rejection. A furious Willson got his revenge by feeding the scandal magazine "Confidential" a story about Hunter's arrest years earlier at a gay party. Willson provided "Confidential" with all the lurid details of Hunter's "disorderly conduct" charge. The headline read: "The Truth About Tab Hunter's Pajama Party" and the story mentioned "limp-wristed lads" and "queer romps". Suddenly, everything Hunter had worked for was about to be cruelly snatched away. But an odd silence followed. The mainstream media said nothing and the scandal quietly faded away. Part of the reason may be his loyal adherence to Hollywood's so-called "Gentleman's Agreement", dating women publicly and keeping his private life private.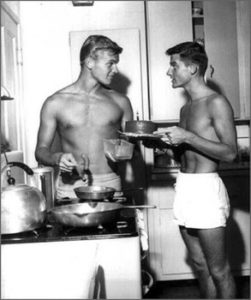 Now, the actor's dramatic, turbulent and ultimately inspiring life story is told in "Tab Hunter Confidential", a documentary directed by Emmy-winning filmmaker Jeffrey Schwarz. The film has the unique advantage of exclusive, unprecedented access to Hunter who shares first-hand, for the second time, what it was like to be a manufactured movie star during the Golden Age of Hollywood and the consequences of being someone totally different from his manufactured image. We will trace Tab's dizzying rise to Hollywood super-stardom, his secret life in an era when being openly gay was unthinkable, and his ultimate triumph when the limelight finally passed him by.

After a year on the film festival circuit and a theatrical run across 50 cities in the United States, the acclaimed documentary, based on Hunter's "New York Times" bestselling memoir, is available to rent or own nationwide on Digital HD. A DVD release is planned for later this summer.
Punctuating Tab's on screen presence will be rare film clips and provocative interviews with friends and co-stars including John Waters, Clint Eastwood, George Takei, Debbie Reynolds, Robert Wagner, Noah Wyle, Connie Stevens, Lainie Kazan, Rona Barrett and Robert Osborne. "Tab Hunter Confidential" is an important piece of Hollywood's hidden history that is more relevant than ever in today's obsessive, star-driven, sexuality speculating media.
"Tab Hunter Confidential" concludes with Hunter and the film's co-producer Allan Glaser living their lives in Santa Barbara, where he spends time with his horses and is "happy to be forgotten." Now, Tab Hunter's secret is out and he rides into the sunset a happy, healthy survivor of Hollywood's roller coaster.