Let us serve you a great idea for what will be a great new year: Aki Kamozawa and H. Alexander Talbot—chefs and restaurant consultants known for their innovative approach to tricky food conundrums, and their widely-popular book and blog Ideas in Food—apply their characteristic blend of diligent, kitchen-tested solutions and eclectic influences in Gluten-Free Flour Power: Bringing Your Favorite Foods Back to the Table [W. W. Norton & Company, $19.95). With more than 90 recipes and photographs, Aki and Alex provide answers to home cooks' toughest questions about making delicious gluten-free foods at home. Whether it's deliciously fluffy blueberry muffins, crispy homemade pizza dough, hearty spiced pumpkin waffles, or chewy chocolate chip cookies, Aki and Alex are always looking to maximize flavor, texture and taste.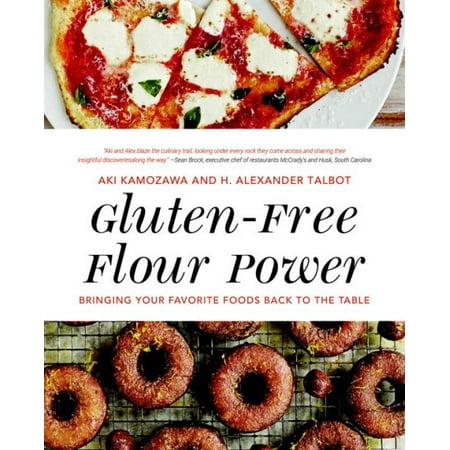 While gluten-free flour blends are readily available at the store, Aki and Alex demonstrate how simple it is to create a homemade blend that's more reliable (and affordable) than the prepackaged store-bought flours. The book covers the flours, gums and starches needed to make great gluten-free dishes and how to put them to work in your kitchen every day, with three unique flour blends designed to be used interchangeably with each recipe in the book. Each blend takes into account an allergen beyond gluten sensitivity: soy, dairy, and gums. Readers will also find simple, satisfying recipes that are at once familiar and groundbreaking: light and airy doughnuts made with buttermilk brioche; pass-around Stromboli made with yogurt; and a triple chocolate cake, each layer pre-soaked in a smooth chocolate syrup.
Aki and Alex show how easy it can be to amp up familiar recipes to get incredible results: harnessing tapioca starch to get a perfectly thick texture in homemade ice cream; adding potato starch for light, crispy, fully-flavored fried chicken; or boosting biscuit and cake batters with toasted milk powder to produce delicious caramelized flavors. Their "seamless" ravioli, with pepperoni Bolognese, starts with rounds of cheese filling that are slowly coated in flour to create a smooth, seamless exterior. When you drop the balls into boiling water, the flour gelatinizes, forming a skin around the filling and creating the perfect marriage of cheese and pasta texture.
For many people, maintaining a gluten-free diet has become more than a dietary choice. It can be a statement about the state of the food industry writ large, a desire to take a closer look at—and take some control over—the food we put in our bodies. With fully illustrated step-by-step instructions accompanying nearly every recipe, Gluten-Free Flour Power will change the way you plan everyday meals and dream of new dishes for friends and family.