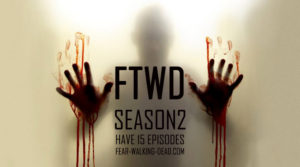 The best way to make your Halloween happy? We treat you will the news that AMC's fan favorite Fear the Walking Dead: The Complete Second Season arrives on Blu-ray + Digital HD and DVD on December 13 from Anchor Bay Entertainment.
Living in the same universe as The Walking Dead,  season one of Fear the Walking Dead explored a blended family who watched a burning, dead city as they traversed a devastated Los Angeles. In season two, the group aboard the Abigail is unaware of the true breadth and depth of the apocalypse that surrounds them; they assume there is still a chance that some city, state or nation might be unaffected . . . some place that the Infection has not reached.
But as Operation Cobalt goes into full effect, the military bombs the Southland to cleanse it of the Infected, driving the Dead toward the sea. As Madison, Travis, Daniel, and their grieving families head for ports unknown, they will discover that the water may be no safer than land.
In addition to show stars tarring Kim Dickens,  Cliff Curtis,  Frank Dillane, Alycia Debnam-Carey, Rubén Blades, Mercedes Mason, Lorenzo James Henrie and Colman Domingo , Fear the Walking Dead: The Complete Second Season introduces new cast members including Dougray Scott, Arturo Del Puerto, Daniel Zovatto, Veronica Diaz, Danay Garcia, Carlos Segura and Alfredo Herrera.There. You have thrilling and chilling news to make your Halloween happy . . .  and a perfect guide to add to Santa's list!