We'll march right the exciting news delivered by MVD Entertainment Group: MVD will be disturbing works in the U.S. by Arrow Academy, one of the world's leading distributors of independent, arthouse and world cinema, beginning in March.
The label releases definitive and prestige edition films by revered maestros of cinema from across the globe, including filmmakers such as Federico Fellini, Alfred Hitchcock, Woody Allen, Stanley Kubrick, Fritz Lang, R.W. Fassbinder, Roberto Rossellini and Jean-Luc Godard.

Each of Arrow Academy's five new titles feature :
– Definitive editions of classic arthouse films from across the world
– World class restoration and an award-winning label
– A label which goes above and beyond to release films in their original release format
– High-end and well-produced boxsets aimed at the cinephile audience
– New and insightful extras on each release
Film fanatics, movie mavens and committed cinephiles take note and save these dates!
March 7
Ludwig
He loved women. He loved men. He lived as controversially as he ruled. But he did not care what the world thought. He was the world.
A string of masterpieces behind him, the great Italian director Luchino Visconti turned his attentions to the life and death of King Ludwig II of Bavaria in 1972, resulting in an epic of 19th century decadence.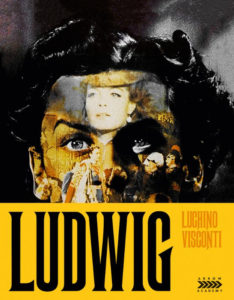 Dominated by Helmut Berger in the title role, Ludwig nevertheless manages to find room for an impressive cast list: Romy Schneider (reprising her Elisabeth of Austria characterization from the Sissi trilogy), Silvana Mangano, Gert Fröbe, John Moulder-Brown and Trevor Howard as Richard Wagner.
As opulent as any of Visconti's epic (Piero Tosi's costume design was nominated for an Academy Award) Ludwig is presented here in its complete form in accordance with the director's wishes and features the English-language soundtrack for the first ever on home video.
SPECIAL EDITION CONTENTS
4K restoration from the original film negative

High Definition Blu-ray (1080p) and Standard Definition DVD presentations

Two viewing options: The full-length theatrical cut or as five individual parts

Original Italian soundtrack with optional English subtitles

Original English soundtrack available on home video for the first time ever with optional English subtitles for the deaf and hard-of-hearing

Brand-new interview with Helmut Berger

Luchino Visconti

, an hour-long documentary portrait of the director by Carlo Lizzani containing interviews with Burt Lancaster, Vittorio Gassman, Francesco Rosi, Claudia Cardinale and others

Speaking with Suso Cecchi d'Amico

, an interview with the screenwriter

Silvana Mangano: The Scent Of A Primrose

, a half-hour portrait of the actress

Theatrical trailer
Property Is No Longer A Theft
Having tackled the corrupting nature of power with Investigation of a Citizen Above Suspicion and taken an angry, impassioned look at labour relations with The Working Class Goes to Heaven, Italian master Elio Petri next turned his attentions to capitalism for the darkly comic Property is No Longer a Theft.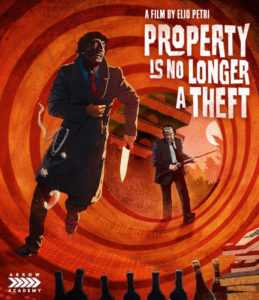 A young bank clerk (Flavio Bucci, the blind pianist in Dario Argento's Suspiria), denied a loan by his employer, decides to exact his revenge the local butcher (Ugo Tognazzi) who is not only a nasty, violent, greedy piece of work but also one of the bank's star customers. Quitting his job, the clerk devotes all of his time tormenting the butcher, stealing his possessions one-by-one, including his mistress (Daria Nicolodi).
Told in an off-kilter fashion by Petri, abetted by the woozy sound design and another outstanding score by Ennio Morricone, Property is No Longer a Theft presents a caustic, blackly comic look at a corrupt society.
4K restoration from the original film negative

High Definition Blu-ray (1080p) and Standard Definition DVD presentations

New subtitle translation

Brand-new interview with actor Flavio Bucci

Brand-new interview with producer Claudio Mancini

Brand-new interview with make-up artist Pierantonio Mecacci

Reversible sleeve featuring original and newly commissioned artwork by Nathanael Marsh
Cinema Paradiso (Barnes & Noble exclusive)
Giuseppe Tornatore's loving homage to the cinema tells the story of Salvatore, a successful film director, returning home for the funeral of Alfredo, his old friend who was the projectionist at the local cinema throughout his childhood.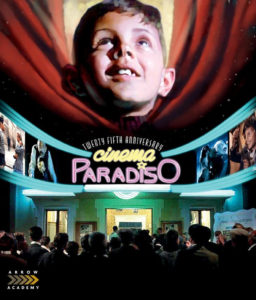 Soon memories of his first love affair with the beautiful Elena and all the high and lows that shaped his life come flooding back, as Salvatore reconnects with the community he left 30 years earlier. Presented in both the original award-winning cut and the expanded Director's Cut incorporating more of Salvatore's backstory, newly restored from original negative materials.
Restored from the original camera negative and presented in two versions: The 124 minute Cannes Festival theatrical version and the 174 minute director's cut

Uncompressed original stereo 2.0 Audio and 5.1 DTS-HD Master Audio options

Optional English subtitles

Audio commentary with director Giuseppe Tornatore and Italian cinema expert critic Millicent Marcus

A Dream of Sicily

 A 52-minute documentary profile of Giuseppe Tornatore featuring interviews with director and extracts from his early home movies as well as interviews with director Francesco Rosi and painter Peppino Ducato, set to music by the legendary Ennio Morricone

A Bear and a Mouse in Paradise – A 27-minute documentary on the genesis of Cinema Paradiso, the characters of Toto and Alfredo, featuring interviews with the actors who play them, Philippe Noiret and Salvatore Cascio as well as Tornatore
The Kissing Sequence

 Giuseppe Tornatore discusses the origins of the kissing scenes with full clips identifying each scene

Original director's cut theatrical trailer and 25th anniversary re-release trailer

March 14
The Creeping Garden
The Creeping Garden
is an award-winning feature-length creative documentary exploring the extraordinary world of the plasmodial slime mold as revealed through the eyes of the fringe scientists, mycologists and artists who work with them. 
Long overlooked by biologists, in recent years this curious organism has become the focus of much research in such areas as biological-inspired design, emergence theory, unconventional computing and robot engineering, much of which borders on the world of science fiction.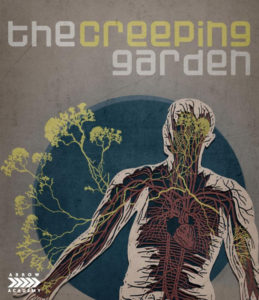 The film transports us from the laboratory into its natural habitat, depicting these otherworldly lifeforms using startling time-lapse macro-cinematography to reveal hidden facets of the world around us. 
The Creeping Garden is a unique exploration into a hitherto untapped subject matter, immersing the viewer within the worlds of the observers and the observed.
DIRECTOR-APPROVED SPECIAL EDITION CONTENTS
High Definition Blu-ray (1080p) and Standard Definition DVD presentations

Original 2.0 audio (uncompressed on the Blu-ray)

Optional English subtitles for the deaf and hard-of-hearing

Audio commentary by directors Tim Grabham and Jasper Sharp

Biocomputer Music

, a short film by Grabham on the first biocomputer music system, allowing a two-way musical dialogue between man and slime mold

Return to the Fungarium

, a featurette revealing further treasures of the fungarium at Kew Gardens

Feeding Habits of Physarum

, a featurette on the feeding preferences and dislikes of slime molds

Three cinema iloobia short films: Milk (2009), Rotten (2012) and Paramusical Ensemble (2015)

Angela Mele's animated slime moulds

Gallery

US theatrical trailer

Reversible sleeve featuring two pieces of original artwork
The Creeping Garden soundtrack [Limited Edition Exclusive]
Bonus CD containing the rearranged soundtrack to The Creeping Garden by legendary producer and musician Jim O'Rourke

Story of Sin

The life of a beautiful, young and pious woman is thrown into chaos when her parents takes in a dashingly handsome lodger. Having embarked on a torrid affair, the lodger goes off to Rome to seek a divorce from his estranged wife.
Unable to live apart from her beloved, our hero leaves home only to fall prey to the infatuations and lusts of a band of noble admirers, unsavory criminals and utopian do-gooders . . .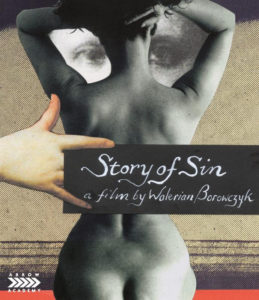 The only feature Walerian Borowczyk made in his native Poland, Story of Sin transforms Stefan Zeromski's classic melodrama into a deliriously surrealistic meditation on l'amour fou.
2K restoration from the original film negative

High Definition Blu-ray (1080p) and Standard Definition DVD presentations

New subtitle translation

New 2K restorations from the original negatives of Borowczyk's ground-breaking Polish shorts: Once Upon a Time (co-directed by Jan Lenica), Dom (co-directed by Lenica) and The School

New introduction by poster designer Andrzej Klimowski

New interview with Story of Sin lead actor Grazyna Dlugolecka

New interview featurette on Borowczyk's career in Poland by Daniel Bird (co-founder Friends of Walerian Borowczyk)

New interview featurette on Borowczyk's innovate use of classical music in his films by writer and filmmaker David Thompson

Reversible sleeve featuring original and newly commissioned artwork by Andrzej Klimowski