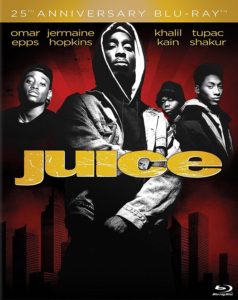 Paramount is pushing the power of Juice. A powerful morality tale steeped in '90s urban culture, Juice marked the feature directorial debut of Spike Lee's acclaimed cinematographer Ernest R. Dickerson and the first starring roles for Omar Epps and an electrifying Tupac Shakur.
Now, 25 years later, the gritty and influential film continues to be celebrated for its realistic portrayal of Harlem life, the early New York hip hop scene and the fate of four friends in pursuit of the power and respect they call the Juice.
To mark the film's silver anniversary, Paramount Home Media Distribution has released the film on Blu-ray for the first time ever, and it's packed with brand new interviews with Dickerson, producer David Heyman, Epps and fellow actors Khalil Kain and Jermaine Hopkins.  The cast and crew look back on making the film, share heartfelt stories of working with Shakur and reveal the influence that Juice had on them both personally and professionally. The in-depth featurettes are also loaded with never-before-released footage of the cast on set and vintage interviews with Shakur, Queen Latifah, Cindy Herron of En Vogue, the Shocklee brothers, Eric B, EPMD, Cypress Hill and more.  Along with a brand new commentary by the director, fans also will get to see the original ending and hear Dickerson detail the reasons that it was changed prior to the film's theatrical debut.
Juice has also been released on DVD and on Digital HD.