We'll make it fast. Wes D. Gehring makes it funny.
With his new book Movie Comedians of the 1950s: Defining a New Era of Big Screen Comedy (McFarland, $39.95), Gehring takes a detailed look at just how the '50s were a transitional period for film comedians; for example, the artistic suppression of the McCarthy era and the advent of television often resulted in a dumbing down of motion pictures. Cartoonist-turned-director Frank Tashlin contributed funny, but cartoonish, effects through his work with Jerry Lewis and Bob Hope. A new vanguard of comedians appeared without the stock comic garb or make-up-fresh faces not easily pigeonholed as merely comedians, such as Tony Randall, Jack Lemmon and Tony Curtis. Some traditional comedians, like Charlie Chaplin, Red Skelton and Danny Kaye, continued their shtick, though with some evident tweaking.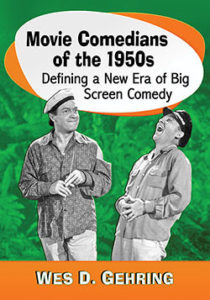 The book provides insight into a misunderstood decade of film history with an examination of the "personality comedians." The talents of  Martin and  Hope are reappraised and the "dumb blonde" stereotype, as applied to Judy Holliday and Marilyn Monroe, is deconstructed.
"Beyond a general revisionist look at 1950s film comedy, the goals of the work were to knock down Lewis' perspective that Martin was just a straight man, to undercut the dumb blonde stereotype, and to examine game-changing TV, often via the neglected Frank Tashlin" says Gehring. "I really think I provided important new insight on Tashlin by reading his films through his children's books."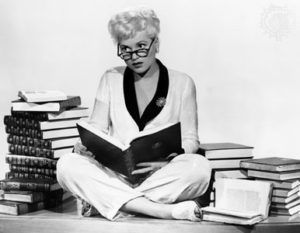 Those born yesterday and the some who like it hot will enjoy the the introductions to the funny girls and boys.