Joan Rivers worshipped him. Many people hated him. Fighting for freedom of speech was nothing new to foul-mouthed Lenny Bruce, whose raw language often got him in trouble. Or fired. Or arrested. During a 1964 obscenity charge for using foul language in a Greenwich Village nightclub act, Bruce fired his lawyers and botched the appeal. The conviction on the misdemeanor obscenity charge made it almost impossible for him to get work; he declared bankruptcy and was found dead on August 3, sitting on the toilet with his pants around his waist, a needle in his arm, and his lifeless body surrounded by drug paraphernalia. He was 40 years old.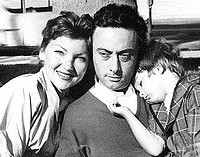 But in 2003, nearly four decades after the comic died, he got the last laugh when on December 23, he was posthumously pardoned by New York Governor. George E. Pataki, 39 years after being convicted of obscenity.. The governor said the posthumous pardon—the first in the state's history—was "'a declaration of New York's commitment to upholding the First Amendment."
No comment from the dead Bruce, but his daughter Kitty Bruce gushed, "Isn't this wonderful? Isn't this a great day in America? Boy, has this been nuts or what? This is what America is all about."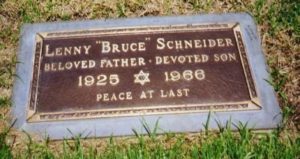 Visit Bruce at Eden Memorial Park Cemetery in Mission Hills, California.
Want more Lenny Land? Da Capo Press is reissuing How to Talk Dirty and Influence People ($16.99), Bruce's classic autobiography to mark the 50th anniversary of the comedian and counterculture icon's death, with a new preface by Lewis Black and a new foreword by Howard Reich.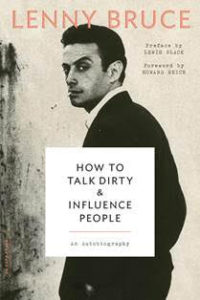 The book remains a brilliant account of his life and the forces that made him at once one of the most important and controversial entertainers. "His scathing attacks on organized religion, politics, the death penalty, race and the ways in which we have chosen to live, made me laugh and made me think," writes Lewis Black in a new preface. "This book gives us a solid context of what Lenny lived through and had to face. (We complain about the politically correct environment that makes comedy difficult? Are you kidding me?) We are talking about not even being able to tell your jokes without the threat of imprisonment."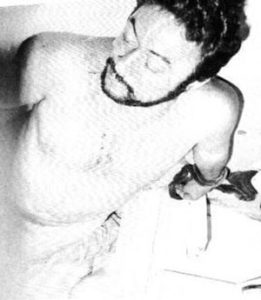 In 1964, after being arrested on multiple occasions, Lenny Bruce was prosecuted because of his words and convicted of obscenity. In this book, "Bruce in effect is still arguing his case, unflinchingly pointing out what his accusers have done to him, even while they held great legal power over him. The bravery of that act should inspire us all," Howard Reich writes in a new foreword. "If there's a central lesson running through all of this, perhaps it's Bruce's apparently boundless respect for everyone else's rights, even as his own were being so grievously violated."
Assembling his musings in essayistic chapters, Bruce writes candidly of the drama of his childhood; his Navy service and the postwar boredom that led him to seek a discharge; his emergence as a comic and how he virtually invented stand-up comedy as we know it today; and the substance abuse that tragically claimed his life. "Equally important, though, is the heady range of ideas Bruce dares to take on in this volume," adds Reich. "The man was hell-bent on proclaiming the absurdities he saw but others didn't or wouldn't."