A rolling stone gathers no moss, but The Rolling Stones gathers honors and hosannas, awards and accolades. But did you know there's a "secret" chapter in their long history? Let us roll out the news about New Barbarians: Outlaws, Gunslingers and Guitars, the first-ever history of a band that has attained cult status among Stones fans. In 1979, Rolling Stones lead guitarist Ron Wood founded the New Barbarians to tour behind his solo album Gimme Some Neck. The group's all-star lineup included Keith Richards, jazz bassist Stanley Clarke, former Faces keyboardist Ian McLagan, Stones confederate and saxophonist Bobby Keys, and drummer Joseph "Zigaboo" Modeliste from the Meters. The band's life was short-lived: It was formed  in 1979, toured only 20 dates and played its final concert in 1980  . . .  gone, but not to be forgotten.
Fans will finally learn the untold story of this legendary cult band and how it helped Keith get through his heroin addiction following his infamous drug bust in Toronto, but they have to wait until Rob Chapman's opus is released by Voyageur Press in October 1.  The inside scoop is all recounted through never-before-seen photography and in-depth, behind-the-scenes interviews. The book offers an intimate look at the brief history of a band that built a cult following in record time. In addition, included with the book is a 10-track New Barbarians CD, featuring tracks from their 1979 tour.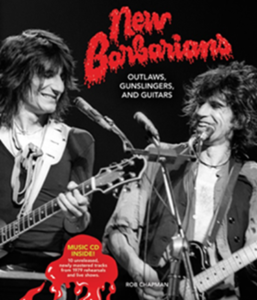 Though Wood put together the band in 1979, in a roundabout way, the Barbarians' story begins with Keith Richard's infamous drug bust in Toronto in February 1977. Unlike Keith's other brushes with the law due to drugs, this time it looked highly likely that Canadian authorities were going to put him in prison for a very long time–possibly for life. In the end, after nearly two years of limbo, hand-wringing and legal battles, Keith was allowed to serve his sentence by enlisting both the Barbarians and the Stone into playing two charity shows in Oshawa, Canada, on April 22, 1978.
Ultimately, the Barbarians helped pay Keith's debt to society, but the band and tour did more than that, according to author Chapman. "The Barbarians were more than a band for Ronnie to tour with–they were a sanctuary for Keith," he says. "In addition to the legal limbo he was also in the midst of kicking heroin." Indeed, as Keith once said, "the Barbarians saved my life." From the tour rehearsals in Los Angeles to each of the tour dates, Ronnie and the Barbarians provided the perfect vehicle for Keith to recover and revive himself.
The band became known for it's members and music, but it also gained notoriety for events such as the riot at the New Barbarians' first concert in Milwaukee-when the "special guests" did not appear during the show—to craziness at their last show. This and more wild, rollicking stories are detailed with behind-the-scenes anecdotes, interviews with band members and crew members, as well as dirt about its famous tour,  plus background on how the group  influenced future Stones music.
In addition, there are more than 300 amazing photos by over a dozen noted rock photographers. Included are behind-the-scenes and candid shots of the rehearsals, the shows and backstage babble.