Our dear friend Patricia Neal once told us how mean her husband Roald Dahl could be . . . regaling us with tales of terror. That was then, and we know Dahl was so beloved for his children's classic books. Public Media Distribution, LLC has re-released Roald Dahl's The BFG" on DVD.  This film is also available for digital download. Neal would say the title stands for "Big Fucking Goon."
It actually stands for The Big Friendly Giant; Dahl's beloved children's book comes to life in this classic animated feature, which debuted in 1989, about the amazing power of friendship between a little girl and a big-hearted giant.
One moonlit night, little orphan Sophie is snatched from her bed by an awesome giant who whisks her away on a magical, thrilling, and funny adventure. Unlike scary giants such as the Bloodbottler, the Fleshlumpeater, and the Bonecruncher, the BFG is a good giant who blows sweet dreams into the bedroom windows of children as they slumber.
When Sophie learns that a monstrous crew of meanies is off to England to gobble up innocent boys and girls, she sets out to stop them once and for all, with the help of her new, rather large, friend.
This DVD includes the digitally restored version of the animated film along with two special features, a never-before-seen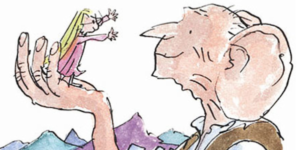 Dahl documentary and before/after Restoration Video. The documentary features an interview with Dahl in which he talks about several of the well-known books he has written including The BFG, The Witches and Matilda. In this video viewers gain insight into how some of these classics came to life.