So much has been written about Ronald Reagan, some might argue too much, but what remains under explored is the short time between his failure to obtain the nomination at the 1976 Republican convention (his second run for the nomination) and his rise from the ashes just four years later when he was elected president.
What happened in those four years to prepare him in a way in which he was not for 1976? How did he gain so much momentum from failing to winning? Surely, the reason for his popularity was more than just taking on issues, taking on Jimmy Carter, and being present and accounted for. What else was there?
Enter Craig Shirley's Reagan Rising: The Decisive Years, 1976-1980. (Broadside Books, $29.99), to be officially released on March 21. Shirley explores how Reagan, already 65 years old, emerged from defeat to become a more reflective, more thoughtful, more hopeful, and more spiritual leader. Reagan's movement quickly spread across the country, crossing party lines, and for the first time young people flocked to American conservatism.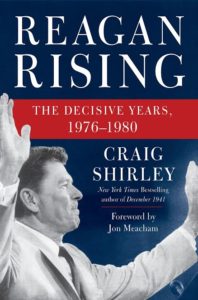 As Reagan himself moved forward, redefining American conservatism, shifts in world leadership—Margaret Thatcher, Mikhail Gorbachev, Pope John Paul II—signaled a rising tide for change that aligned with Reagan's core beliefs. He championed the individual at home, rejected containment and détente abroad, and advocated for the defeat of Soviet communism.
With the emergence of other key conservatives, Jeane Kirkpatrick, Jack Kemp, and Milton Friedman, among them, seminal conservative think tanks began to redefine American policy. By 1980, Ronald Reagan was fully entrenched as the leader of American conservatism and poised to become leader of the nation.
Craig Shirley was the first Reagan Scholar at Eureka College, Reagan's alma mater, where he taught a coursed titled "Reagan 101." Learn more at craigshirley.com.