Lucie Arnaz can precisely remember the moment she wanted to be in show business. It had nothing to do with her mom, Lucille Ball, stomping around in a huge vat of grapes.  It had nothing to do with watching her dad, Desi Arnaz, bang out "Babalu" on the bongos. It had to do with loving another lady: Mame. It was in 1966 and Lucie, then 15 and in New York City, caught Angela Lansbury in the Jerry Herman musical.
"I remember watching Angela having all this fun, getting to sing all these great songs and dance all these wonderful numbers," Lucie recalls. "I thought, 'That's it! That's what I'm going to do with my life. I'm going to sing and dance!'"
And she did. And then some.
Her career began with occasional appearances on her mother's' 60s  TV series The Lucy Show; Lucie was also a regular (along with her brother Desi Jr.) on Ball's third series, Here's Lucy. Regional tours followed; in 1979, Lucie won awards and accolades for her splashy Broadway debut in They're Playing Our Song. On the day she left the show, Lucie flew to Los Angeles to begin work on the 1980 musical remake of The Jazz Singer starring Neil Diamond and Sir Laurence OIivier.
Other stage and screen work followed. In 1993,  Lucie produced the small-screen documentary Lucy and Desi: A Home Movie, for which she won an Emmy. In 2000, she starred in the London musical The Witches of Eastwick.  Since then, her resume has bulged and broken its seams. There were TV appearances (including the highly-regarded guest starring role in the 2003 episode of Law & Order, Bitch); the CD Latin Roots, the 2010 homage to her father; and various Broadway and national tours, including the 2014 revival of Pippin, in which Lucie jaw-droppingly performed on a trapeze .
All this while maintaining a life with actor Laurence Luckinbill, 16 years her senior, to whom she has been married since June 1980. (The couple have five children.) During the COVID self-isolation years, Lucie edited her husband's autobiography, the two-volume slip-cased Effective Memories: How Chance  and the Theatre Saved My Life (Sunbury Press) being released this fall. She learned to cut her own hair; chronicled the growing years of her grandchildren; dabbled with Facebook and listened to "lots" of audible books.
This month, Lucie returns to New York City with I Got the Job! Songs From My Musical Past. She's bringing the show back after four years of cancelling because of COVID and last year's knee replacement surgery.
But that was then. On July 19, 2023, two days after her 72nd birthday, Lucie returns to Below 54 for four nights of proving life is a cabaret, accompanied by her good friend, musical director/pianist Ron Abel.  Call 646.476.3551 for reservations.
Here, Lucie proves she's still on the ball as she chats about her one-woman show, her new hairdo, imitating Cher, working with Sir Laurence Olivier and Michael Bennett, and gay icons.
Before we go into any hair-raising topics, let's chat about your gorgeous hair! It's snow white!
This is my COVID cut and color do. What can I say? I couldn't go anywhere to get it cut or colored, so when the roots got too long, I cut it all off down to the nubbies. I wore a hat for a few weeks and  thought , 'Let me see what I look like.' I've been able to cut it myself, and for two years, I have kept it cropped.  It's white, my dad's color, but sometimes it shocks me in the morning because I expect a brunette to pop up.  But I like it a lot.  It looks cute, doesn't it?
Tease us a bit about I Got the Job! 
This is the first show I've done that has a theme. I talk about what I learned from working with people. I remember mistakes I made. I sing songs— whether I sang them or someone else did—and tell stories from my musical theater career.  I've been indeed fortunate to have the opportunity being in shows written by some great composers.
One reviewer said you sound like a meld of Liza Minnelli and Barbra Streisand and a shot of Eydie Gorme. What think?
Oh my God! Kill me now! I'm so happy l'll never have to sing again! It never occurs to me to sound like anybody else. With Liza, it must have to do with energy and tone and song interpretation. I certainly don't sing like Streisand. I don't have her notes at all. Maybe there's a nasal quality. And Eydie! I love her. She and Rosemary Clooney are the kind of singers I listen to.
Speaking of Cher . . . you did a smash-on imitation of her (with Frankie Avalon doing Sonny) singing "I Got You Babe" on Here's Lucy. Was that fun?
Oh yes! The writers knew Frankie could do Sonny and figured I could do Cher. We went to see Sonny and Cher doing their show to get some ideas. We watched the show and Cher—who I did not know—said, 'C'mon to my dressing room.' She asked, 'Do you have a wig?' I told her I did, but she handed me one and said, 'Here, take this. It's mine and it's better.' She also gave me the pair of earrings I wear. Everything that was Cher she gave me. I loved her for doing that. And I loved doing that song. It's a favorite.
Any recollections of working with Sir Laurence Olivier on The Jazz Singer?
He was so ill making the movie. His cancer was not in remission and he was in terrible pain. He was always sitting in his dressing room with his head in his hands. When he heard his call—'Sir Larry, we're ready for you'—he'd get right up and get to the set.  I had only one scene with him, about two words. I would look at the call sheet to find out whenever he was going to be working and I'd make sure I was also on the set, watching his work. [Pauses] I think the film is underrated. The critics didn't like it. It was as if they were thinking, 'You're Sir Laurence Olivier. How dare you be in a movie with a singer who can't act [Neil Diamond].' So they cut him and the film down a few notches.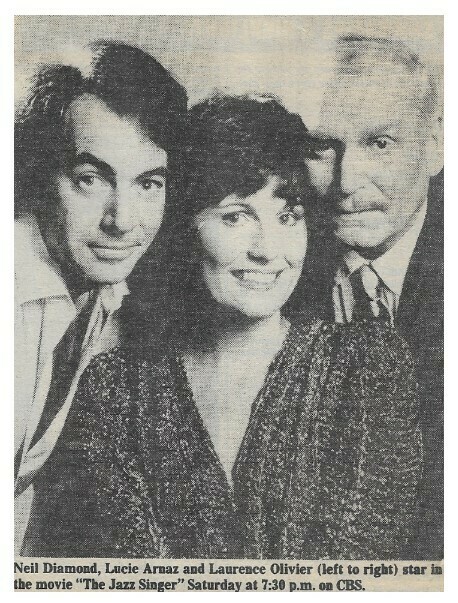 What was it like working with Michael Bennett on Seesaw?
I was the luckiest girl on the planet.  I got my first legit equity tour working with him and Tommy Tune. He had a tough reputation and he wasn't diplomatic.  If he didn't like something he would hurt my feelings and make me cry all night long. We'd come in the next morning and fix what was wrong. It was usually a simple fix. And I'd think, 'Michael, couldn't you have been more tactful so I could have gotten some sleep?' He was a complicated little character. One day he invited me to his apartment, made dinner and said, 'You could be one of the great ladies of the American theater if you take it seriously.' So I did exactly what he told me to do: I moved to New York, took acting classes with Herbert Berghof and made people know I was serious about my career. [Laughs] That changed my life. If I didn't listen to Michael, I would have gotten back into a TV series  . . . and been much wealthier than I am today!
Let's talk about your creepiest role . . . Elizabeth Short.
Oh, The Black Dahlia. I was surprised I got the role because I hardly had any credits. A friend took me to [executive producer] Doug Cramer who had newspaper clippings of her death on his desk. He took a look at them and me and said, 'Oh my God! You look just like her!' I think that's why I got the role.  It was a great film to make; the movie had lots of famous, amazing cameos. Mercedes McCambridge played my grandmother. But everything was so fast. I was asked to choose between two black stretch wigs and two black dresses and we began filming. The first scene was the one in the coffee shop in which I am named The Black Dahlia. There was no rehearsal period. We did a take, adjusted the lighting, did the take again and that was it. Thank God I had training from summer stock where I learned things fast. I am pleased with that movie and I get asked a lot about her, who wasn't the sharpest pencil in the box.
I've heard your mom lowered her voice through an unusual way of driving. Do you know what I am talking about?
Yes. When she was starting out, someone at the studio told her that her voice was too tinny, that it had no tone or presence.  My mother asked, 'What the hell am I going to do about that?' She was told to drive her car down the middle of the road, screaming at the top of her lungs into the wind. I've heard my mother say this many times, but she may have exaggerated the story since she's been known to exaggerate. I don't know if she actually drove at 90 miles-per-hour or how long she did this. It's suicide for any singer or actor who tries this today.
We've already mentioned Liza and Cher and Barbra. Let's toss in Dolly and Bette . Are you a gay icon?
I don't see myself as a gay icon—Minnelli, Cher and Dolly are significant arena fillers. I  think I have a respectable gay following. Let's put it this way: We like each other.  I have lots of gay friends. They like fun. They like laughter. They like dressing up and having a good time. That's what it's all about, no?