I have a good friend (she was the editor-in-chief of Redbook of which I was the Entertainment Editor) who left Madhattan and moved with her hubby and kids to Bainbridge Island, off the coast of Washington State.
I don't see her often. And sorely miss her.
And then . . . faster than a dolphin can be seen frolicking in Puget Sound, I found that Hello, There I'm Coming Home!, the third (and final) kids' book in Laurie B. Arnold's highly acclaimed "Hello There" series, takes place on Bainbridge Island!
In this third and final book in the series, plucky Madison McGee, along with her magic fanny pack and the MegaPix6000, a TV she uses to teleport into whatever is playing on the screen, is on a fateful trip back to the Island, where she grew up, to spend the summer with her best friends, Noah and Violet.
It's an emotional journey, shadowed with memories of her mother, and questions about her father's disappearance. As Madison and her dog Leroy travel from New Mexico to the west coast, she opens her fanny pack and discovers a photo of a black-haired boy. Even though she's sure he's a stranger, she intuitively knows that he needs her help. Again, it's the MegaPix6000 to the rescue, and the "Mighty Trio" enters a weird and frightening world of magicians, shape-shifters and evil doers.
The biggest mystery for Madison to solve is a personal one. Her search for answers leads her to discover that sometimes life changes in unimaginable ways, and that the unexpected can finally lead her home.
And me? Now I can join Madison. And participate in some armchair traveling. Next time I actually visit,  maybe I'll bump into Laurie, her husband Steve and her "perfect fuzzy dog Scout." Isn't he cute? What about the other pooch? That dog, she explains, "is my friend's golden retriever, Jake, who always likes to get in on the action. "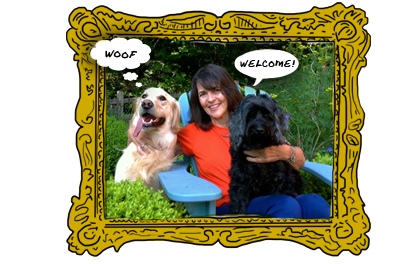 I think I'll send a note to the author (below with two of her most charming pooches), asking her (nicely) to have Madison return for yet another adventure! You can write her as well by visiting her @
lauriearnoldbooks.com.