From 
A
dvocate to 
F
eminist
,
G
rassroots to 
Q
ueens, and 
R
evolutionary to 
Z
eal, 
The ABCs of AOC
(Little, Brown Books for Young Readers, $13.99) introduces readers to values, places and issues that relate to Alexandria Ocasio-Cortez's life and platform.
A clear and engaging explanation of each term is paired with a stunning, contemporary illustration that will delight readers. This is an alphabet book, an  empowering and informative book, that's the perfect conversation starter for young people interested in government and activism.
---
Oh the joy of Naked Mole Rat Saves the World (Algonquin Young Readers , $16.95)! Twelve-year-old kit-with-a-small-k likes shopping at the flea market with her best friend, Clem, roller-skating, climbing to the roof to look at the stars, and volunteering at an animal shelter. Until suddenly she has a really big, really strange secret that makes life more complicated than she's prepared for: Sometimes, without warning, she turns into a tiny naked mole rat.


It first happened as kit watched Clem fall and get hurt during a performance with her acrobatic-troupe family on TV. Since then, the transformations keep coming. Kit can't tell Clem, because Clem hasn't been herself after the accident. Somehow, kit has to save the day. But she's no hero, and turning into a naked mole rat isn't a superpower. Or is it?
---
Just think! A trip to Down Under without the expenses or passport.  Outback: The Amazing Animals of Australia: A Photoicular Book (Workman Publishing, $26.95) uses Photicular technology that's like a 3-D movie on the page, this book whisks you to the vast, remote world of wild Australia, where heat waves dance forever and animals, isolated by the vagaries of continental drift, are unlike those found anywhere else on Earth.

Each moving image delivers a rich, immersive visual experience—and the result is breathtaking. The kangaroo hops. A wombat waddles. The frilled lizard races on two legs across the desert floor. A peacock spider dances and shows off its vibrant colors. A superb experience!
---
Unearth a wealth of weird, wacky and wild facts about dinosaurs, told in Mike Lowery's signature comic style with bright and energetic artwork, fresh framing devices and hilarious jokes in Everything Awesome about Dinosaurs and other Prehistoric Beasts (Orchard Books, $16.99).

This will be the go-to book for dinosaur enthusiasts that kids will put in their backpacks and obsess over, bridging the gap between encyclopedic nonfiction content and lighter picture book fare, filling the need with a one-stop shop for the legions of 6-9 year-olds who want to know absolutely everything there is to know about dinosaurs. Everything.
---
Are you ready to swing? Discover the wonders of jazz with Welcome to Jazz (Workman Publishing , $24.95), an interactive swing-along picture book whose 12 sound chips will introduce readers to the instruments of jazz—the rhythm section with its banjo, drums, and tuba, and the leads, like the clarinet, trumpet and trombone.

And you'll hear singers scat, improvising melodies with nonsense syllables like be-bop and doo-we-ah!
Along the way, you'll learn how this unique African American art form started in New Orleans, and how jazz changed over time as innovative musicians like King Oliver, Louis Armstrong, Duke Ellington and Billie Holiday added their own ideas to it.
Press the buttons to hear the band, the rhythms and the singer calling out: "Oh when the saints—oh when the saints. . . "
---
The Christina Starspeeder saga continues in Attack of the Furball (Scholastic Inc., $12.99) a laugh-out-loud epic from author Amy Ignatow and illustrator Jarrett Krosoczka in the bestselling series, Star Wars: Jedi Academy.
As told through a mix of comics, doodles and journal entries, it's a new year at Jedi Academy. Christina Starspeeder made it through her first year at the advanced Jedi Academy . . . barely.. And year two isn't looking any easier.

When working on the planet Cholganna, Christina falls in love with a baby nexu, a cat-like creature who's fluffiness is impossible to resist. But when she sneaks "Fluffernut" into the dorms, Christina slowly begins to realize why it's never a good idea to take wild animals for pets.  Fluffernut begins growing and growing . . . she'll eventually grow to be 14 feet long and 3 feet tall! Will this be the end of Christina's Jedi Academy career?
---
The Atlas Obscura Explorer's Guide for the World's Most Adventurous Kid (Workman Publishing, $19.95) is a thrilling expedition to 100 of the most surprising, mysterious and weird-but-true places on earth.
For curious kids, this is the chance to embark on the journey of a lifetime—and see how faraway countries have more in common than you might expect.

Hopscotch from country to country in a chain of connecting attractions: Explore Mexico's glittering cave of crystals, then visit the world's largest cave in Vietnam. Peer over a 355-foot waterfall in Zambia, then learn how Antarctica's Blood Falls got their mysterious color. Or see mysterious mummies in Japan and France, then majestic ice caves in both Argentina and Austria.  passports not needed.
---
Everything I Need to Know I Learned From Mister Rogers' Neighborhood: Wonderful Wisdom From Everyone's Favorite Neighbor (Clarkson Potter , $15) is for the young . . . and young-at-heart.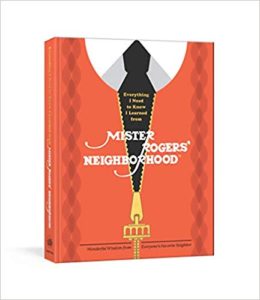 With colorful illustrations and quotes that touch on themes of kindness, empathy, self-care, respect and love, this feel-good (re)introduces and reminds us that we are special, we must be generous with our gratitude, remember to have fun and feed the fish and that all kinds of feelings are okay.
---
He's hot and hunky and waiting to be your boyfriend. Sort of.
If Keanu Were Your Boyfriend: The Man, the Myth, the WHOA!
(Little, Brown Books for Young Readers, $13.00) is  part biography and part dreamlike narrative, an  imagination to dating the Internet's boyfriend, Keanu Reeves.
Apparently, Keanu's humility knows no bounds, just like our love for him. After all, the Keanusance didn't just come out of nowhere. He's had an epic 40-year career that includes the heart-stopping John Wick, the heart-melting Always Be My Maybe, and the heart-pounding The Matrix. His generosity and kindness are legendary, and he remains an enigmatic mystery we're dying to solve.
---
Paint by Sticker
Kids
includes everything you need to create twelve vibrant, full-color "paintings." The images are rendered in "low-poly," a computer graphics style that creates a 3-D effect.
As in paint-by-number, each template is divided into dozens of spaces, each with a number that corresponds to a particular colored sticker.
Find the sticker, peel it and place it in the right space. Add the next, and the next, and the next—it's an activity that's utterly absorbing as you watch a "painting" emerge from a flat black-and-white illustration to a dazzling image with color, body, spirit. The pages are perforated for easy removal, making it simple to frame the completed images. Workman has a slew of such artistic adventures.
Paint by Sticker Kids: Unicorns & Magic 
(Workman Publishing, $9.95) are recent addition to the bestselling series.  Theses boredom-busting activity books features a dazzling array of magical creatures including an enchanted cottage, a mystical wizard casting a spell, a sparkling mermaid, and more.
And with
Paint by Sticker Kids: Christmas
($9.95) the fun continues. From a sparkling Christmas Tree to a fluffy snowman, this activity book is packed with 10 playful illustrations that will get every kid in the holiday spirit.
---
How about a wild adventure? Venture around the world with Coyote Peterson with Wildlife Adventure: An Interactive Guide With Facts, Photos, and More! (Little, Brown Books for Young Readers, $12.99).
Peterson teaches fans how to discover the animals in their own backyard before whisking them away to learn more about the desert, rainforest, savanna, even more epic locations.
Members of the Coyote Pack will be able to go on endless adventures through 10 photographic scenes that can be decorated with this guide's hundreds of stickers. Jam-packed with animal facts, gear check-lists, write-in activities, Coyote Pack badges and much more, this guide is the perfect holiday gift for boys and girls of all ages. Be brave and stay wild.
A perfect companion: Epic Encounters in the Animal Kingdom (tk), Coyote Peterson, is back with the sequel to the bestselling 
Brave Adventures: Wild Animals in a Wild World
. Once again, Coyote and his crew voyage to new environments and encounter an even more eclectic ensemble of the planets' animals.
From a slimy octopus to elusive tree climbing lizards to nomadic wolverines, this book promises to be another fast-paced, wild experience.
---
Ugh. The beginning of a new year means planning, rescheduling, cancelling and planning and rescheduling again. And again. And again.  Welcome Beth Evans' nifty I Can't Wait to Cancel This: A Planner For People Won't Don't Like People (Morrow Gift, $14.99), an undated monthly (un)planner featuring a dozen never-been-seen-before cartoons from the delightfully unconventional Evans.

I Can't Wait to Cancel This includes 12 month sections that can be started anytime—just circle the appropriate month listed at the top of the section page—each illustrated with a never-been-seen-before cartoon, as well as four- week-long spreads broken down into seven-day slots. It also features a portfolio pocket on the inside back cover, an elastic closure and original cover art created by Evans.
---
Straight from the mind of New York Times bestselling author Nathan W. Pyle, Strange Planet (Morrow Gift, $14.99) is an adorable and profound universe in pink, blue, green and purple, based on the phenomenally popular Instagram of the same name.

The book covers a full life cycle of the planet's inhabitants, including milestones such as The Emergence Day,  The Formal Education of a Being, Being Begins a Vocation, The Hobbies of a Being and The Being Reflects on Life While Watching the Planet Rotate.
With dozens of never-before-seen illustrations in addition to old favorites, this book offers a sweet and hilarious look at a distant world not all that unlike our own.
---
Holidaze cheer pops up with Star Wars: A Merry Sithmas Pop-Up Book (Insight Kids, $15.99). Color and create festive 3D paper models during an enchanting journey through the galaxy. This gem includes removable paper pieces, more than two dozen stickers and step-by-step instructions to construct and color holiday-themed 3D pop-ups.

Each pop-up is easy and fun to build, from Darth Vader and a gingerbread Boba Fett, to Chewbacca and a collection of caroling porgs—plus more—for the ultimate Star Wars holiday celebration.
---
Hungry for a most appetizing book?
A Woman's Place: The Inventors, Rumrunners, Lawbreakers, Scientists, and Single Moms Who Changed the World with Food
 (Little, Brown and Company, $25) sets the record straight, sharing stories of more than 80 hidden figures of food who made a lasting mark on history.
 Discover the stories of:
Georgia Gilmore, who fueled the Montgomery Bus Boycott with chicken sandwiches and slices of pie
Hattie Burr, who financed the fight for female suffrage by publishing cookbooks
Kamaladevi Chattopadhyay, who, with just a few grains of salt, inspired a march for the independence of India
The inventors of the dishwasher, coffee filter, the first buffalo wings, Veuve Clicquot champagne (the only bubbly I drink!) , the PB&J sandwich, and more
With gorgeous full-color illustrations and 10 recipes that bring the story off of the page and onto your plate, this book reclaims women's rightful place–in the kitchen, and beyond.