They were the greatest interpreters of the Great American Songbook. And then some. Steve Lawrence and Eydie Gorme—more often and most lovingly known in one fell swoop as SteveandEydie—entertained generations with pitch-perfect harmonies and playful banter for more than 50 years. Steve and Eydie cumulatively recorded 1,000 songs. According to executive producer/music guru Jim Pierson, "Eydie as a solo artist recorded more than 400 songs with Steve responsible for well over 300 on his own and together they duetted on approximately 200 masters."
Their first album recorded together? The aptly-titled We Got Us, winning them a Best Vocal Group Grammy in 1960. They also kept the musical gems alive on the small screen; they were frequent guests on TV shows, winning Emmys for their television salutes to George Gershwin and Irving Berlin.
In 2000, the couple announced plans to reduce touring; in 2008 Eydie retired and Lawrence embarked on a solo music tour. Even recording was no longer begin done—with one important exception. In 2014, during the seventh decade of his career, Lawrence recorded what has become his last CD, When You Come Back to Me, dedicated to his beloved wife who died in 2013. (They married in 1957.)
As Steve says: "Eydie has been my partner on stage and in my life for more than 55 years. I fell in love with her the moment I saw her and even more the first time I heard her sing. While my personal loss is unimaginable, the world has lost one of the greatest pop vocalists of all time."
And now, with the support and guidance and love of their son, David, Steve and Eydie are making a comeback. Think of it as two stars being born. Again.
In conjunction with Gordon Anderson, Co-President of Real Gone Music, Lawrence plans to remix and remaster the best of his parents' multi-track recordings and reissuing them over the next two years. The first CD of this collaboration, the critically-acclaimed That Holiday Feeling, has been remastered from the original 1965 two-track master and was released on November 11, 2022.
Considered by many fans and music professionals as one of the best holiday recordings ever made, the CD was loaded with eight additional bonus tracks that were never part of the original 1964 release. these bonus tracks are from various recordings during their years at Columbia Records that Lawrence promises, "are sure to enchance that 'holiday feeling as you listen.'"
Lawrence knows and understands the importance of his parents' career; there's no ego or conceit when he calls his mother "one of the top five vocalists of the 20th century." (The others include Barbara Streisand, Ella Fitzgerald, Judy Garland and Billie Holiday.)
Steve and Eydie's main office has all of the original 24-track masters from their recordings with Columbia Records. Los Angeles home is filled with his parents' two-track master recordings. "When my parents signed a contract with Columbia [in 1962], part of the deal was that they got the masters back after 25 years," Lawrence explains. So in the early 1990s, Steve and Eydie digitally transferred those recordings to CD and began selling them on their website through their label, GL Music.  Years later Real Gone Music entered the picture "on and off" until the company's Co-President Gordon Anderson and Lawrence committed to properly remaster and remix (if possible) their recordings with Columbia.
"I am basically going through which masters are most important to their careers and are in the best physical shape with which to work," Lawrence says.  The next remix and remaster will most likely be "Don't Go to Strangers, Gorme's 1966 seminal album that features her Grammy-winning single "If He Walked Into My Life".
Another goal: A Legacy series box set of Eydie's Spanish recordings with the Trio Los Panchos, and a "best of" series for both of them, together and individually. Vinyl collectors take note: There may also be limited-edition vinyl pressings. Anderson and Lawrence promise feedback from fans is important and will help shape future releases. "Real Good Music and I want to make sure that fans will be able to hear these magnificent recordings as pristinely as possible."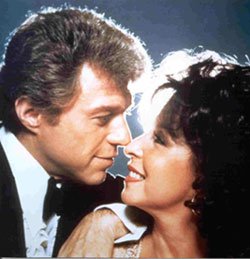 Lawrence pauses. "My Mom and Dad were the first duo to introduce American Popular Music with amazing swing arrangements by the greatest arrangers and orchestrators of the time," he says. "In that respect, they continued the legacy of this genre that began with Frank Sinatra and Nelson Riddle, only as a Duo. My hope is that these remasters will reach new audiences and continue to thrill their existing audience."
For more information: realgonemusic.com