It's a no-brainer. Founded in 1972, German label Brain now commands a status and reputation among listeners and collectors all over the world that would have been unimaginable at the time. Today, it is regarded as one of the most important label outlets for German rock music of the '70s, a genre generally referred to as krautrock, although the term hardly does justice to the range of styles covered by these groups and their records. In any case, it was coined by the English media and only became popular as an afterthought. Brain first used it in May 1974 in an advertisement in Musikexpress magazine for their "Kraut Rock" compilation. The label licensed international acts and albums right from the start in order to expand its portfolio.
Now, for the first time, the story of the label is revisited in depth, thanks to UMe. Set for release on April 21, The Brain Box–Cerebral Sounds Of Brain Records 1972-1979 contains 8 CDs and a total of 83 songs. The set is completed by a 76-page hardcover book with extensive information about the label as well as photographs and artwork; it also includes a Brain tote bag featuring their iconic logo. The collection was compiled by Mark Powell, who also provided the English liner notes. The German introduction was written by krautrock expert Andreas Dewald. Grobschnitt icon Eroc was in charge of remastering. The Brain Box can be pre-ordered here: brainrecords.lnk.to/CerebralSounds.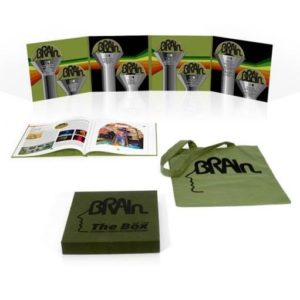 The general sense of upheaval and the revolutionary spirit of the late '60s–politically, socially and artistically–began to create exciting results in the German music scene. Amon Düül II and Can released their first records; Kraftwerk and Tangerine Dream pushed the boundaries of electronic music; Ihre Kinder and Floh De Cologne sang in German. And in 1969, journalist Rolf-Ulrich Kaiser launched the now equally iconic Ohr label, followed by Pilz and Kosmische Kuriere. However, soon two of his employees, Günter Körber and Bruno Wendel, got so irritated by the increasing eccentricity and LSD experiments of their boss that, in late 1971, they decided to quit and set up their own label under the umbrella of Hamburg-based company Metronome.
Some Ohr acts, such as Embryo, Guru Guru and Klaus Schulze, went with them and were soon joined by many more on their new label Brain: Jane, Cluster, Grobschnitt, Os Mundi, Thirsty Moon, and Emergency, to name just a few. Following the departure of Günter Körber around 1975 (he went on to start Sky Records), the label lost its driving force and headed in a more commercial direction. Today most of the repertoire is part of the Universal Music catalog.
 The first five CDs in this set are dedicated to German bands–from The Scorpions, Gomorrha, Sameti, Yatha Sidhra, Satin Whale, RMO, Eroc, Harmonia, Schicke Führs Fröhling, Liliental and Anyone's Daughter with their four-part track "Adonis,. The sixth CD contains material from international records, including tracks by Steamhammer, Spyro Gyra, Atomic Rooster, Alexis Korner & Snape, Gryphon, Dutch group Light, Locomotiv GT from Hungary, and Finish band Tasavallan Presidentti and their guitarist Jukka Tolonen.
 A particular highlight of this box is the first-time release of the two "Brain Festival Essen" double albums, which first came out in 1977 and 1978 respectively, and during which the label presented its bands exclusively on a big stage and then on record: established acts such as Jane, Guru Guru, Novalis and RMO, as well as bands that were new at the time, including Gate, Message, SFF, To Be, Blonker and the Norwegian jazz rock five-piece Ruphus, which closed the event both times. These two albums mark the perfect documentary finish to an extraordinary label history which is always worth exploring.