Oh! We so love tattletales, books that reveal the underbellies of stars and singers and criminals and musicians and authors and politicians . . . even if they are written by the celebs themselves.
Our picks for the best of 2019 continue. . .
Herman and Joe Mankiewicz wrote, produced, and directed more than 150 pictures, including triumphs as diverse as the Marx Brothers' Monkey Business, Pride of the Yankees, the infamous Burton-Taylor Cleopatra and Guys and Dolls. But the witty, intellectual brothers spent their Hollywood years deeply discontented
and yearning for what they did not have, a career in theater.

Herman gambled away his prodigious earnings, got himself fired from all the
major studios, and drank himself to death at the age of 55. Joe was a
critical and financial success, but his philandering with stars like Joan Crawford and Judy Garland distressed his wives, one of whom committed suicide. He wrecked his own health using uppers and
downers in order to direct Cleopatra by day and write it at night, only to be very publicly fired by Darryl F. Zanuck, a humiliation from which he never fully recovered.
What lives! What stories! What delicious drama! It can be found in The Brothers Mankiewicz: Hope, Heartbreak, and Hollywood Classics (University Press of Mississippi, $35).
---
Blue: The Color of Noise (St. Martin's Press, $27.99) is the remarkable story―in pictures and words―of Steve Aoki, the superstar DJ/producer who started his career as a vegan straightedge hardcore music kid hellbent on defying his millionaire father, whose unquenchable thirst to entertain―inherited from his dad, Rocky Aoki, founder of Benihana―led him to global success and two Grammy nominations.

Aoki–also known for his outrageous stage antics (cake throwing, champagne spraying, and the 'Aoki Jump') and his endearing personality–recounts the epic highs of music festivals, clubs and pool parties around the world, as well as the lows of friendships lost to drugs and alcohol, and his relationship with his flamboyant father. Illustrated with candid photos gathered throughout his life, the book reveals how Aoki became a force of nature as an early social media adopter, helping to turn dance music into the phenomenon it is today.
---
Throughout her rise to fame and during some of the most pivotal moments of her life, Demi Moore battled addiction, body image issues and childhood trauma that would follow her for years―all while juggling a skyrocketing career and at times negative public perception.  As her success grew, Demi found herself questioning if she belonged in Hollywood, if she was a good mother, a good actress―and, always, if she was simply good enough.

As much as her story is about adversity, it is also about tremendous resilience. In the deeply candid and reflective memoir Inside Out (Harper, $27.99),  Demi pulls back the curtain and opens up about her career and personal life―laying bare her tumultuous relationship with her mother, her marriages, her struggles balancing stardom with raising a family, and her journey toward open heartedness.
---
In an arresting mix of visceral, soulful storytelling and stunning visuals, Face It (Dey Street Books, $32.50) upends the standard music memoir while delivering a truly prismatic portrait. With all the grit, grime, and glory recounted in intimate detail, the book re-creates the downtown scene of 1970s New York City,

where Blondie–a band that forged a new sound that brought together the worlds of rock, punk, disco, reggae and hip-hop to create some of the most beloved pop songs of all time– played alongside the Ramones, Television, Talking Heads, Iggy Pop and David Bowie. Aesthetically dazzling, and including never-before-seen photographs, bespoke illustrations and fan art installations, Face It brings Debbie Harry's world and artistic sensibilities to life.
---
Rollicking but intimate, Still Here (Farrar, Straus and Giroux , $28) tracks one of Broadway's more outlandish and direct personalities, Elaine Stritch.  We accompany Stritch through her jagged rise to fame, to Hollywood and London, and across her later years, when she enjoyed a stunning renaissance, punctuated by a turn on the popular television show 30 Rock.
We explore the influential―and often fraught―collaborations she developed with Noël Coward, Tennessee Williams and above all Stephen Sondheim, as well as her courageous yet flawed attempts to control a serious drinking problem. And we see the entertainer triumphing over personal turmoil with the development of her Tony –winning one-woman show, Elaine Stritch at Liberty, which established her as an emblem of spiky independence and Manhattan life for an entirely new generation of admirers. I'll drink to that, and one for Mahler!
---
With her second memoir, Home Work: A Memoir of My Hollywood Years (Hachette Books, $30), Julie Andrews picks up the story with her arrival in Hollywood and her years in the film industry, from the incredible highs to the challenging lows.

Not only does she discuss her work in now-classic films and her collaborations with giants of cinema and television, she also unveils her personal story of adjusting to a new and often daunting world, dealing with the demands of unimaginable success, being a new mother, the end of her first marriage, embracing two stepchildren, adopting two more children, and falling in love with the brilliant and mercurial Blake Edwards. Co-written with her daughter, Emma Walton Hamilton, and told with Andrews's trademark charm and candor, Home Work takes us on a rare and intimate journey into an extraordinary life that is funny, heartrending and inspiring.
---
With candor, humor and warmth, Olivia writes about her life and career and cancer in the must-have Don't Stop Believin' (Gallery Books, $28). Available for the first time in the United States, this edition includes a new afterword by Olivia.
She speaks about her childhood, her father's role in breaking German Enigma codes during World War II,  her feeling about about stardom,her beloved daughter Chloe, meeting the love of her life, and her passion and unwavering advocacy for health and wellness.
"I hope this story of my life from my early years up to today will bring some inspiration and positivity to the reader," Olivia says. "We all share so many experiences in our own unique way."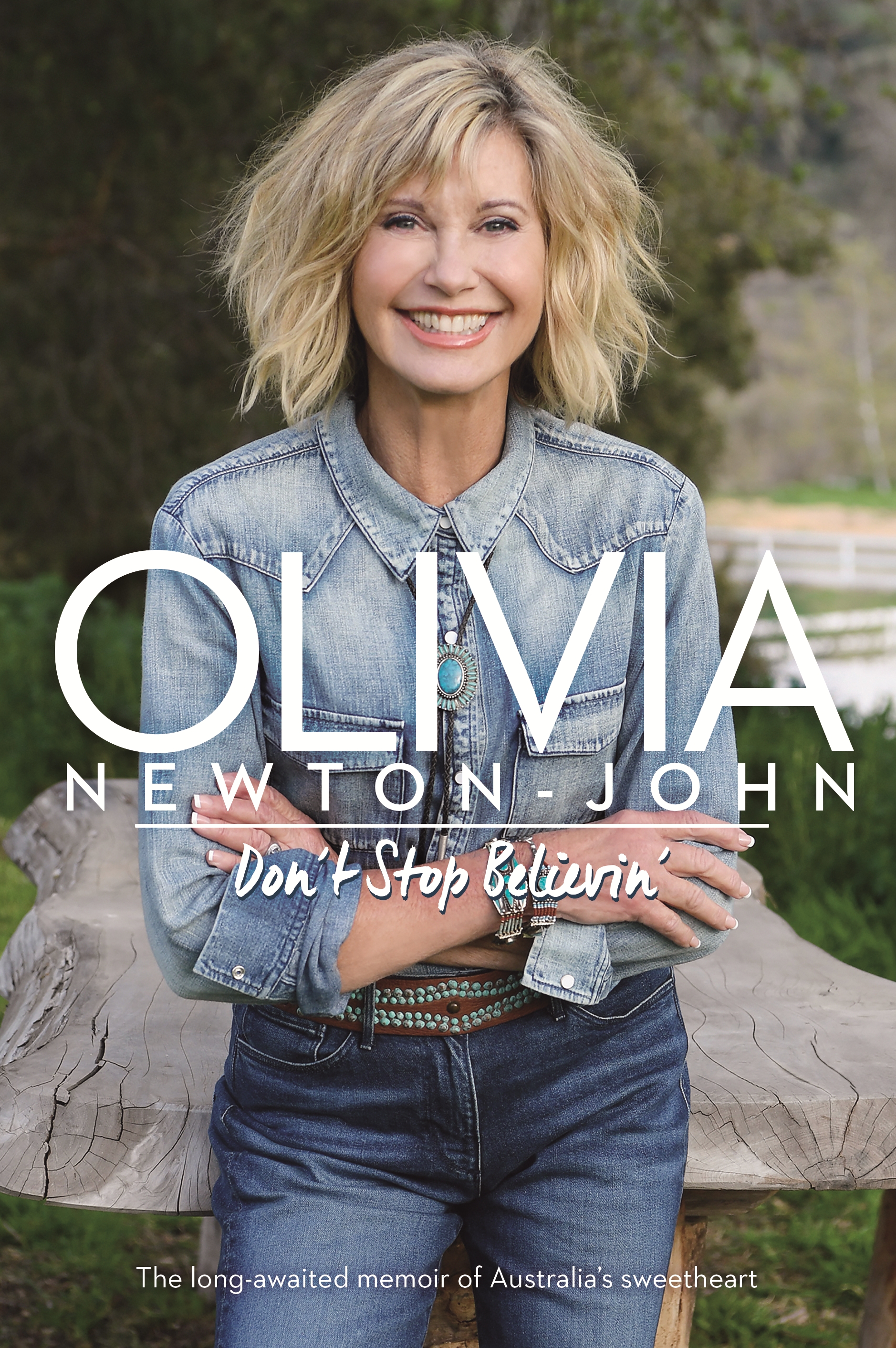 Olivia was diagnosed with breast cancer in 1992; the diagnosis "came the same weekend my father died of cancer, so you can imagine the shock", she remembers. Learn more @ onjcancercentre.org.
Olivia has always radiated joy, hope and compassionate.
She continues to be a force for love, for goodness, for strength, throughout the world.
"I also  believe that when you go through something difficult, even something as dramatic as cancer, that something positive will come of it," she says.
Don't stop believin'.
---
As a young man Frederick Douglass escaped from slavery. He was fortunate to have been taught to read by his slave owner mistress, and he would go on to become one of the major literary figures of his time. His very existence gave the lie to slave owners: with dignity and great intelligence he bore witness to the brutality of slavery.
Douglass spoke widely, using his own story to condemn slavery. By the Civil War, Douglass had become the most famed and widely travelled orator in the nation. In his unique and eloquent voice, written and spoken, Douglass was a fierce critic of the United States as well as a radical patriot.

In Frederick Douglass: Prophet of Freedom (Simon & Schuster, $37.5), David Blight has drawn on new information held in a private collection that few other historian have consulted, as well as recently discovered issues of Douglass's newspapers. This is an important, compelling biography, the winner of the 2019 Pulitzer Prize in history.
---
Condé Nast's life and career was as high profile and glamourous as his magazines. Moving to New York in the early 20th century with just the shirt on his back, he soon became the highest paid executive in the United States, acquiring Vogue in 1909 and Vanity Fair in 1913. Alongside his editors, he built the first-ever international magazine empire, introducing European modern art, style, and fashions to an American audience.
Conde Nast: The Man and His Empire (St. Martin's Press, $32.50) was written with the cooperation of his family on both sides of the Atlantic and a dedicated team at Condé Nast Publications; here Susan Ronald reveals the life of an extraordinary American success story.
---
Recalling pivotal moments from her dynamic career on the front lines of American diplomacy and foreign policy, Susan E. Rice—National Security Advisor to President Barack Obama and US Ambassador to the United Nations—reveals her surprising story with unflinching candor in Tough Love: My Story of the Things Worth Fighting For (Simon & Schuster, $30).

Rice provides an insider's account of some of the most complex issues confronting the United States over three decades, ranging from "Black Hawk Down" in Somalia to the genocide in Rwanda and the East Africa embassy bombings in the late '90s, and from conflicts in Libya and Syria to the Ebola epidemic, a secret channel to Iran, and the opening to Cuba during the Obama years.
Intimate, sometimes humorous, but always candid, Tough Love makes an urgent appeal to the American public to bridge our dangerous domestic divides in order to preserve our democracy and sustain our global leadership.
---
Before he stole our hearts as the grooming and self-care expert on Netflix's hit show Queer Eye, Jonathan Van Ness was growing up in a small Midwestern town that didn't understand why he was so over the top. From choreographed carpet figure skating routines to the unavoidable fact that he was Just. So. Gay., Jonathan was an easy target and endured years of judgement, ridicule and trauma—yet none of it crushed his uniquely effervescent spirit.

Over the Top: A raw Journey to Self-Love  (HarperOne, $27.99) uncovers the pain and passion it took to end up becoming the model of self-love and acceptance that Jonathan is today. In this revelatory, raw, and rambunctious memoir, Jonathan shares never-before-told secrets and reveals sides of himself that the public has never seen.
---
Twyla Tharp is revered not only for the dances she makes—but for her astounding regime of exercise and non-stop engagement. She is famed for religiously hitting the gym each morning at daybreak, and utilizing that energy to propel her breakneck schedule as a teacher, writer, creator and lecturer. This book grew out of the question she was asked most frequently: "How do you keep working?"
Keep It Moving: Lessons for the Rest of Your Life (Simon & Schuster,  $27) is a series of no-nonsense mediations on how to live with purpose as time passes.

From the details of how she stays motivated to the stages of her fitness routine, Tharp models how fulfillment depends not on fortune—but on attitude, possible for anyone willing to try and keep trying. Culling anecdotes from her life and the lives of other luminaries, each chapter is accompanied by an exercise that helps anyone develop a more hopeful and energetic approach to the everyday.
---
Common, the man who owns a Grammy, Oscar and Golden Globe, follows up his best-selling memoir One Day It'll All Make Sense with Let Love Have the Last Word (Atria Books, $26), an inspiring exploration of how love and mindfulness can build communities and allow you to take better control of your life through actions and words.

Common believes that the phrase "let love have the last word" is not just a declaration; it is a statement of purpose, a daily promise. Love is the most powerful force on the planet and ultimately, the way you love determines who you are and how you experience life. He explores the core tenets of love to help others understand what it means to receive and, most important, to give love.  He knows there's no quick remedy for all of the hurt in the world, but love, for yourself and for others, is where the healing begins.
---
As part of Motown's legendary songwriting and production team of Holland-Dozier-Holland, Lamont Dozier is responsible for such classics as "You Can't Hurry Love;" "I Can't Help Myself (Sugar Pie, Honey Bunch);" "Stop! In the Name of Love;" "Heat Wave;" "Baby Love;"  "You Keep Me Hanging On;" and on . . . and on.
After leaving Motown, he continued to make his mark as an influential songwriter, artist and producer with hits such as "Give Me Just a Little More Time," "Band of Gold," and "Two Hearts," a chart-topping Phil Collins single that earned the pair a grammy and an Oscar nomination.

In How Sweet It Is: A Songwriter's Reflections on Music, Motown and the Mystery of the Muse (BMG Books, $27.99) Lamont takes us behind the scenes of the Motown machine, sharing personal stories of his encounters with such icons as Diana Ross, Marvin Gaye, Stevie Wonder, Smokey Robinson and Berry Gordy. He reveals the moments that inspired some of his timeless songs—and pulls back the curtain on the studio secrets that helped him and his colleagues create "the sound of young America."
---
P. T. Barnum is the greatest showman the world has ever seen. As a creator of the Barnum & Baily Circus and a champion of wonder, joy, trickery and "humbug," he was the founding father of American entertainment—and as Robert Wilson argues in Barnum: An American Life (Simon & Schuster, $28), one of the most important figures in American history.

Wilson's vivid new biography captures the full genius, infamy and allure of the ebullient showman, who, from birth to death, repeatedly reinvented himself. He learned as a young man how to wow crowds, and built a fortune that placed him among the first millionaires in the United States. He also suffered tragedy, bankruptcy, and fires that destroyed his life's work, yet willed himself to recover and succeed again. As an entertainer, Barnum courted controversy throughout his life—yet he was also a man of strong convictions, guided in his work not by a desire to deceive, but an eagerness to thrill and bring joy to his audiences. He almost certainly never uttered the infamous line, "There's a sucker born every minute," instead taking pride in giving crowds their money's worth and more.
---
Why shouldn't we despise the asshole who's about to be impeached? Protect your wives and daughters since Frump's proclaimed his  seduction technique is to "grab 'em by the pussy."  In Golden Handcuffs: The Secret of Trump's Women (Gallery Books, $28), Nina Burleigh, explores his attitudes toward women by providing in-depth analysis and background on the women who have had the most profound influence on his life—the mother and grandmother who raised him, the wives who lived with him and the ugly daughter who is poised to inherit it all.

Has any president in the history of the United States had a more fraught relationship with women than Donald Trump? He flagrantly cheated on all three of his wives, brushed off multiple accusations of sexual assault, publicly ogled his eldest daughter, bought the silence of a porn star and a Playmate. The books proves is one sick motherfucker.
---
Winston Churchill called him World War II's "organizer of victory." Harry Truman said he was "the greatest military man that this country ever produced." George Catlett Marshall was America's most distinguished soldier-statesman since George Washington, whose selfless leadership and moral character influenced the course of two world wars and helped define the American century.
Long seen as a stoic, almost statuesque figure, he emerges in the pages of George Marshall: Defender of the Republic (Dutton Caliber, $34) as a man both remarkable and deeply human, thanks to newly discovered sources.

Set against the backdrop of five major conflicts—two world wars, Palestine, Korea, and the Cold War—Marshall's education in military, diplomatic and political power, replete with their nuances and ambiguities, runs parallel with America's emergence as a global superpower. The result is a defining account of one of our most consequential leaders.
---
In 1975 Andrew Ridgeley took a shy new boy at school under his wing. They instantly hit it off, and their boyhood escapades at Bushy Meads School built a bond that was never broken. As Wham!, R and George Michael, found themselves riding an astonishing roller coaster of success, taking them all over the world. They made and broke iconic records, they were treated like gods, but they stayed true to their friendship and ultimately to themselves. It was a party that seemed as if it would never end.

And then it did, in front of tens of thousands of tearful fans at Wembley Stadium in 1986.
With WHAM!, George Michael and Me, (Dutton, $28), one half of one of the most famous bands in the world, tells the inside story of  his lifelong friendship with George Michael, and the formation of a band that changed the shape of the music scene in the early '80s. Ridgeley 's memoir covers in wonderful detail those years, up until that last iconic concert: the scrapes, the laughs, the relationships, the good, and the bad. It's a unique and one-and-only time to remember that era, that band, and those boys.
---