To think three decades have passed since the release of U2's fifth studio album The Joshua Tree reminds us that (a) we are all getting old and (b) an anniversary edition of the iconic record needs to be released.
That's what's being done by Interscope Records on June 2. Alongside the 11-track album, the super deluxe collector's edition includes a live recording of The Joshua Tree Tour's 1987 Madison Square Garden concert; rarities and B-sides from the album's original recording sessions; as well as 2017 remixes from Daniel Lanois, St Francis Hotel, Jacknife Lee, Steve Lillywhite and Flood; plus an 84-page hardback book of unseen personal photography shot by The Edge during the original Mojave Desert photo session in 1986.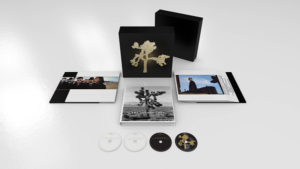 In January of 2017, Rolling Stone dubbed the album their "1987 masterpiece… Thirty years ago, the wild success of The Joshua Tree transformed U2 into the biggest band on the planet."
Whew!
Released to universal acclaim on March 9, 1987 and featuring hit singles "With Or Without You", "I Still Haven't Found What I'm Looking For" and "Where The Streets Have No Name", The Joshua Tree went to No. 1 in the U.K, U.S., Ireland and around the world, selling in excess of 25 million albums, and catapulting Bono, The Edge, Adam Clayton and Larry Mullen Jr., "from heroes to superstars", according to Rolling Stone.
Time put U2 on its cover in April 1987, proclaiming them "Rock's Hottest Ticket" and the 12 months that followed saw U2 create indelible moments including the traffic-stopping Grammy Award-winning "Where The Streets Have No Name" video on the roof of a Los Angeles liquor store, and go on to win a BRIT Award and two Grammys, including Album of the Year,  their first of 22 received to date; as well as a triumphant return home for four unforgettable shows in Belfast, Dublin and Cork in the summer of 1987.
The Joshua Tree was produced by Brian Eno and Daniel Lanois. Recording took place in Dublin at Windmill Lane Studios and Danesmoate, the house which subsequently became bassist Adam Clayton's home.
Full details of all formats are available at http://www.u2.com/news/title/the-joshua-tree-at-30
The Joshua Tree original track listing is as follows: Where The Streets Have No Name, I Still Haven't Found What I'm Looking For, With Or Without You, Bullet The Blue Sky, Running To Stand Still, Red Hill Mining Town, In God's Country, Trip Through Your Wires, One Tree Hill, Exit and Mothers Of The Disappeared. 
The Joshua Tree Tour 2017 opens in Vancouver on May 12, 2017, kicking off a run of stadium dates across North America and Europe, including U2's first ever U.S. festival headline appearance at the Bonnaroo Music & Arts Festival this summer.