Before making Hollywood epics such as Tora! Tora! Tora! and 20,000 Leagues Under the Sea, director Richard Fleischer started his career with a series of low-budget B-features, often taking ripped-from-the-headlines tales of crime stories and spinning them into noir gold,  of which an exquisite example is 1949's endlessly entertaining Trapped.
A young Lloyd Bridges stars as hard-boiled hood Tris Stewart, a convicted counterfeiter doing time in the Atlanta pen. When a fresh batch of fake bills starts circulating, treasury agents bail Stewart out to help lead them to the maker of the fake plates. But Tris double-crosses the Feds, hooking up with his gun-moll sweetie (22-year-old Barbara Payton in her breakout role). They plan to heist the plates and hightail it across the border. With the Feds closing in and the double-crosses piling up, Stewart finds himself between a rock and a hard place. Will he trapped for good?
Although long sought by the Film Noir Foundation, Trapped was believed to have suffered the unfortunate fate of many B-films of the era—oblivion. But when a private collector deposited a 35mm acetate print at the Harvard Film Archive, the Film Noir Foundation and UCLA Film & Television Archive (with support from the Hollywood Foreign Press Association's Charitable Trust [The HFPA Trust]) sprang into action, restoring the film. The result, presented in a Blu-ray/DVD dual-format edition by Flicker Alley, honors the pitch-perfect performances, assured direction, and gorgeous cinematography of this edge-of-your-seat, noir classic.
---
Olive Signature line has released  a Blu-ray edition of Bells of St. Mary's that is a significant improvement over the DVD released by Republic Pictures 100 years ago. The lack of specks and soot and and scratches leads us to believe the film has been (greatly) restored, though why Olive doesn't use this bragging point is beyond us.

This is not a true "Christmas film", but the warmth and heart and humor and luminous Ingrid Bergman make it worth a few viewings. We are still a bit surprised when we admit that she and co-star Bing Crosby (as a nun and a pastor at odds with each other) have appealing chemistry together.
---
Have an appetite for a dark, delectable comedy in the tradition of cannibal classics Eating Raoul and
Delicatessen
? Look no further than
A Feast of Man (
IndiePix Films), certain to satisfy your hunger (and funny bone).
When a wealthy and eccentric New York playboy prone to mischief dies unexpectedly, his four closest socialite friends  are summoned to the late aristocrat's country home overlooking the Hudson for a viewing of his video will. Only things don't go quite as Wolf, the executor of the estate, had planne: Gallagher's posthumous wish is to put his dearly beloved to the test—each will become a millionaire overnight if they can unanimously agree to consume his dead body and the group, has until the end of the weekend to reach a decision.  Funny food for thought!
Say hello to the ultimate Tony Montana experience with the Scarface "The World Is Yours" Edition Gift Set (Universal Pictures Home Entertainment). This gem is chockfull of goodies: The 1983 film is 4K UHD; experience the unforgettable film like never before with HDR for brighter, deeper, more lifelike color.

There's also more than 2 and a half hours of bonuses, including the brand-new Scarface 35th Anniversary Reunion Feature, with an all-new conversation with director Brian De Palma and actors Al Pacino, Michelle Pfeiffer and Steven Bauer. Another Blu-ray bonus: Both the original theatrical and alternate censored versions of Howard Hawks' newly restored 1932 version Scarface. Perhaps best of all is the limited edition, individually-numbered replica of one of the most iconic props from the film.
---
After a 30-year-old bachelor, leaves his corporate job to pursue his dreams as an artist, he embarks on a new life as an Uber driver while working on a graphic novel titled
Pixelia
, which just happens to also be the name of this IndiePix Films release. One day, a transgender woman gets into his car and changes his life forever; they spend the whole day together, opening each other's minds: she shares her desire to adopt a child, while he narrates the story of his graphic novel.
After a special bond quickly forms, he realizes his own queer identity, and the couple start to make their way in a culture that is not always friendly to alternative ways of life.
This LGBTQ festival favorite, made on a show string budget, is a prime example of India's budding queer cinema movement.

---
The Broad City Complete Series(Paramount) has everything a queen or two could ever need. In addition to every single freakin' episode, there are special features including outtakes, deleted/extended scenes, and every episode of Hack into Broad City and Behind Broad City. 
Plus, a special features only disc with more than 30 minutes of additional extras. Yaaaas!
---
Frank Capra's heart-warming masterpiece is the best-known and most-loved holiday film.  Now you can watch It's a Wonderful Life (Paramount)  holiday classic like never before, newly remastered from the original film negatives and more vibrant than ever with stunning clarity.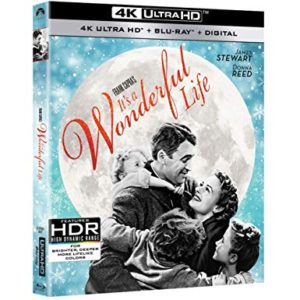 With the endearing message that "no one is a failure who has friends", Capra's heartwarming masterpiece continues to endure, and after more than 70 years, this beloved classic still remains as powerful and moving as the day it was made.
---
Not to be catty, but little heroes can romp to the rescue with the PAW Patrol pups, as the canine crew use their tools, tech, vehicles and problem-solving skills to save Adventure Bay.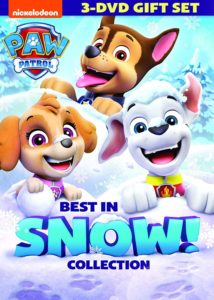 Each pup has a unique job and skills, but the pack must always come together as a team to save the day. The 3-DVD set PAW Patrol: Best in Snow Collection (Nickelodeon) deserves a spot in each kid's stocking.
---
For the young and young-at-heart: Bumblebee & Transformers Ultimate 6-Movie Collection,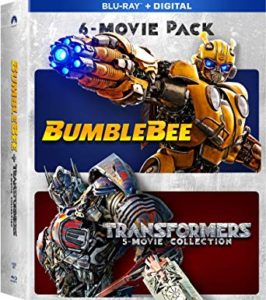 including Bumblebee and all five Transformers films, from visionary director Michael Bay and legendary producer Steven Spielberg.
---
Baby Boomer boom! The Toys That Made Us (Screen Media) is an American television series created by Brian Volk-Weiss. The first four episodes of the series began streaming on Netflix on December 22, 2017, and the next four were released on May 25, 2018.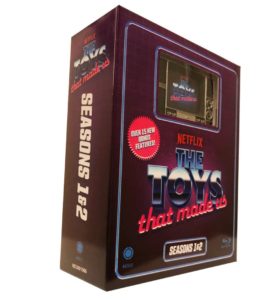 The eight-episode documentary series, as it was originally touted, focused on the history of important toy lines. The first four episodes focus on the Star Wars, He-Man and G.I. Joe toy lines with subsequent episodes featuring LEGO, Transformers, Hello Kitty and Star Trek. The Bu-ray set includes a free collectible!
---
Christoph Willibald Gluck's Orphee & Eurydice in one of opera's most beautiful masterpieces; his exquisite drama introduces us to Orpheus, the poet and musician whose every word and note communicate the most overwhelming love for his Eurydice.

This production features Gluck's reworking of the original German opera into a French-language production which contains thrilling ballet sequences that will come to vivid life under the direction and choreography of the legendary John Neumeier. This production stars Dmitry Korchak as Orphée with Andriana Chuchman as Eurydice and Lauren Snouffer as Amour.  Oui!
---
Democracies should protect their citizens, especially the most vulnerable among them, but the United States is increasingly failing to do so especially in areas like the Rust Belt, the manufacturing heartland of the nation that includes Michigan, Wisconsin, Indiana, Illinois, Ohio and Pennsylvania.
The investigative documentary The Corporate Coup d'Etat (First Run features) shows how corporations and billionaires have taken control of the American political process, and in doing so have brought economic hardship and ruin to vast swaths of the country. It combines insights from political thinkers and journalists with the experiences of citizens from the Rust Belt, where factory closures and outsourcing have left it desolate and people hopeless.

The film argues that the crisis predates Adolph Freak's election by many years: Decades ago, U.S. democracy began selling its soul to big corporations; lobbyists and business-friendly politicians took control in Washington, gradually undermining the will of the people. Provocative and revealing, The Corporate Coup d État exposes what happened and where we are now.
Other First Run features topping the list:
Tattoo Uprising reveals the artistic and historical roots of today s tattoo explosion. This sweeping overview explores how tattoos were used in early Christian practices, how they were discovered halfway around the world during the voyages of Captain James Cook, and how they exploded in popularity in America beginning with artists like Ed Hardy.

There's an unforgettable appearance by  Werner Herzog, who allows a rare glimpse at his Ed Hardy tattoo.
Spanning three generations, Chasing Portraits is a deeply moving narrative of the richness of one man's art, the devastation of war, and an unexpected path to healing. Moshe Rynecki was a prolific artist who painted scenes of the Polish-Jewish community until he was murdered during the Holocaust.
For more than a decade his great-granddaughter, Elizabeth, has searched for the missing art.
An elderly man, Octav Petrescu (portrayed by the brilliant Marcel Iures), returns to his childhood villa in Romania to sell it. Arriving there after a decades-long absence, Octav wanders through the atmospheric house and undulating grounds that surround it and is confronted and transformed
by the memories and spectres of his youth, eventually finding answers to questions that have cast a shadow over his adult life.
From Oscar-nominated Josh Aronson and featuring a new song from Jon Bon Jovi, To Be Of Service is a documentary about veterans suffering from PTSD who are paired with a service dog to help them regain their lives.

The film follows these warriors with their dogs as this deeply bonded friendship restores independence and feeling for the men and women who so courageously served our country.
---
Inherited from Maria Montessori in 1907, the Montessori Method is a child-centered educational philosophy that celebrates and nurtures each child's desire to learn, an approach valuing the human spirit and full development: physical, social, emotional and cognitive. The Montessori Method is increasing in popularity both in the U.S. and abroad.

Curious to see how the Method works first hand, filmmaker Alexandre Mourot sets his camera up in the oldest Montessori school in France (with kids from 3 to 6) and observes. He meets happy children, free to move around, working alone or in small groups. Some read, others make bread, do divisions, laugh or sleep. The teacher remains discreet.
Children guide the filmmaker through the whole school year, helping him understand the magic of their autonomy and self-esteem–the seeds of a new society of peace and freedom, which Maria Montessori dedicated her life work to.
Such is the wonder and joy of Montessori: Let the Child be the Guide.
---
Holy high notes! Melody Makers (Cleopatra Entertainment/MVD Visual), a chronicle of the birth of music journalism from the world's oldest and longest standing seminal music magazine,
is not just another music documentary; through a series of interviews from artists and journalists of the time, the film tells the true story of the rise and fall of the world's most influential music publication and uncovers an era of tremendous creative freedom.
---
Who says the holidays can't be a horror . . . and we don't just mean when the in-laws come. George Roy Hill's landmark science-fiction classic, Slaughterhouse-Five, tells the tale of World War II soldier Billy Pilgrim and how he was abducted by aliens. The flick took home the Jury Prize at the 1972 Cannes Film Festival and has been a favorite of sci-fi fans ever since.  Kurt Vonnegut, who wrote the novel the book is based on, famously claimed, "I drool and cackle every time I watch that film."

Not only is Arrow bringing this to Blu-ray for the first time in North America, but it comes with a brand new 4K restoration and a spaceship-load of special features. Yippee!
---
He was a true genius. And Kurt Weill's Street Scene is an amazing mélange of show tunes, arias, jazz numbers, folk songs and spirituals, a true musical melting pot that aptly underlines the rich variety of characters that populate the New York City tenement block in the '30s that's the focus of this exceptionally vital and criminally undervalued work.
It was meant meant to be a truly American opera, half-way between his The Threepenny Opera and Leonard Bernstein's West Side Story and drawing from the famous play by Elmer Rice (recipient of the Pulitzer Prize when it was published in 1928).

Weill wrote Street Scene shortly after fleeing Nazi Germany. When he discovered the vitality of the American musical scene, his focus became to reconcile the Broadway musical with European traditional opera, jazzy and North-American tunes with an almost Puccinian-like lyricism. Under Tim Murray's vivid and precise baton, the superb production by John Fulljames perfectly renders the vitality and energy released by the streets of New York that proved to be a great inspiration to the theatrical mind of the composer.
Released by BelAir Classiques, the staging generously evokes a bygone era of American history, simultaneously looking rundown and part of a dreamscape worth longing for.