Remember the night of when you watched a fascinating TV show that left you panting for me? Think The Night Of. The acclaimed HBO limited crime series that captivated TV audiences this summer has now taken up life on Digital HD an DVD and Blu-ray. Starring John Turturro in "a mind-blowing performance" (thank you, Wall Street Journal) and the "extraordinary" (kudos Boston Globe) Riz Ahmed, The Night Of is "an anthem to television's unique power to turn a series of understated performances into sustained magnificence" (our pals at Los Angeles Times).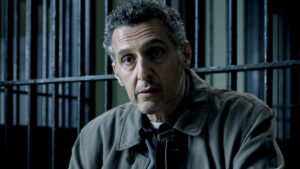 The series delves into the intricacies of a complex New York City murder case with cultural and political overtones. Pakistani-American college student Nasir "Naz" Khan (a brilliant Riz Ahmed), who lives with his parents in Queens, New York, takes his father's taxi to go to a party in Manhattan. But what starts as a perfect night for Naz becomes a nightmare when he's arrested for murder. The series examines the police investigation, the legal proceedings, the criminal justice system and Rikers Island, where the accused await trial.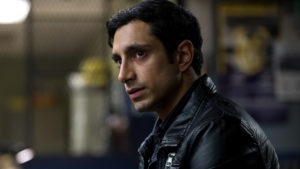 The ensemble cast includes Michael Kenneth Williams, Bill Camp, Jeannie Berlin, Poorna Jagannathan, Payman Maadi, Glenne Headly, Amara Karan, Sofia Black-D'Elia, Paul Sparks, Ben Shenkman, Afton Williamson, Paulo Costanzo, Ned Eisenberg, Mohammad Bakri, Nabil Elouahabi, Ashley Thomas, Glenn Fleshler and Chip Zien.
Inquiring minds want to know Turturro's thoughts, so HBO worked some magic.
What appealed to you about The Night Of as a story and a project?
I felt that the story was just reeking of the human dilemma. Any time you have a prison film or anything about a crime, it's kind of a microcosm of society. It reminded me of a Russian crime novel. And I know that [co-creator] Richard Price always had a Dostoyevsky-feel for this stuff. I really loved that you see these characters, all of them, as people.
Did you research or take inspiration from specific sources to inhabit the role of John Stone?
I got a lot of it from the writing. I was introduced to a very competent and well-regarded defense lawyer, Terry Montgomery. This guy, who looks like Idris Elba, he's a star. I met with him a bunch of times, and he was able to take me through everything that he goes through. I went to court and I watched different guys, but with Terry I thought, that's the kind of guy that Stone would have been if he had the stomach for it. I looked at a lot of old Sidney Lumet films, and I worked on a big vocal warm-up. I'm from New York, but I thought the accent was more from the '70s. Like in The Taking of Pelham One Two Three, when they say "first," they say "ferst." That's an older New York sound.
Did the initial casting of James Gandolfini as John Stone have any influence on your decision to take the role?
I was very good friends with James. And when they first mentioned it, I was like, this is maybe too difficult for me. But when I saw the pilot, James was barely in there. He still was interesting, of course — you see him with this big beard and everything — but he didn't really talk very much, certainly not to Riz. I don't think he knew yet what he was going to do, because he hadn't done that much yet in the series. So for me, I didn't have to erase that.
What did you make of the character's eczema condition?
It's an obstacle, and maybe it has something to do with John not being able to deal with everything because eczema does come out of stress. And then, it's how it makes him feel and how it looks. When I had it on my face and walked around, some people looked away, some people were matter of fact. It's another interesting element, and it also physicalizes. It physicalizes the world.