After he died in the backseat of a Cadillac at the age of 29, Hank Williams, a frail, flawed man who had become country music's first real star, instantly morphed into its first tragic martyr.
Having hit the heights with simple songs of despair, depression, and tainted love, he would, with that outlaw swagger, become in death a template for the rock generation to follow. Mark Ribowsky's Hank: The Short Life and Long Country Road of Hank Williams (Liveright, $35) examines Williams' music while also re-creating days and nights choked in booze and desperation. Ribowsky traces the miraculous rise of this music legend from the dirt roads of rural Alabama to the now-immortal stage of the Grand Ole Opry, and finally to a sad, lonely end on New Year s Day, 1953. But unlike those other musical giants who never made 30, no legacy endures quite like that of the "Hillbilly King."
Bram Stoker, despite having a name nearly as famous as his legendary undead Count Dracula, has remained a puzzling enigma. Now, in Something in the Blood: The Untold Story of Bram Stoker, the Man Who Wrote Dracula (Liveright, $35), David J. Skal exhumes the inner world and strange genius of the writer who conjured an undying cultural icon. Stoker was inexplicably paralyzed as a boy, and his story unfolds against a backdrop of Victorian medical mysteries and horrors:
Cholera and famine fever, childhood opium abuse, frantic bloodletting, mesmeric quack cures, and the gnawing obsession with "bad blood" that informs every page of Dracula.
From his time as a session guitarist in the '60s, working with legendary rock groups like The Kinks and The Who, to his time with the Yardbirds and his eventual founding on Led Zeppelin and his post-Zeppelin career, No Quarter (Overlook, $35) is a rich, insightful telling of Jimmy Page's story.
It has all the sex and drugs you'd expect from a rock icon, but Page is widely considered to be a mysterious figure and Martin Power's biography will shed light on the man who made music.
Historian Betty Boyd Caroli spent seven years exploring the archives of the LBJ Library, interviewing dozens of people, and mining never-before-released letters between Lady Bird and Lyndon Johnson. The result? Lady Bird and Lyndon: The Hidden Story of a Marriage that Made a President (Simon & Schuster, $18) They married with a tacit agreement: This highly gifted politician would take her away, and she would save him from his weaknesses.
The conventional story goes that Lyndon married Lady Bird for her money and demeaned her by flaunting his many affairs, and that her legacy was protecting the nation's wildflowers.
But Caroli shows that she was also the one who swooped in to make the key call to a donor, to keep the team united, to campaign in hostile territory, and to jump-start Lyndon out of his paralyzing dark moods.
Described by his friend Richard Burton as "the most original actor to come out of Britain since the war," Peter O'Toole was also unpredictable with a dangerous edge he brought to his roles and to his real life. With the help of exclusive interviews with colleagues and close friends, Peter O'Toole: The Definitive Biography (Thomas Dunne Books, $28.99), paints the first complete picture of this complex and much-loved man.
The book reveals what drove him to extremes, why he drank to excess for many years and hated authority, but it also describes a man who was fiercely intelligent with a great sense of humor and huge energy. Giving full weight to his extraordinary career, this is an insightful, funny and moving tribute to an iconic actor who made a monumental contribution to theatre and cinema.
On August 16, 1952, Ian Fleming wrote to his wife, Ann, "My love, This is only a tiny letter to try out my new typewriter and to see if it will write golden words since it is made of gold." He had bought the golden typewriter as a present to himself for finishing his first novel, Casino Royale. "It marked in glamorous style the arrival of James Bond, agent 007, and the start of a career that saw Fleming become one the world's most celebrated thriller-writers.
And he did write golden words. Before his death in 1964 he produced 14 best-selling Bond books, two works of non-fiction and the famous children's story Chitty-Chitty-Bang-Bang. Fleming's output was matched by an equally energetic flow of letters. He wrote constantly, to his wife, publisher, editors, fans, friends and critics; his letters also reflect his friendship with such contemporaries as Raymond Chandler, Noel Coward and Somerset Maugham. Enjoy The Man with the Golden Typewriter: Ian Fleming's James Bond Letters (Bloomsbury, $30).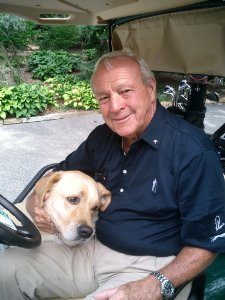 Arnold Palmer is considered the most important golfer in history. As a follow-up to his 1999 autobiography, Palmer takes stock of the many experiences of his life in A Life Well Played (St. martin's Press, $22.99), bringing new details and insights to some familiar stories and sharing new ones. He offers advice and guidance, sharing stories of his career on the course, success in business and the great relationships that give meaning to his life. This book is Palmer's gift to the world–a treasure trove of entertaining anecdotes and timeless wisdom that readers will celebrate and cherish.
Breaking bad, reading well. In his riveting memoir A Life in Parts (Scribner, $27), Bryan Cranston traces his zigzag journey from his chaotic childhood to his dramatic epiphany, and beyond, to mega-stardom and a cult-like following, by vividly revisiting the many parts he's played. With great humor, and much humility,
Cranston chronicles his unlikely rise from a soap opera regular, trying to learn the ropes and the politics of show business on the fly. Discussing his failures as few men do, describing his work as few actors can, Cranston has much to say about innate talent, its benefits, challenges, and proper maintenance, but ultimately the book is about the necessity and transformative power of hard work.
Derailed in the '70s by mental illness, drug use and the shifting fortunes of the band, Brian Wilson came back again and again over the next few decades, surviving and thriving. In I am Brian Wilson (Da Capo Press, $26.99), he weighs in on the sources of his creative inspiration and on his struggles, the exhilarating highs and the debilitating lows.
Whether he's talking about his childhood, his band mates or his own inner demons, Wilson's story, told in his own voice and in his own way, unforgettably illuminates the man behind the music, working through the turbulence and discord to achieve, at last, a new harmony.
This is the story of the Beatles' harrowing rise to fame: Focusing on that seven-year stretch from the time the boys met as teenagers to early 1964, when the Fab Four made their momentous first appearance on The Ed Sullivan Show. From the boys' humble beginnings in Liverpool, to the cellars of Hamburg, When They Were Boys: The True Story of the Beatles' Rise to the Top (Running Press, $24.95) includes stories never before told, including the heartbreaks and the lucky breaks.
Included are an eyewitness account of that first meeting between Lennon and McCartney, the inside story of how Ringo replaced Pete Best, an exploration of the brilliant but troubled soul of manager Brian Epstein, and the real scoop on their disastrous first visit to Germany and the death of Stu Sutcliffe.
Amy Winehouse died at 27. With a worldwide fanbase and millions of record sales to her name, she should have had the world at her feet. Instead, in the years prior to her passing, she battled addictions and was often the subject of tabloid headlines. Amy's mother, Janis, knew the real Amy as no one else did. In Loving Amy: A Mother's Story (Thomas Dunne Books, $26.99)
 Janis reveals the full story of the daughter she loved. As the world watched the rise of a superstar, then the freefall of an addict to her untimely death, Janis simply saw her Amy, the girl she'd given birth to in 1983; the girl she'd raised and stood by despite her unruly behavior; the girl whose body she was forced to identify two days after her death-and the girl she's grieved for every day since.