There's a good reason—a very good reason—Build & Imagine Founder Laurie Peterson was named Rising Star Toy Inventor of the Year by Toy & Game Inventors Awards and why the products she has invented, created and sell are top-notch.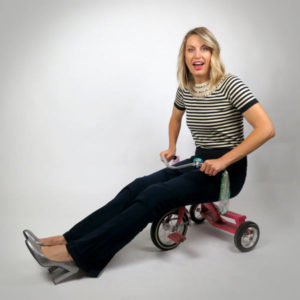 We'll let her speak: "Toys help to shape our view of the world and develop important skills. Building toys have been one of hottest categories, and I just wasn't seeing a lot of options that are especially engaging for girls. So what I did was combine several things girls have historically loved. Build & Imagine StoryWalls are like building blocks meets dollhouse meets dress-up dolls. It's a unique mashup featuring adventurous characters and rich illustrated details that inspire girls and boys alike to build and imagine.
In the past, toy companies designed their construction toys almost exclusively for boys. Thankfully, they are now starting to invite girls to build, but many are doing so by taking their existing construction sets and turning them pink. I call it 'pink think'.
We can approach toy design in a more thoughtful way, and doing so is important. The simple act of combining shapes to form a three dimensional structure helps kids to develop foundation skills for science, technology, engineering and math (STEM). Skills like spatial reasoning, problem solving, creativity, and design. Toys can make a difference. Let's invite all children to Build and Imagine."
We invite you to try and test her products. We vote them the Best of the Year because we asked  kids to play with a Draw & Build Dollhouse and a Pet Portrait Studio. The dollhouse is a far cry from those nasty Mattel messes: The kids got to make this magnetic dollhouse their own by drawing their decorations and scenes with the four write-on/wipe-off markers that are included. They customized each magnetic panel with your own artwork; drew hair and clothes on the included wooden doll and combined panels magnetically to form a dollhouse (and whatever else their imaginations desired.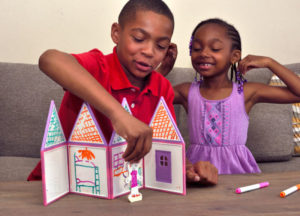 After a solid five hours of play, we had to nicely remind them their lunch was getting cold . . . and nap time was a-approaching! Recommended for ages 4-8. $24.99; buildandimagine.com
The next day they spent six (!) hours playing with Pet Portrait Studio.  They helped prepare the local shelter pets for adoption day by providing each pet with a special portrait.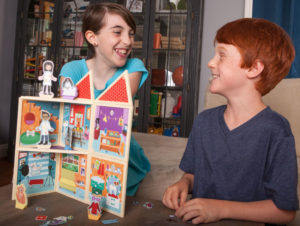 They built a studio with the illustrated magnetic panels, then dressed the wooden pets in crazy outfits and arranged wacky scenes for the dolls to capture with their camera and paintbrushes. It's the fun of a dollhouse with the enrichment of a building set. $44.99; buildandimagine.com
The prescription for fun and games . . .and some scientific knowledge? With Dr. Eureka Speed Logic Game the brilliant Dr. Eureka has important experiments for you to complete. Pick a challenge card, 3 test tubes and 6 colorful balls to solve his scientific formula.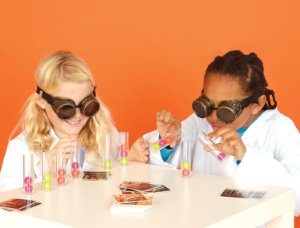 Carefully move your materials from tube to tube without dropping them and position the balls as illustrated on the challenge card. This game is a great, hand-on, dexterity-based, brainteaser that can be played with friends or by yourself. For 1-4 players, ages 8 and older. $19.99; blueorangegames.com
Wanna try and Top That!? Put on your hat, break out your props and hide your rabbits in this magical match up. When the challenge card is flipped over, players race to stack their objects in 1 single pile following 3 simple rules: objects printed in color must be visible on the stack, objects printed in grey must be hidden inside objects on the stack, and objects surrounded by stars must be kept empty.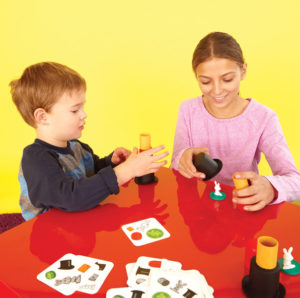 Do you have what it takes to master your magic in this grand stack 'em up finale?  For 2-4 players; ages 6 and older; $19.99; blueorangegames.com
Everyone is trying to get their claws on something called Hatchimals. And that's no yolk.  The people at Zeno, who do the PR for Spin Master, the toy's manufacturer, tell us " the consumer response to Hatchimals has been extraordinary, exceeding all expectations. Spin Master has increased production and expedited shipments to ensure stock is arriving every week and will be right up to the holidays. We encourage consumers to check with their favorite retailers. "
Yet they are sold out in every store we visited and/poor called . . . yet on Amazon and eBay they are selling for upwards of $500! How sad people have snatched 'em up and those greedy grinches are making a profit instead of making wee ones happy.
So we turn to a trio of other delightful toys that Spin Master has spun out. The series of Zoomer Hedgiez are interactive hedgehogs with lights, sounds and sensors. The one seen here has the name "Whirl", and he (she?) looks as if his (her?) "fur" was designed by Andy Warhol. These critters move on their own, making cute sounds while they perform tricks.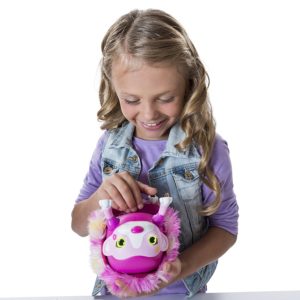 When you pet their heads they'll walk, roll, do headstands; Hedgiez love to cuddle—tickle their bellies and they'll curl up and giggle. Each Hedgy has soft, pet-able "fur", perfect for brushing (they even come with their very own comb). Each needs 4 AAA batteries (not included) to hatch to life. $40+ each; spinmaster.com
Kids don't remember I Spy, but they can learn the art with Spy Gear: Spy Go Action Camera. Prepubescent snoops can spy and record anywhere with this portable surveillance camera that features three camera modes: burst mode capture, single frame capture, and video capture mode.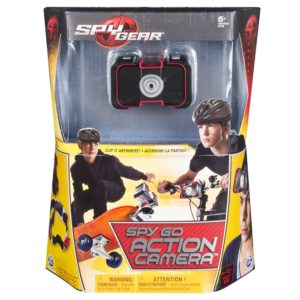 Those who want to be more recognizable can clip the camera anywhere with the included clip mount. $40+ each; spinmaster.com
Not as hard-to-find as Hatchtk but a close second are Brightlings. These interactive singing and talking 15-inch tall plush "things" love to chat! She says more than 100 things, including "I love you" and "I'm getting sleepy". To get Brightlings talking, just lay her on her stomach or place her upside down (Sounds a bit, perverse, no?) Activate new phrases the more you play with her—there's never a dull moment with your new friend Brightlings! Unlike most kids, she listens to what you say, records it and repeats it back in her quirky voice.
Squeeze Brightlings' ear to record your voice, a song on the radio or just about anything for up to 15 seconds. (Yes, she can even curse!) Now press her tummy for her to repeat it back to you. Have some fun and tilt Brightlings while she's repeating back and her voice will change pitch from super high to down low. This talented musician also creates songs in sixunique music styles. Select the music mode by squeezing Brightlings hand, and then press her ear to select the style. $42+; spinmaster.com
Endless Games truly lives up to their names. They continue to offer an endless supply of must-have games that give a new definition  of" family game night!"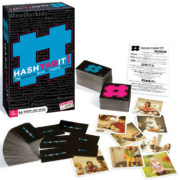 The best new item is Hashtagit! Each round begins with a completely ridiculous photo. Play the best Hashtagit caption from the cards in your hand. Be voted the best Hashtag and win the picture card.  Play continues until one annoyingly lucky player gets seven cards. For three or more players, 18 years and older. $19.99; endlessgames.com
A perfect stocking stuffer: Ochos Locos Card Game. Think of this as a crazy game of eights with a spicy twist.  The object is to play all of your cards first by matching the color or number on the discard pile. Ochos (8's) are Wild and can be played at any time. Other "Pepper Cards" spice up the action by creating new rules and different strategies. Ochos Locos is a new twist on a classic game that is instantly addictive!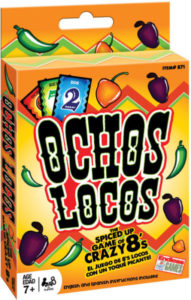 Ole! Ochos Locos is a game for 2 or more players, ages 7 and older. $7.99; endlessgames.com