Crayola crayons were our colorful childhood chums. But oh! The company has colored out of the lines and created dozens (and dozens) of creative creations.
Our two new favorites:
Crayola Silly Scents Sticker Maker
The young (and young-at-heart) can turn virtually anything into a custom sticker. This is a perfect activity at a birthday or craft party. To start creating your own DIY stickers just place an adhesive sheet on the sticker bed and place a magazine picture or the included line art on top.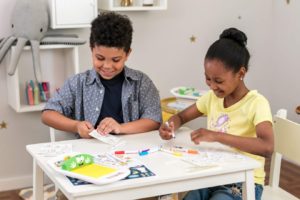 Slide the handle over the rubber mat and an instant sticker! For scented stickers, simply color your stickers with Silly Scents Markers for a multi-sensory twist. Decorate your devices, book covers, school locker and much more. It includes 10 sheets of perforated line art, 20 sheets of adhesive paper, 6 Silly Scents mini-markers, 3 clear mini Scent Sticks and an instruction sheet.
Crayola Color Chemistry Set for Kids
This kids chemistry set was developed by scientists at Crayola who knew the value of STEM activities.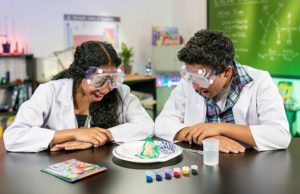 There are 50 experiments; 16 out-of-the-box experiments and 34 additional science activities inspired by steam and stem learning.
---
The fun is endless when it comes to the wonderful selection made by Endless Games. This year, our elves had quite the festive times "testing" four new favorites. We promise lots o' giggles and gusto!
Are you looking for the perfect board game to get your children off the couch or away from video games that gives them an exciting, adventurous way to stay active and healthy? Look no further than The Floor is Lava!, an exciting new interactive floor game that turns any living room, backyard or floor into a "lava jumping adventure".
Designed with colorful, non-slip stepping stone pads, kids and adults can jump, leap and twist their way to safety through physical activity, imagination and pure fun. And remember, don't touch the floor. Hot indeed!
There's a trio of card games that we place high on our Top Games List.
Label Horror Trivia under "frightening" and "fun". In this horror trivia game, challenge yourself and your friends on a wide range of horror themed questions from pop culture.
Win by knowing the scariest movie and TV references. There are 150 questions; each correct answer gets a weapon—you'll need three weapons to win. Do we dare say this is one bloody good adventure?
Another fun card game: Everyone Knows. This gem asks questions… and puts pressure on players. It seems simple: Can you answer questions faster than friends?
Quick! Who painted the Mona Lisa? What is the "Breakfast of Champions"? Where is the cerebrum? How many you can get right in 60 seconds? This card game for kids and adults comes with 500 playing cards, a sand timer, dry erase marker and scorecard. Boys and girls alike will enjoy this game.
See if you and your friends are thinking the same things with What Comes to Mind?
 Write down the first thing that comes to mind after reading the card prompts aloud. Think like your competition and score points based on the most matching answers. This is a beginner-friendly card game plays in about 20 minutes and includes 75 Cards, an answer pad, 4 pencils and instructions. What Comes to Mind? Is the perfect solution for birthday parties, party prizes and hard-to-buy-for-.  It is easy to learn with no difficult rules or strategy.
---
Whenever we think of fun, we check out the nifty new games from ThinkFun.
The engaging logic game is the cat's meow. Tangled yarn. A missing bird. Which of the six pussy cats was responsible for each Cat Crime? Players learn critical reasoning and logical deduction skills as they solve the 40 increasingly difficult challenges and find the criminal cat.
Cat Crimes features a familiar puzzle style where players have to use sequential reasoning to determine the final order and placement of the cats around the dinner table. With a little problem solving you'll be able to use paw prints, toy placement and other clues to figure out exactly where each Cat was sitting at the time of the crime.
Who say playing in the dark is always scary? Meet Shadows. This is a thrilling, immersive play experience that brings a distinctive twist to game night – you play it in the dark! Tall, looming trees cast shadows all around. Off in the distance you hear a faint rustling sound and your heart begins to race. Could the legend be true? Will you finally discover the creatures who hide in the forest shadows?
One player moves the LED lantern around in search of Shadowlings, mysterious creatures who avoid the light. The lantern illuminates the forest and trees, casting real shadows on the game board. The rest of the players work together, strategically moving their Shadowlings to stay out of the light in this innovative board game for kids and families.
Laser Chess is a two-player strategy game that combines the spatial thinking skills of chess with the high-tech fun of laser beams. Players alternate turns moving their mirrored pieces around the board, and at the end of each turn, players fire a real laser beam from their Laser. The laser beam bounces from mirror to mirror, and if the beam strikes a non-mirrored surface of any piece, it is immediately removed from play.
If you illuminate your opponent's King – you win. There are five different board set-ups.  Like all of ThinkFun's games, Laser Chess is built to develop critical thinking skills, like logical and abstract reasoning. Check mate!