PBS is world-renowned for their specials, documentaries, miniseries and films and TV fare . . . simple always first-rate. Some of our favorites released this year:
The best DVD set of the year? The Vietnam War, another epic miniseries by the master, Ken Burns. and Lynn Novick.  In an immersive narrative, they tell the epic story of the Vietnam War as it has never before been told on film.
The epic program features testimony from nearly 100 witnesses, including many Americans who fought in the war and others who opposed it, as well as Vietnamese combatants and civilians from both the winning and losing sides.
Ten years in the making, the series brings the war and the chaotic epoch it encompassed viscerally to life. Written by Geoffrey C. Ward, produced by Sarah Botstein, Novick and Burns, it includes rarely seen, digitally re-mastered archival footage from sources around the globe, photographs taken by some of the most celebrated photojournalists of the 20th century, historic television broadcasts, evocative home movies and revelatory audio recordings from inside the Kennedy, Johnson and Nixon administrations.
The series also features more than 120 popular songs that define the era, including tracks from The Beatles, The Rolling Stones, Bob Dylan, Jimi Hendrix, Simon & Garfunkel, Janis Joplin, Ben E. King, Phil Ochs, Donovan, Johnny Cash, Barry McGuire, Buffalo Springfield, The Byrds, Otis Redding, Santana, Joni Mitchell, Nina Simone, The Temptations, Booker T. and the M.G.s and Pete Seeger.
Second best: May we serve you a nice cup of tea? Imbibe, as long as the beverage isn't being served by Mary Ann Cotton. Inspired by the book Mary Ann Cotton: Britain's First Female Serial Killer by noted criminologist David Wilson,  Dark Angel dramatizes the events that drew a troubled woman ever deeper into a career of casual murder, while her loved ones and friends, who were also her victims, never suspected a thing.

Joanne Froggatt, who stole the hearts of millions of viewers as Anna, the loving and resilient lady's maid on Downton Abbey, stars in a totally different role in the spine-tingling two-part drama. Dispensing death from the spout of a warm teapot, Froggatt plays the notorious Victorian poisoner. Born in North East England in 1832, a child of the coalfields, Mary Ann Cotton grew up in poverty with the dream of escaping the hard life of a miner's family, a goal she came tantalizingly close to achieving. Her chosen means were her good looks, sexual allure, and the dirty secret of nineteenth-century suspicious deaths: arsenic, which is tasteless and easily disguised in a cup of tea.
For authorities, the problem was that arsenic poisoning, if done skillfully, mimicked the symptoms of two of the major public health scourges of the day: typhoid fever and cholera. The passing of a child or husband after a week of severe stomach pains, convulsions, and other portents of disease was all too common—and even less surprising when several members of the same household succumbed.
She's back. And as spirited a teen as ever. Anne of Green Gables: The Good Stars is the second installment of the classic best-selling Lucy Maud Montgomery story returns after the successful Thanksgiving 2016 premiere, which reached more than 3.2 million viewers. In this installment,
Anne Shirley turns 13 and faces complex situations with friends, learns from inspirational adults, and experiences an escalating friendship with Gilbert. Her free-spirited nature is challenged by her perceived need to be sensible, a journey fraught with confusion and some unfortunate—albeit amusing—(mis)adventures.
The Real Jesus of Nazareth Starring no less than seven Academy Award winners, the 1977 miniseries Jesus of Nazareth was a global television event–one of the most celebrated TV biographies of Jesus ever made. Now, 40 years later, the actor who portrayed the Son of God, Robert Powell, is returning to the Holy Land to seek out clues to the real historical figure who inspired Christianity.
Jesus of Nazareth featured a cast of blockbuster stars, including Anne Bancroft, Ian McShane, Sir Laurence Olivier and James Earl Jones, but for his lead character, legendary Italian filmmaker
Franco Zeffirelli chose the relatively unknown British actor–Robert Powell–who gave a performance for the ages. Since then, the series has become an Easter and Christmas television tradition for many–more than 90 million people have watched the series in the U.S. alone. Now, this new program will draw parallels between the scripted depiction of the biblical story and the real history behind it by breaking down the life of Jesus and the world he lived in–a world ripe for a radical message that would change history.
Edgar Allan Poe: Buried Alive
draws on the rich palette of Poe's evocative imagery and sharply drawn plots to tell the real story of the notorious author. The film, featuring Tony Award-winning and Emmy-nominated actor Denis O'Hare, explores the misrepresentations of Poe as an alcoholic madman akin to the narrators of his horror stories.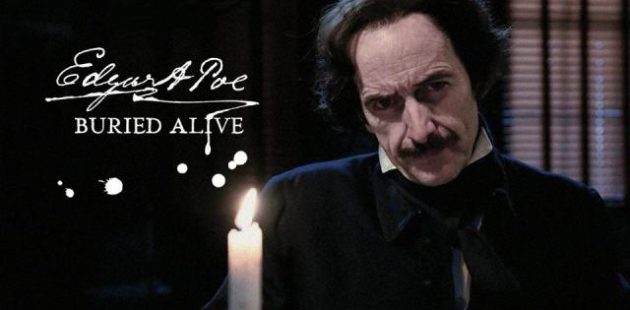 It reveals the way in which more than any other writer of his time, and even our own time, Poe tapped into what it means to be a human being in our modern and sometimes frightening world. 
The Durrells in Corfu: The Complete Second Season
 This charming and hugely popular series returns to follow the further adventures of the eccentric Durrell family as they embrace life on the gorgeous Greek island of Corfu. Based on Gerald Durrell's trilogy of Corfu novels, this latest series sees sparky English widow Louisa Durrell and her brood continue to put down roots in their dilapidated rented house, alongside an ever-increasing menagerie of animals brought home by youngest son Gerry.
Doing their best to settle into the community, they must earn enough money to pay their aggressive new landlady Vasilia, who sees Louisa as a love rival for charming playboy Hugh. With the help of Spiro and Theo, the Durrells resort to selling typical British produce at the market. But accidentally poisoning the locals might not be the best way to start a new business? 
Does George Warleggan finally have the upper hand against his archenemy, Ross Poldark? Can George's growing power in Cornwall cement his control over the fate of his populist foe? Dream on! In Poldark: The Third Season, follow the latest thrilling exploits of Ross Poldark and his fiery partner, Demelza,  as the intrepid eighteenth-century duo. The new season costars Jack Farthing as the dastardly George and Heida Reed as his bewitching wife, Elizabeth, now estranged from her first love, Ross—or is she?
Also enlivening the new season are a mysterious plague of frogs, a thwarted famine, and Aunt Agatha's eagerly anticipated one-hundredth birthday party, which has a catastrophic catch. But the most stirring action involves the French Revolution, which manages to ensnare one of the program's main characters in its Reign of Terror, prompting Poldark's most dangerous mission yet.
Cook's Country: Season 10 features the best regional home cooking in the country and relies on a practical, no-nonsense food approach where family-friendly recipes are scientifically re-imagined for the modern home cook. Join hosts Bridget Lancaster, Julia Collin Davison and your favorite chefs from America's Test Kitchen as they uncover blue-ribbon specialties
 from across the country and classic fare in need of a makeover. The DVD also includes tips & techniques, food tastings, equipment tests, and printable versions of all 31 recipes!
The Gene Doctors
Every year more than one million babies are born worldwide with an error in one of their many genes. These errors, or mutations, can cause genetic illnesses that are often severe and can rob people of sight, breath, movement and life. Now, for the first time, doctors can take aim at the root causes of these diseases.  
Through intimate stories of families whose lives are being transformed, the program takes viewers to the frontlines of a medical revolution.
NOVA: Ghosts of Stonehenge
In this Stone Age detective story, archaeologists analyze the bones and piece together tantalizing details of the elite families who presided over Stonehenge. Remnants of huge feasts that fed the laborers at the site have come to light, including evidence that they traveled from far corners of the British Isles to raise the stones and celebrate the winter solstice. Yet Stonehenge's place as a centerpiece of ancient culture was not to last.
http://https://youtu.be/ABOhnMcD8gU
Join NOVA as they reveal intimate details of the Stonehenge people and why their power began to fade soon after they raised the mighty stones.
NOVA: Secrets of a Shining Knight A knight in shining armor may sound like a character out of a storybook, but once upon a time, knighthood was serious business. For countless medieval fighters, their armor was what stood between their life and death. But what was it really like to live beneath the metal?
How was that shining armor crafted and how strong was it? Could it withstand impacts from the most lethal weapons of the day, including crossbows, muskets and primitive hand guns?
The Story of China History lessons Greek to you? Welcome PBS' offer of an unprecedented, six-part series exploring the 4,000-year history of China, home to more than a billion people and an emerging global superpower with Michael Wood. He brings a joyful curiosity to the series that is matched only by the warmth and enthusiasm of the Chinese people, suggests that to understand China today we must examine its past.
The all-new fashion-centric miniseries Masterpiece: The Collection on DVD and Blu-ray. World War II is over and stylish clothes are back as Paris recovers from the horrors of the Nazi occupation. Richard Coyle, Mamie Gummer and Tom Riley star as a family struggling to build a fashion empire at any cost. Set in 1947,
 The Collection captures a turbulent era in French history, when partisans hunted down Nazi collaborators and anyone with something to hide shunned the past and embraced the future. Fashion became the perfect expression of this impulse to look ahead. Wartime rationing, drabness, and erotic restraint gave way to alluring displays of color, form, and fabric in women's clothes—for those who could afford them.
Teresa Brewer suggested we put another nickel in the Nickelodeon so we could hear "music, music, music!" Now Robert Redford steps up to the plate (or platter) by narrating American Epic, the essential that explores the pivotal recording journeys at the height of the Roaring Twenties, when music scouts armed with cutting-edge recording technology captured the breadth of American music and discovered the artists that would shape our world.
http://https://youtu.be/35ySbl4kzE4
Virtually no documentation of these extraordinary events survives and nearly ninety percent of the recording masters have been destroyed. A vital part of American cultural history has been lost. Over three episodes, narrated by Redford, American Epic rescues this history. The remarkable lives of these seminal musicians are revealed through previously unseen film footage and photographs, and exclusive interviews with music pioneers, their families and eyewitnesses to the era.