Barbie Forever: Her Inspiration, History, and Legacy (Epic Ink, $40) presents a detailed, fully authorized portrait of this beloved doll through all-new interviews, original sketches, vintage photos, advertisements and much more.

A double-sided foldout timeline showcases important moments in Barbie history. Explore how the doll came to be, what it takes to create one of her many look, and how her legacy continues to influence the world. Today, Barbie continues to spark imaginations and influence conversations around the world.
---
---
Don't have the $62,545 to plop down for a Jaguar Sedan 30T Prestige AWD? The let us steer you to the magnificently large four-pounder Jaguar: The Art of the Automobile (Mitchell Beazley, $50), exploring 100 years of outstanding luxury cars, with never-before-seen images and material from the Jaguar archives.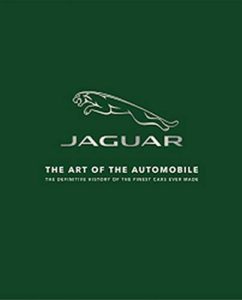 This official book dives into Jaguar's archives for stunning photography and detailed reports of its most memorable models – including many never-before-seen images – showcasing celebrated cars such as the E-Type, XK120, XJS and XKR-S.
---
Lee Krasner, one of the twentieth century's most inspiring women artists and a pioneer of abstract expressionism,  has for too long been eclipsed by her husband, Jackson Pollock. In fact, his death in 1956 marked her renaissance as an artist.

Coinciding with a major exhibition at London's Barbican Art Gallery, Lee Krasner (Thames & Hudson, $50) features an outstanding selection of her most important paintings, collages, and works on paper, contextualized by photography from the postwar period, an illustrated chronology, and an unpublished interview with her biographer Gail Levin. Paint this a masterpiece!
---
From Anything Goes to Kiss Me, Kate, Cole Porter left a lasting legacy of iconic songs including "You're the Top," "Love For Sale," and "Night and Day." Yet, alongside his professional success, Porter led an eclectic personal life which featured exuberant parties, scandalous affairs and chronic health problems. The Letters of Cole Porter (Yale University Press,  $35) features an extensive collection of letters (most of which are published here for the first time) dates from the first decade of the twentieth century to the early '60s and features correspondence with stars such as Irving Berlin, Ethel Merman and Orson Welles, as well as his friends and male/female lovers.

Cliff Eisen and Dominic McHugh complement these letters with lively commentaries that draw together the loose threads of Porter's life and highlight the distinctions between Porter's public and private existence. This book reveals surprising insights into his attitudes toward Hollywood and Broadway, and toward money, love, and dazzling success.
---
teNeues continues to publish books so lavish, so brimming with breathtaking photography that they will impress you again and again . . . no matter how many times you pick them up.
Our picks for this year's best:
Lions ($55)
In this new photo book, French photographer Laurent Baheux journeys across Africa to capture the lion in all its intricate facets. The result is a sensitive and intimate photo portrait that shows the big cat in all its nuance: at once powerful, fragile, and tender. His stunning black-and-white lion photographs show this feline animal with the precision and texture of a studio portrait—its many different movements, postures, behaviors, and expressions captured with startling intimacy.

Playing among the pride, out hunting its prey, or eyeing us directly from the page, Baheux's lion photography is as much a tribute to the lion's character, power, and feeling as it is a haunting reminder that this most impressive of animals is also among the most endangered wildlife on earth.
Have you ever wondered what your cat would look like if he or she were human? What clothes would they want to wear? Turn to a most purr-fect gem: Cats ($35).

From simple animal photos, self-styled cat whisperer and graphic Tein Lucasson creates high-quality digital images that capture our feline friends in different outfits: whether an elegant Siamese cat in a cashmere sweater, a proud Persian in an aristocratic uniform, or the characterful house cat in a top hat.
Golf: The Ultimate Book ($65) introduces the most exclusive, sophisticated and spectacular golf resorts in the world. These are golfing holiday destinations that score not only with sophisticated layouts in charming landscapes—whether against alpine mountain scenery or tropical sandy beaches—but also with wonderful rooms, outstanding food and comprehensive wellness offers.

Each prestigious golf resort is presented with an expert review, covering its benefits on and off the fairways and greens. The sections on resorts are interspersed with background information and amusing anecdotes, capturing the history and contemporary world of golfing.  And the color photos! Up to par and then some.
Stefan Rappo's nude photography strikes an intriguing note between intimacy and distance. At first, the viewer feels a certain distance, and in the next moment they are entangled in the picture's tangible tensions and emotions.

A longtime assistant to Peter Lindbergh and a renowned portrait photographer, Rappo has found his own nude pictorial language that focuses on the female form—at times drawing on the studio tradition and at others reveling in the body in motion. Nude ($55), Rappo's first publication, brings together some of his favorite nude photographs, indispensable for those who love nude photography.
---
Marilyn was right: Diamonds are a girl's best friend. And oh! How she would have drolled over the baubles and beauties featured in Jewels and Jewelry (Thames & Hudson, tk), an exquisite and accessible history of jewels and jewelry kept safely in London's Victoria and Albert Museum, from the Middle Ages to today.

An impeccably researched and insightful look into the evolution of jewelry through the ages, Jewels and Jewelry is a treasured resource for students, professionals, collectors, and lovers of jewelry alike.
---
Armchair travelers with savor the 25 great expeditions explorer and survivalist Ed Stafford curates in Expeditions Unpacked: What the Great Explorers Took into the Unknown (White Lion Publishing, $45). Through carefully curated photographs and specially commissioned illustrations we witness the scale, style and complexity of the items taken into the unknown by the greatest explorers of all time, and the impact each item had on their journey.  Conquering fears and mountains, adversity and wild jungles, each item these explorers flew, pulled or hauled played a crucial role in their ambitious and dangerous missions to find out a little more about our world.

Some of the items packed (and unpacked) by the famaous folk include Roald Amundsen who, on his race to the Pol, took snowshoes, a Primus stove, a piano, a violin and a  gramophone; Tim Slessor, on the first overland from London to Singapore, took machetes, a crowbar, z typewriter, a Remington dry shaver and tea); Nellie Bly, who, on her historic trip around the world in 72 days, packed Mumm champagne, an accordion, a silk waterproof wrap and dark gloves).
---
Vogue is still in vogue. Big time, just like the lavish and oversized  (six pounds!) slipcased 1950s in Vogue (Thames & Hudson, $95). Illustrated by fashion's greatest photographs of the era when the magazine became the cultural force it is today. It's a stunning tribute to Jessica Daves, one of only seven editors in chief in American Vogue's history; it is she who first catapulted the magazine into modernity.

Organized in multifaceted, thematic chapters, 1950s in Vogue features carefully curated photographs (more than 200), illustrations and page spreads from the Vogue archives (with iconic images as well as lesser-known wonders), and unpublished photographs and letters from Daves's personal archives. Revealing a fascinating and hitherto little-explored moment in Vogue history, 1950s in Vogue is a must-have reference for lovers of fashion, photography, and style.
---
Leonardo by Leonardo (Callaway Arts & Entertainment, $125), a landmark publication on Leonardo da Vinci written by Martin J. Kemp, one of the world's leading authorities on Leonardo da Vinci, presents an astonishing gallery of the master's 27 existing paintings, as well as the preparatory drawings that formed the basis of his masterpieces. Martin J. Kemp's narrative is accompanied by extensive written reflections by Leonardo, and is further highlighted by perspectives from his contemporaries.

Kemp takes us inside the world of each masterwork: the artist's relationship to his patrons; how and why the works were commissioned; their iconography and symbology; the experimental painting techniques he applied; stories of how the paintings survived and changed owners across the centuries; restoration and condition; and finally, the unsolved puzzles that remain to this day.
The utmost care and state-of-the-art digital capture technology has been applied to the new photography of the artworks presented in this collection. No expense has been spared to reproduce the artworks with the highest fidelity to color, tone, and surface. The quality of imaging, ultra-fine resolution printing, archival paper, and binding has produced a book like no other. The result is a power and intimacy between artist and viewer that takes us inside the artist's mind, eye and spirit.
Truly the most lavish and important coffeetable book of the year.
---
Women (National Geographic , $50), a powerful photography collection, drawn from the celebrated National Geographic archive, reveals the lives of women from around the globe, accompanied by revelatory new interviews and portraits of contemporary trailblazers including Oprah Winfrey, Jane Goodall and Christiane Amanpour.

Now, in anticipation of the 100th anniversary of the 19th amendment, this bold and inspiring book mines 130 years of photography to showcase their past, their present and their future. With more than 400 stunning images from more than 50 countries, each page of this glorious book offers compelling testimony about what it means to be female, from historic suffragettes to the haunting, green-eyed "Afghan girl." The ultimate coffee table book, this iconic collection provides definitive proof that the future is female.
---
What better way to celebrate, on the 20th anniversary of the seven-time Emmy-winning animated TV series, than with Inside Family Guy: An Illustrated History (Dey Street Books, $34.99), a fully illustrated, full-color visual guide honoring its reign. From storyboards to character sketches to script excerpts to cast and crew interviews, tome gives that huge family of fans exclusive access behind the scenes.

There are also exclusive interviews with crew and cast members, including Seth MacFarlane (who wrote the book's intro), Seth Green, Mila Kunis, Alex Borstein, and Mike Henry. The world of Family Guy and its memorable characters has never been revealed in such gorgeous detail before.
---
Few wine books can be called classic, but the first edition of The World Atlas of Wine (Mitchell Beazley, $65) made publishing history when it appeared in 1971. It was recognized by critics as the essential and most authoritative wine reference work available. Drink in the eighth edition, a guide that brings readers, both old and new, up to date with the world of wine.

To reflect all the changes in the global wine scene over the past six years, the Atlas has grown in size to 416 pages and 22 new maps have been added to the wealth of superb cartography in the book. The text has been given a complete overhaul to address the topics of most vital interest to today's wine-growers and drinkers.
---
Let us steer you to the perfect companion of all things die-cast and delightful. Hot Wheels: From 0 to 50 at 1:64 Scale (Motorbooks, $24.99) shares the inspiring journey of the teeny vehicles that started out as a new twist on toy cars and became a worldwide phenomenon. Officially licensed with Mattel, this in-depth retrospective reveals what makes these cars unique, how the models are designed, and all the work that goes into the play to ensure Hot Wheels maintain their position as the greatest toy cars ever made.

This special commemorative book is lavishly illustrated with rare design drawings and prototypes from Mattel's archives, fantastic photos of all of the great Hot Wheels vehicles from across their 50-plus year history, and a feature gatefold illustrated with rare Hot Wheels catalog art. It's the perfect vehicle for Hot Wheels fans of all ages!
---
You know his name, proudly listed among film credits for dozens of M-G-M classics. Cedric Gibbons, Hollywood's most famous art director, was the supervisor in charge of the art department at Metro-Goldwyn-Mayer studios from its inception in 1924 until Gibbons chose to retire in 1956. Lavishly illustrated with over 175 pristine duotone photographs (the vast majority of which have never before been published), MGM Style: Cedric Gibbons and the Art of the Golden Age of Hollywood (Lyons Press, $45) is the first book to trace Gibbons' career.

At its height in the late '30s and early '40s, he was regularly acknowledged by his peers as having shaped the craft of art direction in American film; his work was recognized as representing the finest in motion picture sets and settings. Gibbons championed the notion that movie decor should move beyond the commercial framework of the popular cinema. And he did, brilliantly so, over and over and over . . .
---
It's easy to say Supreme Glamour (Thames & Hudson, $40) is a supreme book.  Sumptuously illustrated, engaging and insightful, Mary Wilson charts the glittering story of The Supremes, who became synonymous with glamorous, elegant, coordinated ensembles .
The book presents founding member Mary Wilson's unparalleled collection, showcasing 32 of the group's most eye-catching gowns, meticulously reassembled and photographed on the Grammy Museum stage.

Detailed captions accompany each photograph, providing information about the design, fabric, and embellishments of each ensemble, as well as the occasion on which each was first worn. Packed with anecdotes and insights, Wilson also tells the complete story of The Supremes, both on- and off- stage. Wait! Sssh. Listen closely. I think I hear a symphony.
---
On a Thursday in 2019, a small army of photographers and videographers scattered across the globe to capture what goes on beyond those tantalizing "Cast Members Only" Disney doors. All the photos in
One Day at Disney: Meet the People Who Make the Magic Across the Globe
(Disney Editions, $50) were taken on that single day, beginning early in Tokyo and following the sun around the world through Shanghai, Hong Kong, Paris, Madrid, the Bahamas, Costa Rica and dozens of places throughout the United States. More than 40 hours after it began, the day ended as the sun set on the Aulani resort in Hawaii.
On that day, some 80 cast members agreed to open up their workshops, dressing rooms, kitchens, cubicles, TV studios, labs, locomotive engines . . .  and some even more surprising and diverse work spaces. They also shared their stories: childhood dreams and chapters, career pivots and triumphs, workaday hurdles and joys. It was just a day in the life, as extraordinary as any other day at Disney. As any Cast Member can tell you, a Disney job is less a destination than a limitless journey. And for just One Day at Disney, we can all tag along for the ride.
---
After the release of his acclaimed debut album, Grace, in 1994, Jeff Buckley quickly established himself as one of the decade's most defining talents in pop music: a singer, guitarist, and songwriter with a multi-octave range whose tastes took in rock, blues, jazz, hardcore, Qawwali music, even show tunes. Hailed by the likes of Bono, Jimmy Page, and Robert Plant, Grace showcased Buckley's voice, passion and influences and pointed to an inordinately promising future. Three short years later, at the age of thirty, he tragically drowned in Memphis.

For much of his life, Buckley diligently kept journals recording his goals, inspirations, aspirations, and creative struggles. These diaries amount to one of the most insightful life chronicles any musical artist has left behind. Jeff Buckley: His Own Voice (Da Capo Press, $40) marks the first-ever publication of Buckley's handwritten account of his journey from his days in Los Angeles in the late '80s through shortly before his passing. Combined with reproductions of other memorabilia, including letters, notes and unpublished lyrics, the book takes readers and fans deep into Buckley's mind and life.
---
The Tony Award-winning Broadway musical Come From Away tells the remarkable true story of a small town that welcomed the world. On September 11, 2001, 38 planes and 6,579 passengers were forced to land in the provincial town of Gander, Newfoundland. The local residents opened their arms to the displaced visitors, offering food, shelter and friendship. In the days that followed, cultures clashed and nerves ran high, but uneasiness turned into trust, music soared into the night, and gratitude grew into enduring friendships.

Come From Away: Welcome to the Rock (Hachette Books , $40) is the volume to the musical, featuring the book and lyrics, backstage stories and the real history behind the show's events, character design sketches, and songs that ended up on the cutting room floor.
The narrative by theater historian Laurence Maslon details the events of that memorable and challenging week and also traces the musical's development from the ten-year reunion of residents and airline passengers in Gander, where the idea for the musical was born, to the global phenomenon it is today.
---
Quentin Tarantino: The Iconic Filmmaker and His Work (White Lion Publishing, $35) examines the entirety of Tarantino's work, including his early writing on screenplays such as True Romance and Natural Born Killers, his break-out directorial debut Reservoir Dogs and the career-defining Pulp Fiction, as well as his later iconic films, such as Kill Bill Volumes 1 and 2, Inglourious Basterds and Django Unchained.
You'll also go behind the scenes of Tarantino's latest epic, Once Upon a Time in Hollywood. As you make your way through Tarantino's incredible career, discover what inspired him, his working methods, and the breadth of his talent.
---
Can't afford a XKR-S? Opt for the stunning
Jaguar: The Art of the Automobile
( Mitchell Beazley , $50). Known for elegant design as much as for pushing the limits of speed,
 the brand has always been at the cutting edge of mechanics without sacrificing aesthetics.
This massive volume celebrates Jaguar's most legendary models and dives into Jaguar's archives for stunning photography and detailed reports of its most memorable models, including many never-before-seen images, showcasing celebrated cars such as the E-Type,
 XK120,
 XJS and XKR-S.
---
Bowie by O'Neill: The Definitive Collection With Unseen Images (Cassell, $50) is the breathtaking result of iconic photographer Terry O'Neill's creative partnership with David Bowie that spanned over many years.

Containing rare and never-before-seen photographs, their work together includes images from the last Ziggy Stardust performance, recording sessions for Young Americans and the renowned studio portraits for Diamond Dogs, plus live shows, film shoots, backstage moments and more. With more than 200 photographs, this is the ultimate portrait of an inspiring and ever-changing artist.
---
Rodney Hilton Brown's  Iwo Jima Monuments: The Untold Story (War Museum, $45) is a must for history buffs, a lavish book filled with great photos and published in time for the 75th Anniversary of World War II's bloody legacy (one third of all Marines who fought on Iwo Jima were killed or wounded on Iwo Jima).

Brown's homage is the first comprehensive study of all of our nation's Iwo Jima monuments, beginning with the little-known original 1945 monument (unveiled in front of the old Department of the Navy Building on Constitution Avenue in Washington, DC.); the 1954 Marine Corps War Memorial, those erected at Marine Corps bases and many lesser-known others from coast-to-coast. Of course, the flag raising atop Mt. Suribachi on Iwo Jima has become one of the most powerful images of the 20th century and is  regarded as one of the most recognizable images in the world.
---